The other day I told you that there were so many, many gorgeous-beyond-belief shoes in the Alexander McQueen show that they would need a separate post. Well, here it is!


I know I showed you these the other day but they were so good I thought they deserved a reprise. I'm just completely gaga for the shape of these shoes. They're substantial without being clunky, and so, so sexy. Most of the shoes from the show riffed on this theme.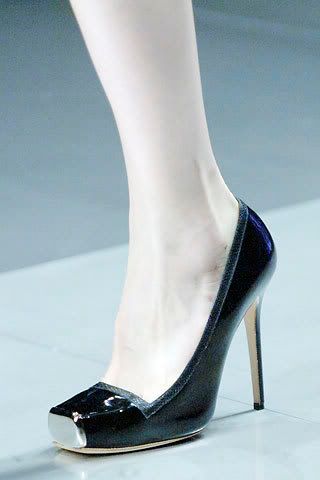 Here we have what looks like black patent with a silver toe cap. The silver cap is the bit that gives me pause here -- I never wear silver, and so that turns me off a bit. At the risk of being far too matchy-matchy, I'd have trouble with that, since I like all my metals to be the same. (I only carry gold doubloons in my wallet.)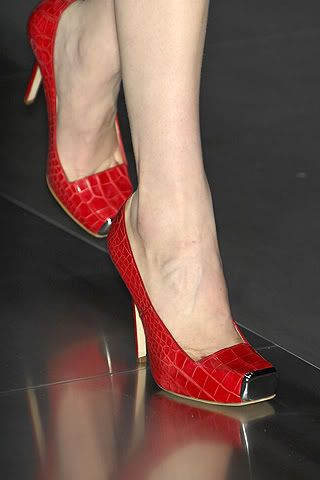 These are the first ones again -- the detail photos are much better on Elle.com than on Style.com, and it seems as though the lighting in this show made some rather dramatic changes as it went on, but who cares, just mmmmmmm, look at the pretty, pretty red shoes that Style Spy covets mightily.

Okay, no problem with the silver toe caps here, because they have very cleverly been left off completely! Let me count the ways I love this:
1. Reptile
2. Peep toe
3. Ankle strap
4. Pink
'Nuff said.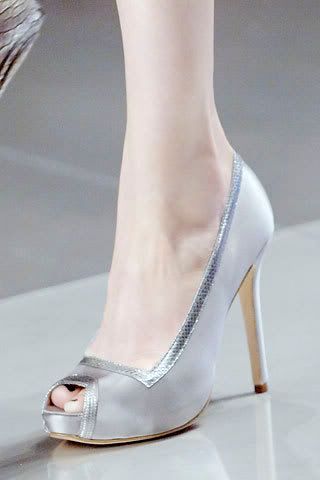 Here we have silver satin trimmed in leather. This gives a good shot of the gorgeous square throat of this shoe, and I really love an interior platform, because it helps with the heel height. (And that is a mighty high heel, it's got to be a good 4 1/2 inches.)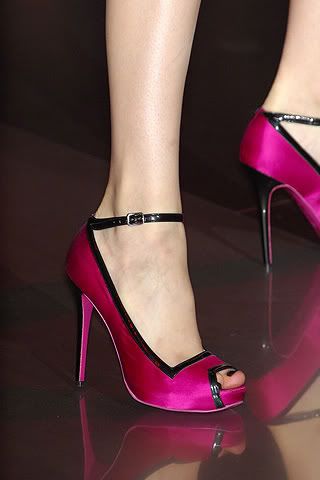 If I ever get my hands on this shoe, I'll probably spend our first day together curled up in a corner of my couch with it resting on my lap, crooning to myself quietly and occasionally rubbing it against my cheek. I'll have to be careful not to let the tears leave watermarks on the satin.

Although, the satin might cause me to go more for these instead: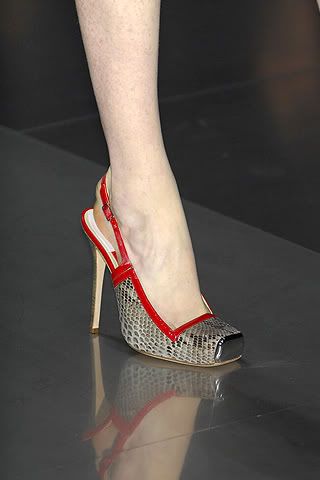 Satin shoes generally make me nervous. I'm the sort of person who often kicks her heels together when she walks, and that can be rough on fabric shoes. I'll risk it with a color fabric that won't show wear as much, but I think that fuchsia, much as I adore it (And oh, I do -- he used a lot of it in this collection and it delighted me. I've been having a bit of a fuchsia moment lately.) would be a bad risk. Now,
these
beautiful things, being made of snakeskin, might not be all that much sturdier than the satin, but we have solved that problem by making the shoe a slingback! Genius! Seriously, this thing... I just love that red trim on the snakeskin -- there's
a wonderful pair of Blahniks
this season at Neiman Marcus that I fell head over well... heels for, but these, dare I say it, are even better.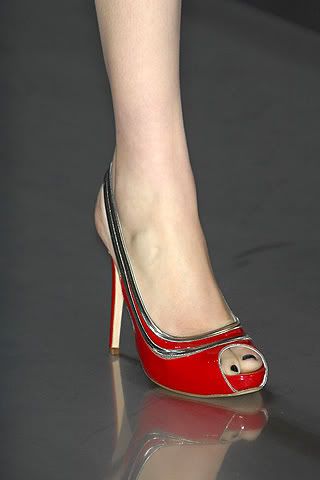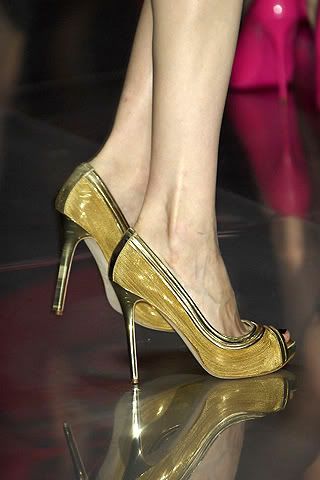 The red is definitely patent, and I think the gold is, too, but it may also be some sort of fabulous fabric.

I think I love these most of all:

Again with the feathers. And the pale pink satin. So delicate, so beautiful, so ethereal. I really love that at first glance it reads like a little chiffon ruffle -- it's only on closer inspection that you realize they're feathers. I would get over my Fear of Satin pretty damn fast if it meant gettin' those on my hooves. I just want to talk again about how much I love that snubbed toe. It's gotten a lot of play from a number of shoe designers the last couple of seasons, and I think it's a great look. It's still narrow enough to be feminine and sexy, but not as overtly so as a pointed toe. And it provides for a little more room at the front of the shoe, which is not a bad thing for most of us, without being that horrible wide platypus bill of a square toe we were wearing (what were we
thinking??
) in the late 90s.
In case
a few
feathers weren't enough... Is it over the top? Maybe. Do I care? Heavens, no! Style Spy almost always comes down firmly on the side of Nothing Succeeds Like Excess. (Tasteful excess, of course, which does make it a lot trickier.) Speaking of which...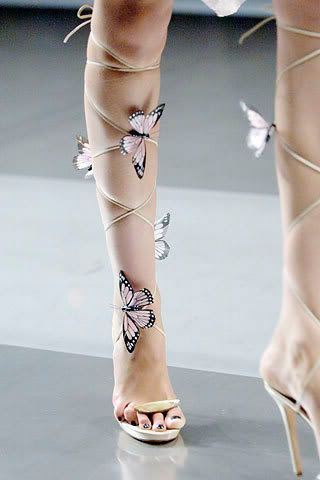 I think I would wear these, but with the ankle ties around the actual ankles, and only one or two butterflies. I've never liked that high wrapping of ankle ties, climbing up the leg to the knee like that. It looks awfully affected to my eye, and as you can see, in order to keep them up there they have to be tied tightly enough to risk losing your lower leg to gangrene. (And also, it reminds me of
this
mess: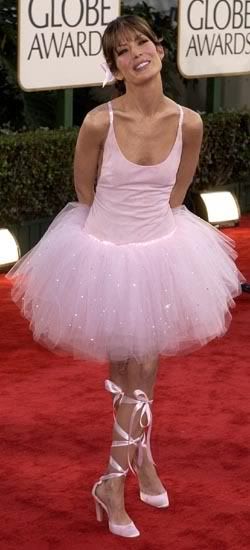 Which none of us wants, under any circs, to emulate. That outfit, as my friend
Plumcake
says, makes my slappin' hand itch.)
Here's some ties done more to my liking, although I might wrap them around once more. Those are so long I think I'd worry about stepping on them. Love the simplicity of these, though, and the luxe-ness of the gold tassels. I generally approve of tassels, with a few exceptions.

See, these are goth in the good kind of way. Not the
Hot Topic
, sullen 19-year old, black Wet & Wild nail polish kind of way, but the Catherine Deneuve in
"The Hunger"
kind of way -- slightly scary but still sexy.
And I'll just throw in that while I really liked these beautiful lace... um... gosh, what would you call these?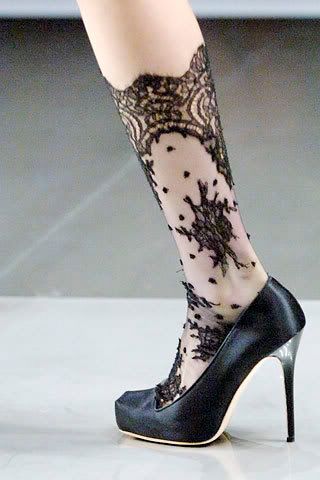 Socks? Spats? (Actually, it looks like they're pantyhose with the lace detailing around the ankles.) Whatever they are, the lace is certainly beautiful, and I'm all for using old materials in new & interesting ways, but I'm not thinking these are going to capture the imagination of the fashion public in any serious way.

Hey, ya know, while we're at it, let's chat for a moment about the purses McQueen showed. 'Cause they were fantastic.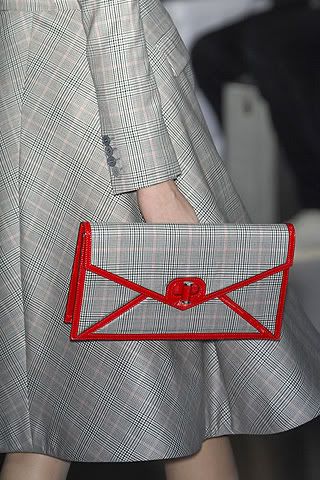 These gorgeous clutches had handles on the back to slip the fingers through.

Oh! The red croc!! Oh!! See, I could get over my matchy-matchy fears if this was one of the things that was matching. No such thing as too much red croc, in Style Spy's opinion.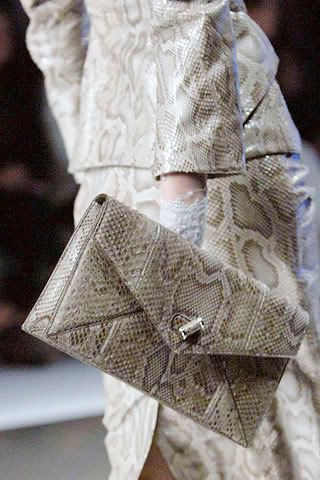 That's
a lot
of snakeskin. And I say that in approving tones.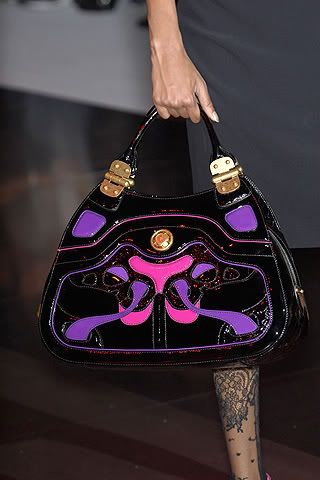 Good googly-moogly, that's spectacular. I don't remember McQueen showing this many bags in a collection before, I worry that he's succumbing to the pressure to create an It Bag to float his line, and that's never good. On the other hand -- that bag? IS good. Really, really good.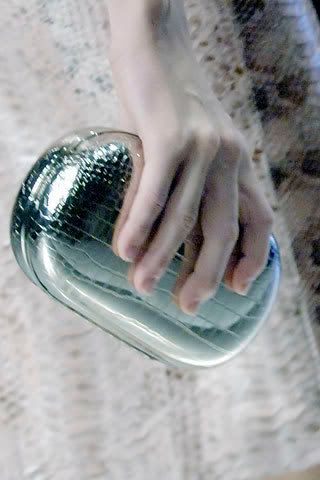 Still
I am dying for a perfect little jewel box of a clutch, like these. I adore the one with the tassels, it looks like a perfume bottle.
It begs for a really good manicure, that little purse.
Okay, so there you have 'em. Beautiful accessories from my darling Alexander. Looking at these caused my feet to sweat lustfully and my wallet to quiver with trepidation. Anything catch
your
eye?
Photos: Style.com, Elle.com, Associated Press