For reasons inexplicable to myself, I am possessed by the idea of pink patent shoes. What's come over me, I don't know. Not that pink patent shoes would be the worst fate to ever befall a gal, certainly, but I really don't know where this sudden craving springs from.

I've heard a lot of people say they "hate" pink. I don't get that. Phooey on you, pink-dissers! To my mind, wearing pink with impunity is one of the great perks of being a girl. Guys still have the whole "masculinity" issue when they wear pink, but we females can don this cheery color whenever we like and no one will think twice. And it is cheery. And fun and often very sexy. I'll grant you that pink done wrong can sometimes be a bit twee or saccharine, but done right it's just great.


These are cute. Not exactly what I'm thinking, but still -- cute.
That Stewie Weitzman, he makes the best shoes. Here in the famous Weitzman "Quasar" patent, which I'm crazy about. I also dig the gold heel.
Kinda fantastic, with the combination of textures. I know nothing about this shoe designer, Max Kibardin. Anyone?
A coral-y pink. Very pretty, and that sandal would come in awfully handy because you could wear it dressy or you could wear it for everyday, say with a nice wrap dress to the office. But I think I want a pinker pink.
Oh, my. Perhaps not.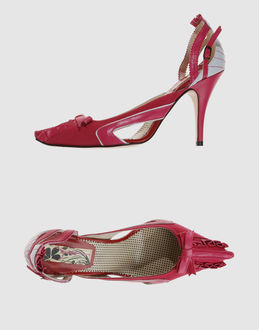 These are remarkable shoes
. Follow the link to the website so you can look at the zoom photos -- they're pretty amazingly detailed. But I think I want something a little more straightforward.
I'm very taken with these. The pink is a bit muted and not quite so childish, but still soft & very girlie. These win the prize for color, definitely. And at 150 bucks, they may wind up taking the sweepstakes. Really good.
When I saw these my heart began to race and I almost hyperventilated, because that right there is an HG shoe for me. These are a pink, single-strap version of the double-strap mary janes I own in robin's egg blue and black. I adore these shoes beyond reason, I wear them more than I even thought I would when I bought them, and if the day ever comes when I cannot wear them anymore I will mourn like I would for a lost relative. I wish I had bought more of them. Words cannot express the sorrow with which I inform you they are not available in my size. If, by some miracle, you wear an 8.5, do yourself a favor and buy these shoes immediately. You will never be sorry.
See, these appeal to me because they remind me of the Miu Mius, but by the same token I think I would come to resent them for
not
being the Miu Mius. They're like the rebound guy you date right after you get your heart broken because Guy #2 looks like Guy #1, but eventually it just all falls to pieces. Women are complicated, yes, we are.
Oooh. Now we're talkin'. Those are great -- really perfect shape that will never go out of style. And very reasonable. Although a touch too fuchsia, still.



Inarguable. Now if I could only find a single pair of Loubies that fit me. M. Louboutin makes shoes for some skinny-footed ponies.


Okay, it's not often you hear Style Spy say the words, "too much," but these?
Are too damn much pink. Ouch. Don't look at them too long, you'll get a headache.
These are also great, and a fantastic price.

These are not patent. But I think I could get over it. And unlike Loubies, Pradas always fit me like they were made for me.

Well, obviously I have some pondering to do. What do y'all think? Let me know if you find any pink patent shoes you think I (or you) can't live without.