My vote for greatest invention of of the last I dunno how many years has got to be the DVR. No other way would I be able to wade through the television coverage that now surrounds any of the major awards shows. There is a lot of inanity and foolishness to fast forward through (Call me crazy, but I honestly don't care how Jane Krakowski's fiancé proposed to her. All good things to you, sweetie, but really -- don't care.), just so you can hear the four most important words anyone has to say that night: "My dress is by..."

There was, as usual, a lot of black on red at the Golden Globes last night, and what's more it seems like nearly all of it was strapless. I do understand the urge toward the black dress -- I have several myself and have to remind myself to skip over them when browsing, because really, how many do you need? (The answer is "More than you'd think," if you're me.) But unless the dress is either spectacular or a spectacular bomb, it's just going to fade into the mists of memory. Of course, that may well be what some of these ladies were aiming for...



I don't know who she is. This dress sure doesn't make me care.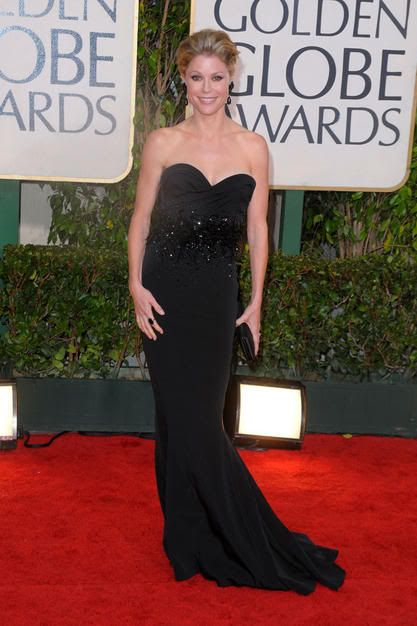 Julie Bowen. Lovely girl, nice dress, she really does look pretty, it fits well -- she looks like she can actually sit down, and her breasts aren't on display like a Pussycat Doll. Just... unmemorable.
Sophia Loren in Armani Privé. Still glam after all these years, but I have a few quibbles. Namely -- her hairdresser apparently hasn't left the salon or even looked out the window since the mid 80's. And those glasses! Seriously, I think she stole my Grandma Merridy's glasses (around the same time as her hairdresser went underground) and has been wearing them ever since. Someone get the woman to an optician! Still, bringing the va-va-voom like that at her age? Hats off to you, Madame. You are an inspiration.
Speaking of bringing it -- Glenn Close in what I'm going to guess is also Armani (she wears a lot of Armani). Nice work, although not particularly inspired, perfect fit. I guess the one up side of reaching a certain age in Hollywood is that the stylists stop insisting that your clothing fit you like Swarovski-encrusted shrink-wrapping, and you can actually enjoy your chicken Kiev and a glass of champagne without worrying about any major wardrobe crises.
Susan Downey and her husband (mysecretboyfriend) Robert Downey, Jr. This is so conservative for him, and he looks great. If we can just get him into a tie, all will be perfect. She looks beautiful, too, but... ya know. Another strapless black dress, this one sparkly.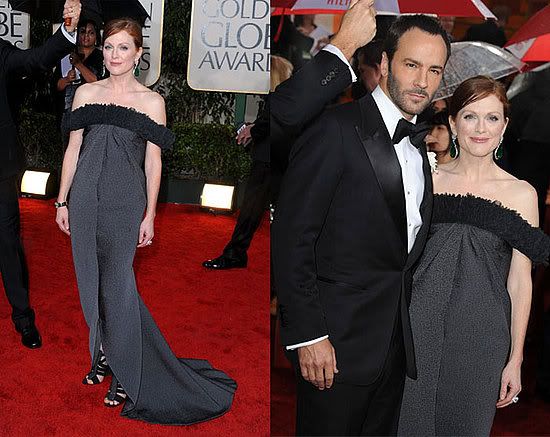 Well, here's black strapless with a twist. Julianne Moore in Balenciaga with Tom Ford in one of his own impeccable tuxedos. (Say what you will about the guy, despite his everpresent Miami Vice homage, the man cuts a sharp as hell suit.) I love the fabric of this, which looks like some sort of hammered silk, and I like the idea of it, but it's just not going anywhere. Perhaps it's her terrible, droopy posture that's throwing me off. She's going to get crucified by the Fashion Talking Heads for this, but Julianne Moore does really appear to like fashion -- she wears a lot of Balenciaga and other forward labels.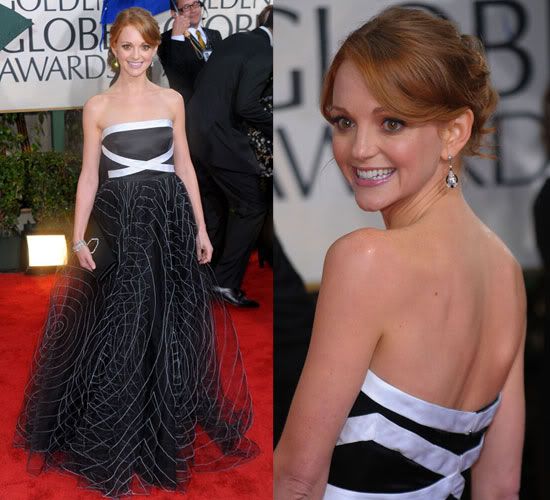 I don't know who she is. Giant black strapless dress, with somewhat interesting detail. Somewhat.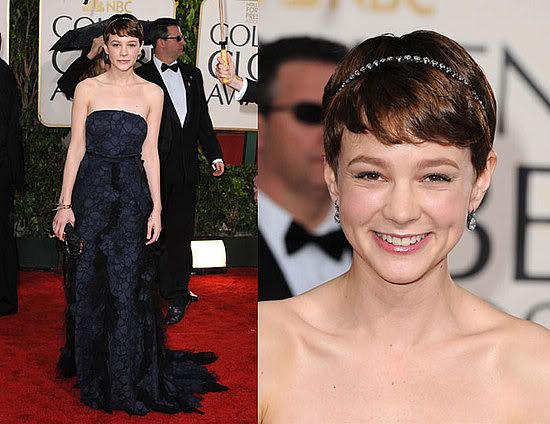 Carey Mulligan, adorable yet forgettable in Nina Ricci.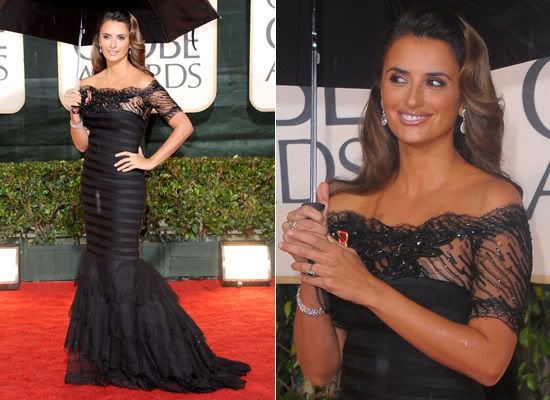 Penelope Cruz in Armani Privé. It will surely be one of the Great Fashion Mysteries of 2010 -- how the HELL do you make Penelope Cruz look
dumpy
???? Well, here's how. Also, what's with the cheerleader hair and makeup? Seriously, looking back on my freshman year of college in the early 80's, all of the girls rushing sororities looked just like this.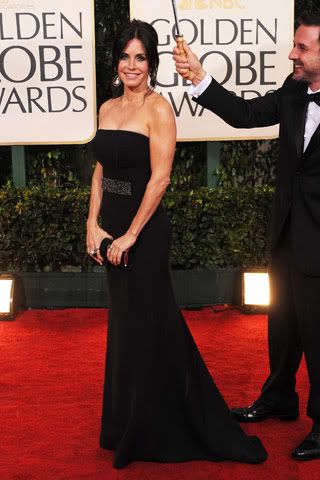 Courteney Cox in Victoria Beckham. Impeccable but boring. What excited me most about this was seeing her husband David Arquette, a man famous for having a closet that was the sartorial equivalent of a three-ring circus, look
normal
, in a nice, neat, no frills tuxedo. Not a hint of tartan or embroidery or sparkly embellishment to be found anywhere. Go, David!
No idea who this is. But the dress is winning. That thing is swamping her like a mudslide. Seriously, she's going to need a tranquilizer dart for that dress or she's not going to make it home alive.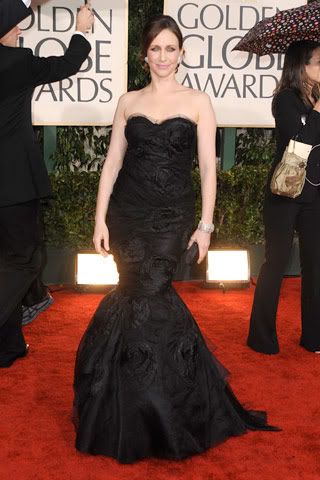 Vera Farmiga in Dolce & Gabbana. Oh, dear. Hint: do not make a mermaid-silhouette gown designed to fit like a second-skin out of fabric heavy enough to be your spinster great aunt's winter bedspread. It will not end well. Also, did no one notice that there is a big ol' rosette
right on her boob
? Is that some sort of joke?? I'm so not laughing.
It wasn't all black. It wasn't all bad. But it sure as hell wasn't all good. Stay tuned & I'll share my thoughts on a few more tomorrow.
Photos: Style.com, Huffingtonpost.com, celebuzz.com, yahoo.com, goldenglobes.org