I just saw this ad on a fashion website:



What's wrong with this picture? Well, as anyone with even a passing interest in fashion and/or pop culture knows, that is a Manolo Blahnik shoe, not a Christian Louboutin shoe. Said shoe was
a fairly important plot device in the "Sex and the City" movie
and pretty much anyone who pays any attention to this sort of thing knows that. It doesn't really matter much, it's just really sloppy editing or whatever you want to call it and it offends me for that reason. It would be one thing if they'd used a shoe that wasn't so instantly recognizable, but... this is just dumb.
Because every Shoe Whore (yeah, I said it!!) worth her heel taps knows there are vast differences between Blahhniks and Louboutins. Even if you don't
wear
either of them, you know the difference when you see them. I'm a Manolo gal. I guess that makes me old school. Some of it is that I see Blahnik's shoes as more classically elegant and Louboutin's are more about the sex. Which is a debatable point, of course, and certainly a matter of taste. Mostly it's about the fact that Louboutin shoes
never
fit me. They seem to be made on an incredibly narrow last, and I have yet to ever squeeze my foot comfortably into a closed-toe shoe from this line. Even the peep-toes -- way too narrow. Actually, everything about them is narrow. Case in point: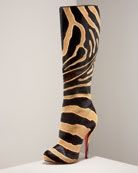 This is Mr. Louboutin's
Ginevra
boot. Now, try to look past the zebra print, which I know a lot of folks will complain about, and just look at the shape of the thing. Which is stunning. I mean, that is a boot that wants to have sex with you. (Or anyone else who comes along with $2500 in his or her pocket. Yeah, seriously.) Last weekend, I tried on one of these bad boys at the sale at Neiman's, only the one I tried on was better -- it was a solid red leather and it? Was heart-stopping. I'm usually a size 39 or 39.5. I put on the 40.5 and it was still too narrow -- no way could I have worn that boot if I needed to actually use the -
pedal
part of my bipedal classification. Those are sittin'-down boots only, and I'd have to be carried from my closet (where I put them on) to the barstool on which I sat and accepted drinks from besotted men who plied me with Veuve Cliquot in the hopes of getting a piece of that boot-y (on purpose) action. But not only that -- I couldn't get the dang things zipped. Not even close. I will cop to having fairly muscular legs as a result of my running habit, but I can usually get a pair of boots zipped, at least. These boots?
Ils ont ri de moi.*
In French.
Putain!**
At any rate, you need some pretty skinny pins to get into these boots. Way skinnier than mine.
Fear not for my shoe ego, however. Exhibit B:
Mmmmmm...
I went on a No Buy for the last part of 2009. It certainly contributed to the general crappiness that was Style Spy's 2009, but it needed to be done. It's a palate cleanser, for one. It also was a financial necessity, and did all my balances a world of good. And since I stuck to it awfully well (there were a few pairs of underwear here & there, and a couple of CDs), the Shoeniverse, once again, rewarded me. There was a sale, and a coupon, and when the dust settled... Oh, I'm not even going to tell you. It'll just upset you. Suffice to say they were a very, very good deal. Even more so considering they're the kind of shoes I can wear day in & day out, all year long, for the next 20 years. This weekend, they have a date to celebrate Ms. A's birthday by accompanying me to some as-yet-undecided fabulous watering hole to raise a glass of something bubbly. And I will be able to walk. Run, even. (In case anyone wants to chase me!)
Have a great weekend, everyone!
* "They laughed at me."
** Really? Do you need a translation for that?
Photos: Shopstyle.com, NeimanMarcus.com, Style Spy