Imagine this scenario: You've just gotten engaged. Your fiancé has presented you with this little trinket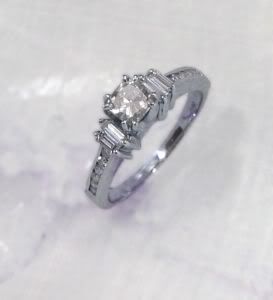 and you are thrilled to shiny bits about it. Every time you look at your sparkler your heart does a little shimmy of joy. When you meet up with some friends and share your exciting news, you are of course wearing your treasure. Now imagine I say to you, "Oooh, let me see your ring!" You blush and raise your hand to eye level and I inspect it and make approving cooing noises and then I say,
"That's really beautiful, but I would never, EVER spend that much money on a piece of jewelry."
::blinkblink::
This would take you aback a tiny bit,
non
? As a matter of fact, I think a lot of folks would consider it downright rude.
But I hear it aaaaaaall the time. (Or at least a variation.) I heard it again this weekend.
"Those are really great, but I would never, EVER spend that much money on a pair of shoes."
(To which I usually want to respond, "Who asked you to?")
This happens to me pretty frequently. Someone compliments my shoes, asks me where I got them or what brand they are, and then when I say something like, "Saks" or "Manolo Blahnik," that's what I get.
Sometimes it's said in tones of wistful, wishful longing. But more often it's uttered with that chilly contempt most people reserve for politicians whose views they find particularly heinous.
What
is
that? Are they defending themselves or condemning me? Or both? And who asked them, anyway? What am I supposed to do -- lie about my shoes?? I don't get it. I mean, I really feel that way about the diamond ring. Yes, it's absolutely gorgeous, and I'm happy for everyone who has one. And I am completely uninterested. Just not my style. But pretty much every married or engaged woman I know (I'm 42 -- I've looked at A LOT of other peoples' engagement rings) has one and I have never once said the above.
There are a lot of things I would never spend "that much money" on. Great big four-bedroom houses -- not interested (even small two-bedroom houses -- I'm an apartment gal). Big lumbering SUVs -- puh-lease. Brand-new state-of-the-art shinycool cell phones that you have to stand in line to buy. Golf clubs (sorry, that's a hobby that
completely
eludes me). Any sort of computerized gadget that requires a joystick. Gambling in Vegas (gambling anywhere, really). Season tickets to any sporting event (seriously, kill me), much less traveling cross-country to a game held in a "Bowl" (seriously, kill me
now
). Zippy English sports cars whose second home is at the mechanic's. Eighteenth Century furniture (death by curlicue, anyone?). Purebred dogs or cats (I'm pro-mutt -- go to the pound!). Vacations to Disneyland or any of its offspring. Ginormous flat-screen TVs that take up an entire wall of your living room (I don't need Surround Sound McLaughlin Group, thanks). And so forth.
You know what I
would
spend "that much money" on?
(Roger Vivier. I don't even know how much those sandals cost. And I don't care. Oh,

mon dieu

... the beauty! My heart actually

stopped

when I saw them.)


You know why?
'Cause it's my money and that's what I love.
Guy Trebay published
a really thought-provoking article in the New York Times
this weekend about the general scorn and disdain in which fashion is often held by so-called cultural arbiters. Now, I'll grant you -- I'm not exactly saving lives here. But if I described what I do to someone and substituted the word "art" for "fashion" ("People consult me on what art to buy," "I help people organize and maximize their art collections," etc.), it would never occur to them that what I do is frivolous. People are impressed by art historians. People are puzzled by fashion historians. But I defy you to find someone as interesting, articulate, intelligent, respected and engaged & engaging as my hero
Harold Koda
, the curator of the Costume Institute of the Metropolitan Museum of Art.
But for now I'm not going to bother trying to impress you with my theories of fashion's cultural, historical, and sociological relevance, although I believe them fiercely.
I spend a bucket o' money on my wardrobe. I admit it. I don't happen to believe that is a moral failing, but some people seem to. Why do you think that is?

It's not going to stop me, of course, and most of the time it doesn't even give me a moment's pause (well, unless I'm paying my credit card bill, but that's a different topic). We all have our quirks, and that's mine.

Just please - stop judging me & my shoes!



Photos: Kiamedia, Style.com, Net-A-Porter.com