Weeeeeeeell. No one (including my very own self) would ever accuse me of having an overabundance of sense. However, it looks as though some Benevolent Force of the Universe was smiling down on me Thursday night and stopped me from making a terrible mistake. Yesterday, sober as a judge, I re-visited the scene of the (almost)crime and re-tried the shoes from Thursday night.

As I suspected, they do not in fact fit.

The Camparis were just too tight in the toe box, and in the Iowas my big toes were actually overlapping their neighbors by quite a bit.

So here is what I learned from this little adventure:

many glasses of champagne
+ a few hours in 4-inch heels walking around on tiled floors
----------------------------------------------------------------------
the inability to correctly judge sensation in my feet

Important little life lesson, doncha think?

The Louboutin Iowas, which I'm loving more & more every time I see them, might actually fit in a larger size, but Neiman Marcus only had them up to 39 1/2. This puzzles me. My feet are pretty reliably a size 9 in American shoes. As we know, a lot of European shoes, especially the French ones, tend to run smaller than American sizes. (I know that everything's bigger in Texas, but I really don't think that's what's going on here.) So when the SA tells you that the 39 is the same as an American 9, don't believe him. If you need a size 9, get the 39, the 39 1/2, and the 40 to try on, especially if we're talking about a narrow toe box and a high heel. (Always err on the side of a little extra space in a shoe, especially a heel, because you can then put a nice foam or gel pad inside it and fill up the difference while creating a little extra cushioning. NEVER assume a shoe will stretch. Buy shoes that fit when you buy them, or you will rue the day, my friend.)

My puzzlement comes from the fact that I know a lot of women have feet the same size as me or a little bigger. So why wouldn't a store like Neiman's carry those shoes to fit us? Are we larger-footed lovelies not entitled to wonderful shoes as well? Is size-ism now extending even to feet? I sure hope not.


It's a well-worn trope (is there any other kind of trope?) that one of the reasons women love shoes is that no matter how much weight you gain, your feet stay the same size. Cruelly, this has not proven to be true in my case. My feet have actually increased in size. This is due to the fact that I had extremely high arches as a young person (my ballet teachers loved my feet), but as I've gotten older they have begun to fall a bit. Hence, my foot is getting flatter and longer. At 21, I wore a size 8. At 41, I'm up to a 9. I shudder to imagine my feet at age 80.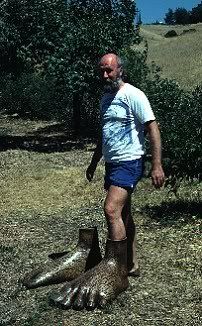 At any rate, next week I'll be at Barney's in Dallas and while I'm there I'll see if they have the Iowas in a larger size and try them on if they do. It's still possible I'll eventually bring home a pair of those beauties, but it's far from a sure thing.

The problem is, now I've been thinking about them for a while and have grown accustomed to the very happy idea of having some nude-colored patent leather shoes in my life. So much so that Instant Gratification Girl here went on a quest today and here's what she wound up with:


Nine West Pelli in a color called, for some reason, Paris Rose (which I must admit I like much more than "Nude.") Kinda sexy, aren't they? I am really loving this all-one-color-leg-&-foot thing, it's unbelievably flattering and at the usual viewer-to-shoe distance (i.e., not a flash camera held a few inches away from the foot) they are even closer to my actual skin tone. While these are a little higher than I was planning on going, A) wedge and B) surprising amount of padding in the ball of the foot. Very comfy shoe. Now, I am a shoe snob, I think we can all agree, but I gotta give it up for Nine West shoes. For their price point, they are extremely good quality, the customer service in their stores is always first-rate, and their design team has really been hitting it the last few years. These were just what the doctor ordered, and even better -- they were on sale! For 65 measly bucks, I got to scratch my shoe itch! Best of all -- I was stone cold sober when I bought them! Hooray! No shoe hangover for me tomorrow!!

Anyone else shoe shop this weekend? Whadja get?

Photos: www.claytonbailey.com, Style Spy