So now we've seen Olivier Theyskens' first full collection for Nina Ricci. To be perfectly honest, it didn't blow me out of the water in the way that some of his best work at Rochas did, but since this is his first outing here I'm perfectly happy to sit back and watch it unfold. Cathy Horyn at the New York Times, a fashion journalist I highly recommend reading and not just because I usually agree with her, found an emotional connection to the presentation based on environment and I understood what she meant. I've been to Paris in February, and the cloudy, gray, smudgy softness of the sky and the river seem perfectly echoed in these clothes.



While I'm a little disappointed in the color palette (I almost never wear gray -- it makes me look as though I've been dead for about three days), it was certainly right for the shapes. (And let's face it, it's unlikely I'll be running out to snap up a bunch of these clothes anyway, Economic Reality being what it is.)
There's a softness, almost a schlumpiness about these things that I found really appealing, even though I usually go for pretty tightly tailored shapes. But Theyskens being who he is, he manages to make softness without sloppiness.


I'm a little mesmerized by the fabulous twisty seaming that's running through this whole show (although the less said about the feather tarantula on her head, the better, non?). It gives the clothes movement and keeps them from looking too bulky.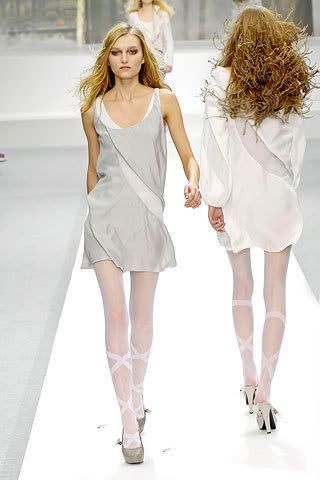 As someone who sews, I'd really like to get my hands on a few of these pieces and see just how they did that. (I'd also like to get my hands on a few of these models and force-feed them croissants and macarons, but that's neither here nor there.) Is it bias-cut? I can't tell. It sure is pretty, though. It extends even down to some of the accessories: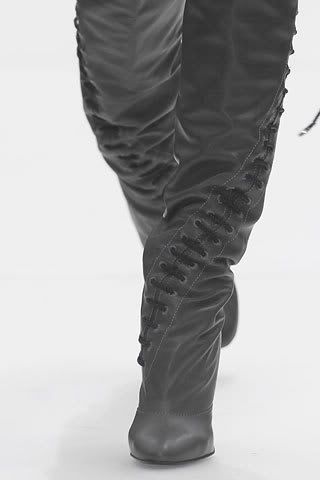 Those are some good-looking boots.

A lot of looseness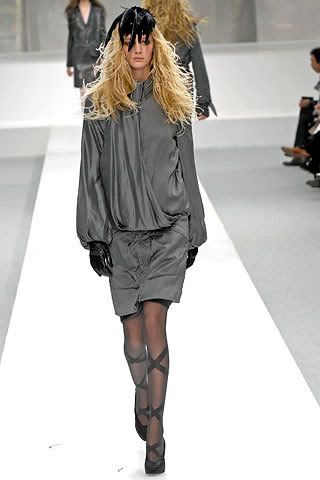 and ease

and somehow even the most tailored of the clothes still manage to look like you could wear them comfortably all day long


I also find it all very "French" in a way that's hard for me to articulate except to say that I can easily imagine seeing these clothes on women in Paris, and also that if I put them on myself I would instantly feel

trés parisienne

. It's something about that slouchiness, the lack of focus on the waist, the way the folds of fabric echo the ubiquitous scarves of Parisian women. (That isn't just a myth, you know. They ALL wear scarves. Marvelously.)

The wonderful little details: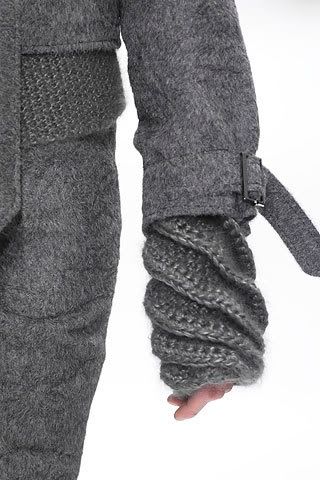 Also some gorgeous accessories:


Look at that! A lucite heel that in no way conjures up g-strings and lap dances! A hearty round of applause is called for just for creating that shoe!
This was another thing I just adored about the show: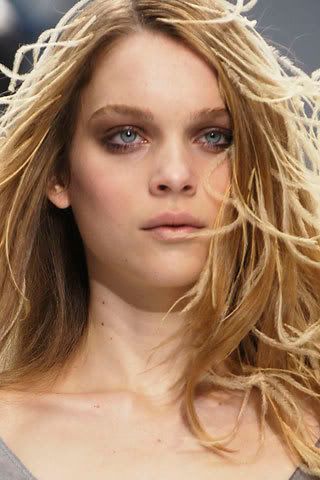 Tiny feathers worked through all the models' hair. It gave such a soft, floating, ethereal look. I usually don't give a flip about the hair & makeup at the shows, but I found this completely beguiling and won't be happy until I, too, have tiny feathers floating through my hair! (Although with my dopey hair the feathers would just be swallowed up, not to be seen again until I began moulting.)


So I liked this show a lot. I didn't looooooove this show, but as I said, it's Theyskens' first time out for Nina Ricci and we have a lot to look forward to from him. He's not a shouter, Olivier Theyskens, he's not one for grand theatrical gestures or great walloping statements. He gently eases you into his world, and before you know it you're completely in love. Ricci as a house doesn't have a very strongly defined aesthetic in the way that Dior or YSL or Chanel does, so it will be Theyskens' job to create one. Lars Nilsson's work was usually beautiful, but not what I'd call defining, so Theyskens has a fairly blank slate on which to draw. I'm very, very hopeful.
Photos: Style Spy, Style.com