Bleah. Style Spy has a cold. And as everyone knows, summer colds are the worst. But I brightened up a little when I saw this pretty thing in Lucky Magazine:



What a great-looking ring that is. And what is really, really cool is that this ring, and most of the other jewelry on this site (
www.robynrhodes.com
) is customizable. You can choose the metal and also different combinations of stones. How cool is that?
How cool also is this beautiful cuff?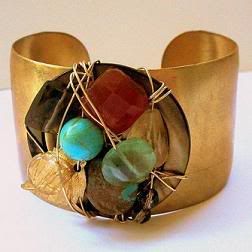 Oh, that's pretty. And you could potentially get it in silver, if that's your metal of choice. With different colors of stones. I don't wear silver, so I rarely post it here because it just doesn't catch my eye as much, but I think it's really clever of this designer to offer all her pieces in a choice of metals. It's terribly frustrating to find the perfect piece of jewelry in the wrong metal.



Nifty necklace. You could also get this in silver with a green jade briolette, for example.
Another great feature of this jewelry? Very reasonable prices! The ring above retails for $86, which seems like an awfully good price for a customized piece of bling with semi-precious stones. I was this close to ordering one to see if it helped with my sniffles, but I decided against. Remember that
cool chunky Alexis Bittar lucite ring
I posted about a few weeks ago? And the gorgeous
faceted paisley Kenneth Jay Lane number
? Well, darling friends treated me to them as birthday gifts and I've had very happy fingers ever since.
::sniffle, snork:: If only my sinuses felt as good as my fingers...
Photos: RobynRhodes.com