Valentino Garavani's clothes are beautiful. Relentlessly, unrelievedly, unapologetically beautiful. Valentino cares not so much for the trendy, the sexy, the hip. He cares about making you the most gorgeous creature you can possibly be, and my friends, he is damn good at it. He has been good at it for 45 years now, and last week he drew his career to a close with his final haute couture show.

I am very sad to see Valentino go. While he's not ever mentioned in the same breath as fashion-forward trendsetters like Marc Jacobs or Raf Simons, it is no small accomplishment to have spent 45 years dressing women impeccably. Beyond impeccably -- beautifully. One doesn't look to Valentino to see where fashion is going. Valentino is comfort food -- if your idea of comfort food is foie gras and champagne (and mine is, thankyouverymuch). I love challenging fashion, I love Rei Kawakubo and Miuccia Prada and other designers who make me think and wonder and want to know more. But I also adore Valentino, who allows me to indulge in my warmest, sweetest, creamiest, fondant-and-spun-sugar girly-girl fantasies of what it is to be capital-B Beautiful. Sometimes I just want pretty, and I'm okay with that. And so has Mr. Garavani been, for 45 years. He is a maestro, and he will be missed.

Some looks from the Spring/Summer 2008 Haute Couture show: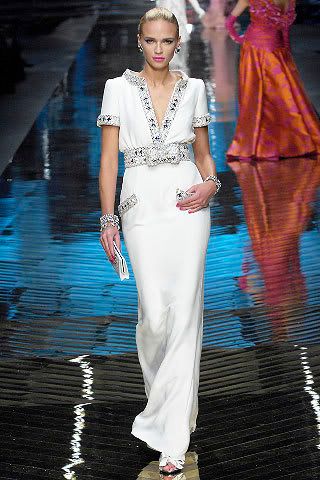 This seems to me so classically Valentino -- you could wear this dress (provided you had the occasions for it, lucky you) for the rest of your life and it will never, ever be out of style.
Look at the folded back origami pleats around the bottom and the sleeves. Delicious.
His floral chiffons have always been the loveliest in the business. Sweetness and light.
It will surprise no one that this is a coat I would die for.
You want bows? Valentino is famous for his bows. In her coverage on Style.com last week, Sarah Mower called them "succulent." I think that's a perfect choice of words.
Oh, would you
look
at the detailing on this dress??? Just stunning.
I am, naturally, devastated by these gloves. Where can I get some, and which kidney should I sell?
Unbeknownst to me, there is a new Valentino boutique in Northpark Mall in Dallas. Unbeknownst, that is, until last weekend, when I was strolling through the mall with my dear friend Ms. Jody. Said new Valentino boutique is

plenty

beknownst to me now -- Jody & I were stopped dead in our tracks by the glorious window display and we were drawn in as though a tractor beam had locked onto us.
Oh, my. Oh my, oh my. That is a lot of really beautiful things in a small space, let me tell you. And it was positively salutory. Ms. Jody was feeling a little crabby about fashion due a pair of $600+ Manolo Blahnik flat sandals, glorified flip-flops, really, that she had run across in Neiman Marcus. ("There is NOTHING," she stated vehemently, "that you can do to a
flip-flop
to make it worth $600." I must say, I'm inclined to agree with her.) But you cannot be crabby while surrounded by that much gorgeous fashion, and you cannot quibble about the prices when you see the amazing quality and detailing in every single piece.
One of the beautiful things staring at us was the wonderful
red dress recommended to me by my reader Billy last
week, and I have been kicking myself for a week solid now because I didn't try it on and get a photo. There is a tissue-thin, black pleated silk skirt bearing the same cut-outs around the bottom, and I very nearly burst into tears when Marion, the fabulous SA who treated us so nicely, pulled it off the rack and showed it to me. I need that skirt.
Also available for perusal was this
gorgeous Grecian goddess of a dress and this hallucination
which I assure you this photo in no way does justice to. It is a fantasia of flowers and crystal pleats (an inset at the front of the skirt, you can't tell in this photo) and satin ribbon and beading.
Marion enjoyed our enjoyment for a bit, and then, clever man, he played his trump card.
The fall shoes were 60% off.
Which is how I wound up with these:
Classic Valentino red, the color most associated with him (and me, I might add). Beautiful pleated silk satin. A tiny bit of an interior platform. And the bow -- the famous, incomparable,
succulent
Valentino trademark bow. How could I resist? Now, I need another pair of red heels like I need... well, I just don't. But soooo beautiful. And as I told Ms. J, the idea of taking them off and leaving them there gave me a tummy ache. I couldn't bear to be parted from them. And don't my feet look pretty in them? As Marion said, "Your feet are
glowing
in those shoes." (He's good, that one.) He was right.
And they're sentimental. From Valentino's final fall ready-to-wear collection. We may never see their like again.
Pshew. Writing about them right now, I'm having a difficult time resisting the urge to run into my closet and put them on. Oh, what the hell...
There. That's better. My feet are glowing. I feel... succulent.
Photos: Style.com, Style Spy