One of the reasons I was AWOL for a month was a wedding. No, not mine, the wedding of my dear friend Miss A, which happened last Saturday with great success. It was a beautiful day, she was a beautiful bride, and all our hard work was worth every moment. But hard work it was, and if you've ever planned a wedding you know I'm speaking the truth here.

The most important question surrounding any wedding plans, as you know, is:



The bride, of course, was covered. We'd scored her dress ages ago and I assure you it was perfect. (When she's back from lounging on the beach I'll ask her if I can show you a photo.) With her taken care of, I could turn my attention to my own closet. It was a Saturday evening wedding, so I needed something elegant, but I was going to be doing a lot of running around (another friend & I functioned as Miss A's wedding coordinators) and so I needed something I wasn't going to have to fuss with or worry about wrinkling & whatnot. Happily, because I scoop up treasures when I find them, I had this gem in my closet




I've shown you this dress before -- it's a little wonder from YSL that I absolutely adore. It's knit, it's easy, and it's chic. Perfect. It's also cut in such a way as to make the wearing of a bra problematic. For me, this is not such a problem, since I'm small-busted enough that going without a bra doesn't cause any serious arguments with physics. It's not something I advocate very often, of course, but in some circs it's the best way to go. I do however, make sure I suit up with a pair of these bad boys: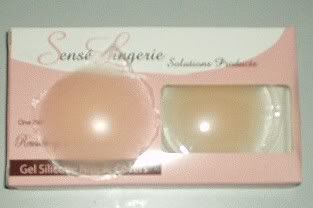 These are re-useable silicone
dimmers
that stick over the nipples to smooth things over and keep the Pencil Eraser Quotient at a minimum. I've had great luck with these, I much prefer them to the disposable kind that stick on like bandaids. The inner surface of these silicone jobbies is a little sticky, and applied to clean dry skin they stay on with no problem. When you're done you peel them off, give them a little rinse in the sink, let them dry, and they're ready to go for next time. The adhesive ones, on the other hand, wind up costing more because they can only be used once. Plus, if you have a less-than-steady hand on application, they can't even be used once, because if you have to peel them off due to a wrinkle or bubble you can't re-apply them. Lastly, I apparently have a bit of a sensitivity to the adhesive, because when I use the one-time ones I'm usually left with a faint redness, almost like a rash, in the shape of the thing, for a day or two. Not cute.
The day of the wedding we were working right up to the last minute to get all our ducks in a row, and when I finally went upstairs to get changed, I was a bit rushed. Rushed enough that I evidently didn't apply my dimmers with the usual amount of care. We got the go signal, music was played, mothers and bridesmaids and flower girls were cued, brides were walked down the aisle, all was going to plan. During the ceremony, after directing the traffic for the processional, I was standing in the back of the garden listening to the vows. Happily, I was tucked away from the seated guests behind some plants and trees, checking my notepad whereon was written the order of the ceremony and who went where when. All of a sudden, I felt a strange sensation and then plop! My left dimmer landed on the ground between my feet.
Yep.
Oh, good lord.
I knelt and instantly scooped that puppy up and shoved it into my pocket. Thank god for pockets!!! Crisis averted! Back to the wedding!
Then I got to thinking. There's another one. Is it going to come off? If so, when? While I'm running back & forth getting various members of the wedding party to the photographer? When I'm standing in front of 100 guests announcing the toasts? While I'm reaching out to scoop up some of the yummy paella on the buffet line? Oh, maaaaaaaan... I gotta take care of this now.
So there I am, crouched down with my trusty legal pad clutched against my chest as I try to surreptitiously peel off my right dimmer without actually reaching into my dress. This is not as easy as it sounds, but finally, success!! It's off! But, oh, lord, where
is
it??? I can't find it! It does not obligingly fall to the ground like its sister! It's stuck inside my dress somewhere!!! So now I'm

un

-crouching ever so slightly, patting the fabric of my dress, frantically plucking at it trying to shake loose my recalcitrant pasty. Which, after four and a half hours (which was actually probably only about 28 seconds), I did. And after the ceremony concluded and I got everyone offstage and the formal photography was underway, I hid myself away and (carefully) reapplied the goodies. They didn't give me any trouble for the rest of the night, thank heavens. And happily, there's a videotape of the ceremony, so I can go back and listen to my friends' vows, which I was not, unfortunately, able to give my full attention to.
The rest of the event went mercifully smoothly. It was a wonderful wedding, and I had a wonderful time. But I felt I needed to share my wardrobe near-fiasco with my faithful readers and I'm hoping that if you have any similar stories to tell, you will. How about it, folks -- what's the most embarrassing wardrobe malfunction you've ever endured?
Have a good weekend, everyone!