Style Spy was out running some errands this Sunday when I walked past an Alfred Angelo bridal boutique and saw this t-shirt in the window.


Needless to say, this brought me up cold. I was a little distance from the window and there was glare from the sunlight, so the tiny pink ribbon on the shirt wasn't immediately visible to me. For a moment, I just thought I was looking at the biggest non-sequitur in marketing history -- a window full of enormous cake-like wedding dresses and one hot pink t-shirt inviting... well, the sorts of things one doesn't usually see at a wedding. And then -- just for an instant -- I had a
flashback
and the horrified thought: "Good lord!! Does
everyone
know???" It was too strange a coincidence.
A moment later, after I remembered that the world does not, in fact, revolve around me, I put it together: October is National Breast Cancer Awareness Month, and this t-shirt obviously is an effort to encourage breast self-examination for women. Which is very important.
(Very. Very. Important.

Not a little. A LOT.
And
you should all be doing it regularly
. Every. Single. Month. No excuses.)
And while I do understand that A) these are health issues that are important to everyone, not just women, and we should never, ever be afraid or ashamed to talk about them frankly and B) shock value can go a long way toward getting an important point across, I just... can't get behind a t-shirt that says "Feel Your Boobies." It's just a bit much.
On the other hand, I certainly would never want to discourage anyone from contributing to such a worthy cause in any way (And that being said, if you click on the photo of the t-shirt above it will take you to the site where you can purchase it. All I ask is that you are judicious about when & where you sport the silly thing. Your Sunday morning yoga class? Absolutely! At a sports bar where you went to eat wings and watch Monday night football? Not so much.), so I decided I'd bring you some other, more wearable options. All of the following items will benefit some breast cancer charity if you purchase them. Click on the photos for links.
Wacoal Awareness bra, $1 of every purchase donated to the Susan G. Komen Foundation
Look! There's even shoes!!
And super-cute, useful ones, at that! Scoop navy flannel and black patent ballet flats: on sale for $96.22. One-half of the proceeds will go to Fashion Targets Breast Cancer.
eDressme.com is donating 15% of any pink dress (any!) to the Komen Foundation
This one's my favorite:
Exclusive to Shopbop.com, this and several other celebrity-designed t-shirts. This one is from Nicky Hilton, believe it or not, and I happen to really love the design.
50% of proceeds go to the Breast Cancer Network.
Great-looking t-shirt with flattering scoop neckline and actual sleeves!! A t-shirt for a grown-up! Unspecified amount from each purchase goes to the Komen Foundation.
Scarves are The Thing this fall. Everyone but everyone has some fringe-y thing wrapped around her neck (even here in Austin, where it's still in the 80's most days). So, if you're going to be a Trendista (or you just happen to like scarves, which is also fine), you could do worse than one that provides a donation to the Komen Foundation.
Even something for the mens!
Very good-looking tie, with discreet pink ribbon. Also available in other colors, including full-on pinkety pink pink. One dollar from each item purchased September 15, 2008 through November 15, 2008 with a minimum guaranteed donation of $100,000 to the Komen Foundation.
My favorite: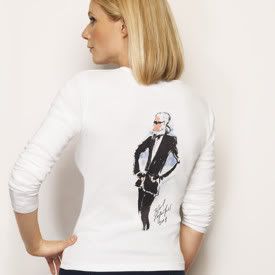 Designed by Karl Lagerfeld, complete with questionably tasteful self-portrait (although who am I kidding -- that's why I love it) on the back. Over $35 of the purchase price goes to the Entertainment Industry Foundation's Women's Cancer Research Fund.


So, go! Shop!! (After you've done a self-exam, or scheduled a mammogram if you're due for one.)