Yesterday I received the Hollywould sandals that I ordered to try to assuage the Want Monster wakened last weekend by the Chloé sandals I saw in a fashion show.

And they were met with a resounding, "Meh."





I'm just not in love with them, frankly. What it boils down to is that they're just not special enough. Let's look at the Chloés again: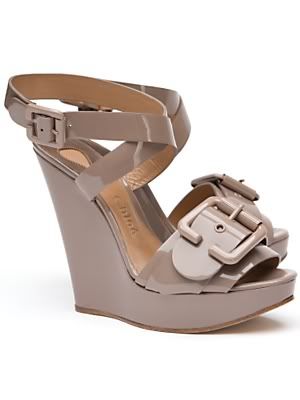 Mmmmmmm, yummy and delicious. See, the Hollywoulds are just lacking all those little touches that make those so very edible -- the ankle straps, the buckle... They're fine as far as sandals go, and a person could get a lot of use from them, probably, but they just don't move me.
In the end, it didn't matter if they moved me or not because they were too small. I ordered the 9s and they were about a half-size too small for my foot. I'd say that was something to keep in mind if I ever ordered shoes by this brand again, but honestly, I'm not sure I will. I was pretty underwhelmed by the quality of this shoe, it wasn't nearly as well-made as a shoe whose original price point was probably between $400 - $500 should be, IMHO.
On both shoes, the seam in the wedge covering looked like it was already starting to come unglued. I have a pair of Nine West sandals with a patent-covered wedge that I've been wearing for four years or so and they
still
look better than that, and I paid less than 100 bucks for them.
I also think the quarter-strap on this shoe is too thin for its weight -- I don't like the way it looks and I don't think it's good engineering.
So, back they went. No harm, no foul, thanks to free shipping and returns from the nice people at
. But the Want Monster is unsatisfied, which is always a dangerous state of affairs.
Have a great weekend, everyone!!!
Photos: Style Spy