Have you had this experience?

You're watching (god knows why, maybe you're off sick from work and the dog ran away with the remote and you're too feverish to chase after her) Wheel of Fortune. The lovely and talented Vanna White (is she still on that show?) has turned over those brightly-lit letters to reveal the following:


And the NIMROD who is playing this game and has $12,850, a new car, and an all-expenses paid vacation at the Desert Sands Inn riding on this answer? Is STUMPED. "Is it 'The Wipard of Op? The Wigard of Og? The Wimard of Om? Gosh, Pat, I just don't know!"
So there you lie on the couch, helpless and a little sweaty from your temperature, losing your mind, tearing your hair out, railing at the gods because this IDIOT cannot see what should be as plain as the nose on his face and if you
just scream loud enough
through your gritted teeth at the television maybe this MORON will hear you and get this right and
we can all move on!!!
Yeah. I'm having that feeling right now.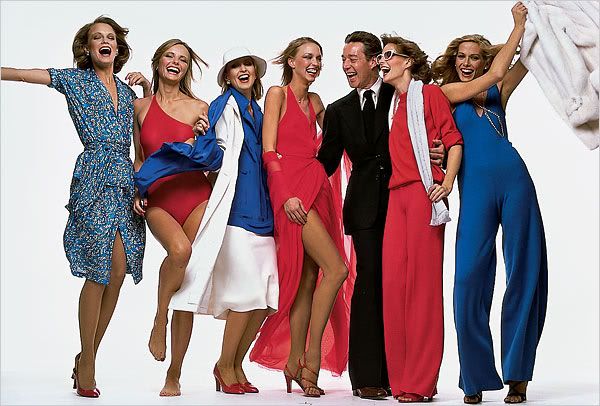 Halston & gals, circa 1977. Notice Shelley Hack & Cheryl Tiegs.
There are all these rumors flying around about who's going to be taking over the design duties at Halston. Most recently the name Olivier Theyskens is coming up. A lot. Evidently Dear Leader Anna Wintour is very into this idea, and folks do listen to Anna.
Now, as you know if you've been reading my blog for any length of time, I adoooooore Olivier Theyskens. I think he may be the most talented designer of his generation. And I think that his tenure at Rochas was an inspired pairing and a golden age, and
I'm going to be peeved at Procter & Gamble forever
for closing it down. (Backstory: P&G acquired Rochas when they bought Wella, ran it for a few brilliant years with Theyskens making very expensive fashion magic and then decided that they didn't know from fashion, just shampoos & perfumes, and decided to shutter it. Many fashiony tears were shed all over the world, including a few here at Style Spy Central.)
Now they've apparently entered into a licensing agreement with an Italian company (Gibo) who will once again send the models stomping down the runway with Rochas labels sewn in their garments. Unfortunately, Theyskens is no longer available because h
e's been designing Nina Ricci since Fall 2007.
Or is he? See, Theyskens is now
leaving
Nina Ricci -- Fall 2009 was

his last collection there. If
I
ran the world, the PTB at P&G would crawl over broken glass to Theyskens, cravenly promising him a fabulous new studio, a line of hair care named after him, an adorable Portuguese water dog puppy, or whatever else it took to woo him back.
In the meantime (Lord, this is starting to feel like a re-cap of Gossip Girls, isn't it?) back in 2007 Harvey Weinstein (he of Miramax fame) bought Halston with the idea of re-launching it and turning it into a global style powerhouse. Tamara Mellon, the over-injected president of Jimmy Choo, was a board member and Rachel Zoe, over-hyped no-talent president of her own fan club (Bananas!), was hired as "red carpet consultant." I think it is telling that the person who was hired to
design
Halston, Marco Zanini, would probably have gotten fewer Google hits than either of those women, considering that he was the person who was putting together the actual clothes.
Halston Fall 08
Jump forward a few seasons and Halston has not made the inroads its investors would have liked it to and Zanini is out of the picture. (And in one more sidenote of incestuous fashion weirdness, Harvey Weinstein is married to Georgina Chapman, one of the designers of the label Marchesa. Marchesa is best-known for its red carpet-wear, but Halston was always better-known for fabulously chic American sportswear, so one can't help wondering exactly
who
Rachel Zoe was supposed to be supporting here... But no matter. Ms. Zoe is apparently No Longer Associated with Halston, a development I can only see as to the good.)
Now. Here's where it
really
gets weird. Guess whose name is being bandied about to take over when Rochas re-opens? Yep. Marco Zanini.
Are you still with me? God bless you.
I'm not going to talk about the whole Rochas/Zanini situation right now. That's another topic for another day. The point of this particular post is that while, as stated, I adore Olivier Theyskens and would happily let him design pretty much my whole life, I think he is completely wrong for Halston, and despite the fact that I'm risking the wrath of Anna Wintour, who is no doubt performing powerful magic in front of her Rem Koolhaas-designed voodoo altar, I know who needs to take over designing that house.
These guys: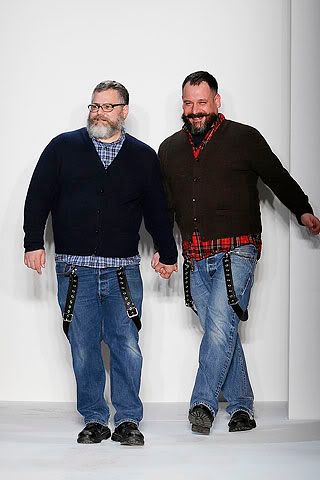 Jeffrey Costello and Robert Tagliapietra, of their namesake label. The two cutest designing gay lovebird lumberjacks New York has ever produced. Seriously, I just want to go over to their house with a couple of pints of Ben & Jerry's and watch Drew Barrymore movies -- they could not be more adorable.
I fully expect to hear the thunderclap of thousands of fashionistas slapping their foreheads when they read this. "Of course! That's perfect!" you think. "Why didn't Harvey Weinstein think of that???"
Why, indeed?
Listen, these guys are perfect. They made their bones working in jersey, which was one of Halston's favorite media and an absolute must for the label. They do cool, easy, American-chic sportswear.
Their last runway show was sponsored by Ultrasuede, for god's sake!!!
Am I seriously the only one who sees this???? Here -- I'll show you: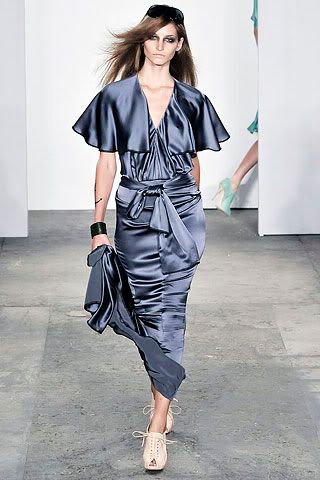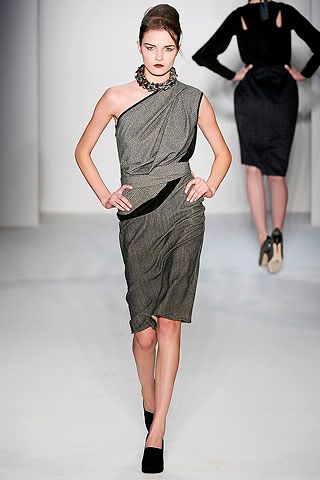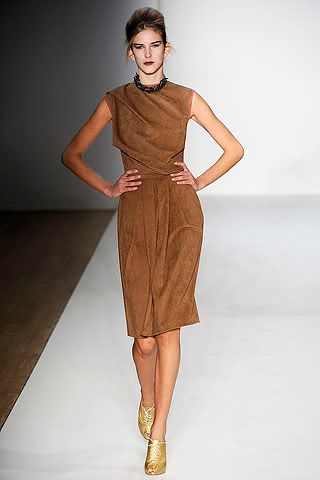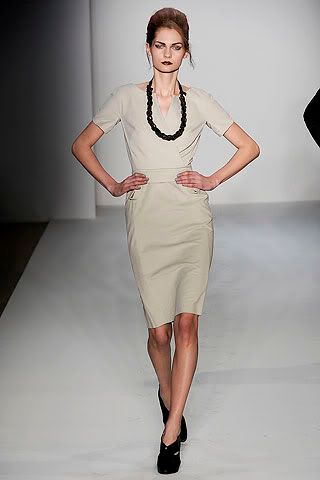 (All these photos are from their last two runway shows.)
I rest my case.
So, please, Harvey, give a girl a break and do yourself a favor. Hire these guys to bring back the late, lamented, dearly beloved house of Halston. Get some good designers to make some fabulous clothes under this label, make it hip & cool again, and rescue one of my longstanding favorite perfumes from the ignominy of drugstore shelves. You'll thank me, I promise.
Photos: mediabistro.com, style.com