You may recall some time ago when I raved about this stuff: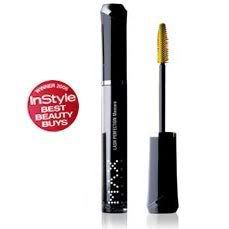 Max Factor Lash Perfection Mascara
and then
a nice lady then sent me a bunch of other products to try
, including this:
Max Factor Volume Couture Mascara
I've now used the full tube of the Volume Couture and I'm here to report. My report is: it's good, but I like the Lash Perfection better.
If I'd never tried the Lash Perfection, I'd probably really love this stuff, but there's a few ways in which it just isn't right for me. First of all -- the "volumizing" formula. I can honestly say there is not a single part of my entire physical being that needs more "volume."
(

Mine goes to eleven!

)
"Volumizing" means "thickening" and therefore the formula for this mascara is a little goopier than the Lash Perfection. I don't want my eyelashes volumized -- I'm fortunate in that I actually have quite a lot of eyelashes, so they don't need thickening. Lengthening and separating, those are my mascara needs. I want a mascara that covers every lash from bottom to top and that doesn't clump together. I hate the clumping together. The Volume Couture, let me hasten to add, is not clumpy, but the tiny spikes on the brush are further apart than the ones on the Lash Perfection wand, so I had to work a lot harder to get all my eyelashes separated.
See? Volume Couture brush on the left, Lash Perfection on the right. (I love these little bristly brushes; I'm never, ever going back to a mascara that uses a spoolie brush.) I did use a LP brush with the VC mascara with more success, so the brush is really the dealbreaker in this for me. Neither of these mascaras is flaky, which as a contact lens wearer I greatly appreciate (flaky mascara is the bane of my existence), and they both wash off easily with soap & water. I haven't tried the waterproof formulas (again, contact lenses).

One complaint, and I have this complaint with pretty much

every

mascara: I don't like the way the brushes taper to a point at the end. I understand that the reason for this is so that you can get at the small lashes at the corners of your eyes, but that narrowing of the brush means that the collar on the inside of the mascara tube doesn't squeeze off the excess at the end. This results in a big gob of mascara that I have to wipe off on a tissue, meaning probably half of any tube of mascara I buy winds up in the trash can; and that gobbiness renders the little pointed bit kind of useless at performing its function to begin with. This makes me unhappy, especially the wasteful part. My ideal mascara would be double-ended, like some lip glosses, and one end would have a regular-sized wand and the other end would have a teenie wand for corners, each of them with interior collars that were sized accordingly. Isn't that a good idea? You heard it here first, folks.

Gobby-endedness aside, I think these are great mascaras, especially the Lash Perfection, and they are gettable at the drugstore or supermarket for less than 8 bucks. In a schwag bag I got earlier this spring I received a sample of a Chanel mascara that goes for a cool $27.50, and I didn't like it as much as the Max Factor. So go getcha some, and get your flutter on!


PS... Here's a late-breaking review sent by Robin, who was the winner of the giveaway for a tube of Volume Couture -- she's been wearing it for a few weeks now:

"The mascara is absolutely fantastic. I like it much, much more than my expensive goopy stuff from Sephora. As a contact lens wearer myself, this is so much better. Exactly what you have said about the flakiness and the ease of washing off. That it comes off so easily is my favorite thing about it... it stays on all day, but when you wash your face at night there are no raccoon eyes or makeup remover to content with. Thank you so much for sending it to me, as it is probably not a product I would have picked up on my own."

Photos: MaxFactor.com, Style Spy