Tom Ford left Gucci in 2004, which prompted much hand-wringing and moaning throughout the fashion world. I've honestly never been that big a fan of Ford's. I don't think he's a hack, like Elie Saab, and he's certainly a more talented designer than, say, me. (Or any number of other folks who actually are designers.) But I never quite got what all the foofaraw over him was about. Ford certainly does have a Vision, and it involves long skinny people with skin so sleek and shiny it looks like they're made of neoprene wearing long skinny clothes that are usually even sleeker and shinier. If all goes to plan, said long sleek people will at some point in the evening be indulging in some sort of vaguely de Sade-ian sexual activity, preferably in non-traditional gender and numerical combinations. Like this: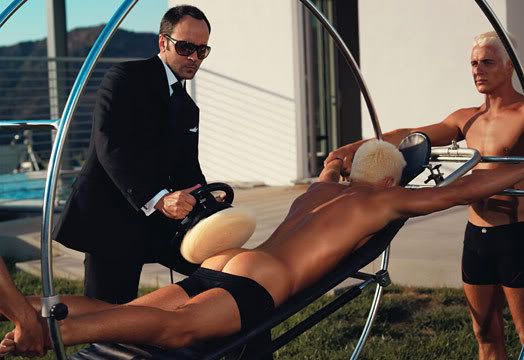 (Above photos are from a W magazine photo spread in 2005)
Don't get me wrong, I like a nice bum as much as the next gal, but jeez... all that self-conscious decadence just exhausts me. While it's all well & good to stride forcefully through life plotting stiletto-inflicted mayhem and wrongdoing,
(Go ahead, laugh. It's funny.)


most of us just want pretty clothes that make us look nice and that we can wear getting in & out of automobiles without pulling a Paris or a Britney. (No, no links to photos, absolutely
not
.)
Enter Frida Giannini, who's been designing Gucci since the Spring 2006 collection. Maybe it's because Giannini is a real-life woman rather than a "Visionary," but the stuff at Gucci has gotten remarkably wearable over the last few seasons and I for one am loving it. It is still unmistakably Gucci, no doubt -- even the most ho-hum daywear has a glam element in that house -- but the last few shows have been chock-full of looks that made me want to buy Frida a cocktail.
I was really taken with the latest Resort Collection. Theoretically, it sounds pretty goofy -- a rockabilly-themed resort collection with coral-print accents and lots of plaid. But honestly, it really works. It's a lot of black and white with brightly-colored accents, very graphic and bold, which is right up my alley, with a slightly retro feel. And incredibly wearable, I thought. Lots of shapes that are flattering to a wide variety of body types. Look at this beauty of a dress: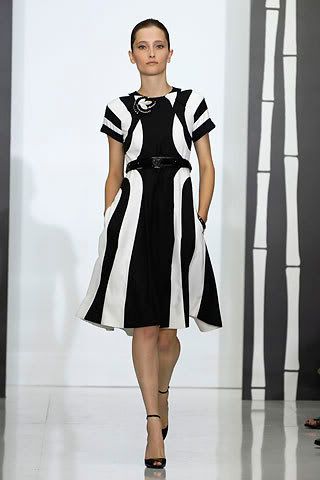 That is a really lovely thing that almost anyone would look great in. It gives you a waist, has a nice swingy skirt, and all that great vertical seaming/colorblocking creates lots of long lines. I, of course, would wear that with red patent shoes. But you already knew that.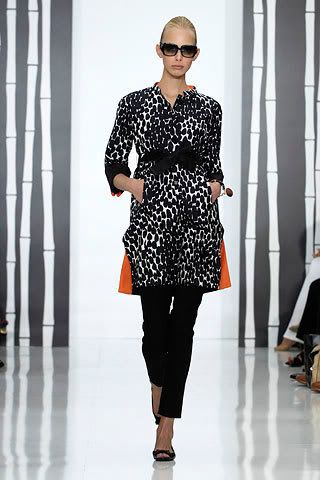 Here's me with my leopard-print thing again, but dangit -- that's just cool!! Skinny pants are oh-so-difficult for the vast majority of the population, but this shirtdress is long enough to cover all the problem areas and still look terrifically hip. And I love the kick of color in those orange inserts at the bottom -- so unexpected and fun.



I can't even tell you how in love I am with this outfit. I don't have to explain why, do I? It's just divine.


And ditto this dress. Seriously, this would look great on just about anyone. Simple, easy, elegant.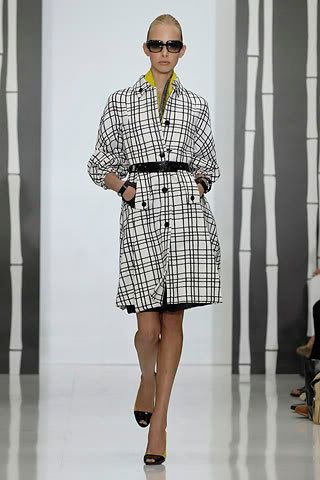 I'm a sucker for a good coat and a graphic pattern, and this really punches my ticket. Look at those great sleeves, that add just enough femme to a very structured, tailored shape.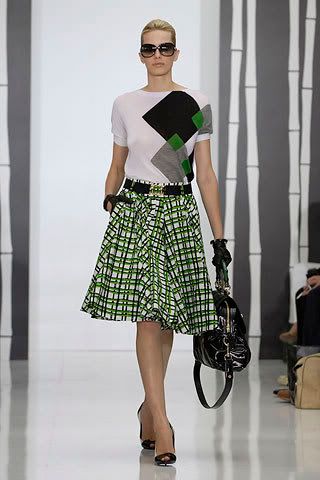 So. Damn. Cute.


Here's a shorter version of the coat, and if you're not waif-like enough to pull off those pants, it's also going to look great over jeans, or a black shift dress (or
any
color shift dress), or a good pencil skirt and blouse, or a nice a-line skirt, or... you get the idea. Fantastic jacket.
So sorry, Tom, but I don't miss ya at Gucci. (And I
really
don't miss him at YSL, where Stefano Pilati is making my heart beat faster with every passing season.)


(It's hard for me to be nostalgic for

this

.)


Tom's keeping plenty busy -- he's done
a makeup collection for Estée Lauder
and has opened
a swanky new men's store in New York
, not to mention releasing
about 974 fragrances under his own name
, so don't you worry about him. He still has plenty of Vision left. And he's going to keep foisting it on us whether we want it or not.


Photos: Style.com