Now here's some weather I can get excited about -- Tropical Storm Cristobal! When I heard this announced on the radio, a very large smile appeared on my face, as I imagined what it would be like if my most beloved designer of all time created a storm. In my dreams, just such a thing as this happens -- chicness and glamor rain down from the heavens! Couture clouds pelt us with perfectly constructed garments! Can you imagine? Around our feet swirl a flood of creations as magnifique as these...





A "sac" dress. Marvelous. This is from 1956, but you could
still
wear this and look cutting-edge.


Oh, his sleeves... His sleeves
alone
are worthy of museum retrospectives. Look...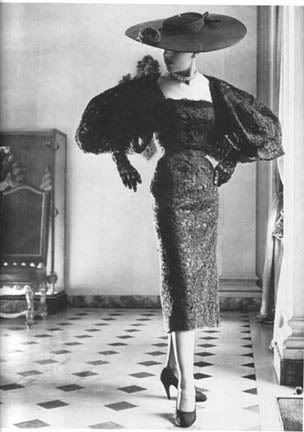 Could you just
die
?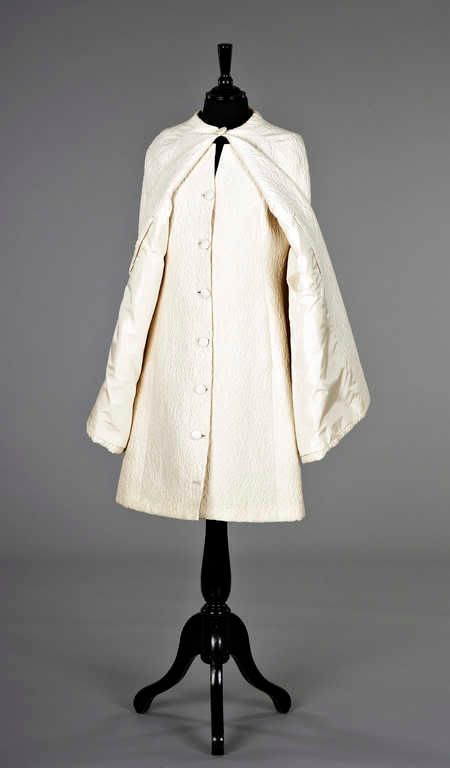 Gorgeous cape with perfectly tailored sleeveless sheath beneath it.




This is the sort of thing that made Diana Vreeland say, "If a woman came in in a Balenciaga dress, no other woman in the room existed."

That jacket is a piece of sculpture.





I would
kill
for this dress. Is that not
the chic-est thing you've ever seen??? I want one in every color. I want one in charmeuse, one in silk velvet, one in lightweight wool crepe...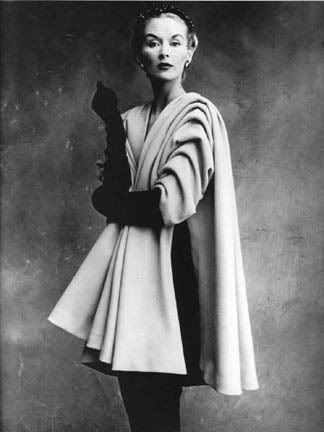 The legendary Lisa Fonssagrives-Penn, one of the most beautiful humans to ever walk the earth.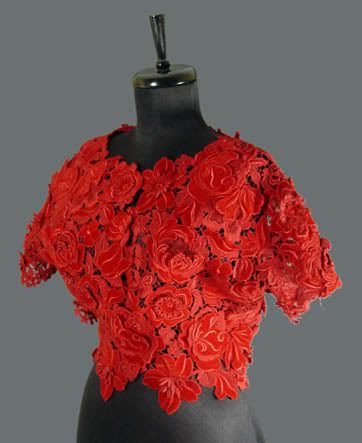 Remind you of anything?



Yeah, Miuccia does her homework.



As do the ladies at Marchesa...


And Christopher Bailey over at Burberry...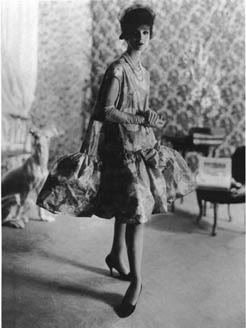 Aaaaaand John Galliano...


Here's the man himself:


Handsome devil, wasn't he?



I've had a little good Balenciaga fortune rain down on me in the last couple of months, in the form of fabulous bargains. Here's a wonderful dress that's wool jersey and so I won't be able to wear it for a few months yet, but I didn't care, I had to have it.


This is modern Balenciaga, and I love it because it's Ghesquiere doing a wonderful job of translating vintage to new. Hark back up to that brown sac dress from 1956 and look at the similarities. I do run hot & cold on Ghesquiere -- sometimes I adore him and sometimes I just can't quite bring myself to love it, but as time goes on and I see more and more of his clothes, I am beginning to recognize how he subverts the vintage designs into his own aesthetic, and to appreciate it more. He's a very young designer, I'm sure things will only get better and more interesting.
This
dress, though, needed no thought or translation at all -- it was love at first sight.


The stripes are a couple of different shades of purple, black, and a deep, deep forest green, which you can't really tell from this photo. The gathers down the front are a whole separate panel connected at neck and waist. I am going to have to hem the sleeves, obviously. (Not sure I want to meet the woman whose arms are long enough for those sleeves...)


I also love the bubble shape of the skirt -- and how perfect are my Miu Mius with this? Oh, I just love it. Tapping my toes impatiently waiting for fall to come.


Another unexpected Balenciaga windfall from a little while back:


These are the most marvelous, all-purpose black sandals -- only about a 2 1/2 inch heel, great for walking, go with everything. I love them. I was frankly shocked to discover they were Balenciaga, since Ghesquiere's shoes tend to be extremely...

extreme

. But hey -- no argument from me! I snapped 'em up! I plan on wearing these to ribbons.


So. While someday I hope to acquire real, true vintage Balenciaga from the hands of Cristobal himself, I'll have to make do with this for now. Shouldn't be too terribly difficult.



Photos: HeavenofGowns.com, OperaGloves.com, KerryTaylorAuctions.com, Meadows Museum, Style.com, Texas Fashion Collection, AP, Style Spy