Last February, my girl Miuccia Prada presented us with a collection that included these sorts of things...


(This coat was at the Saks outlet not long ago and even though it is not a practical item for me and even though it is still

way

too expensive, I had to take a deep breath and talk hard sense to myself about leaving it on the rack. I. Just. Love. This. Coat.)
Not everyone loved this collection, but I thought it was gorgeous. It also gave us these darlings:
Oh, the magic is still as vivid as the day we met...
There was also this line of bags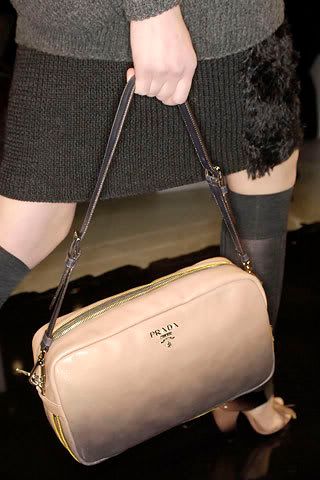 I didn't see a lot of these in the States, but I was in the Prada boutique in Paris with a friend while she bought one. Hers was a different style, much larger and more of a briefcase/tote sort of thing, and it was
gorgeous
. There were a ton of versions in the boutique, and they were
all
gorgeous. I was surprised that these didn't become more of an "It" bag here.
So while not everyone loved the clothes, the thing the collection most unquestionably begat was the rage for all things ombré, degradé, dip-dyed, whatever you want to call it. For the last year, ombré has been the go-to detail and has showed up on every sort of clothing and accessory you can think of. My latest obsession is this:
I am
besotted
with this sweater from Vince. It's cashmere, and it also comes in blue and I can't decide which one I like better. I'd probably go with the brown, because I already have a couple of blue cardigans. (Of course, I have a brown cardigan, too, but no matter.) I really, really love this thing, it's definitely going into the Luxury Tithe queue after the next Hermes scarf.
There are also lots of degradé dresses
and blouses
By the way, Shopbop.com, which is where the above three items can be found, is having a big ol' sale that features
Free U.S. Ground Shipping.
You should check 'em out, there is a lot of great stuff on sale.
Don't want to commit to a whole body's worth of ombré? How about these very wearable little honeys?
Or this great Elliott Lucca bag?
I would be seriously thinking about this bag if I didn't already have a black patent slouchy bag that I love. Elliott Lucca makes great bags -- they're good-quality and not exactly cheap, but they're also not crazy-designer-bag expensive. A good investment bag to carry for a few years. (Click for links to any of these products.)
So we've all been seeing lots of this trend everywhere we look, but one day last week I saw what I'm thinking must be the apotheosis of it and a signal that it can only decline from here. I was at the grocery store picking up a few items and on the way back out to my car I saw this:
I didn't see this very one, actually, because I oh-so-regrettably did not have my camera with me, but it was one just like this and it had a specialized ombré paint job, from black to silver-gray.
Now, I try to stay away from this sort of topic on this blog, but I'm afraid I'm going to have to go on the record here and state that I find these vehicles, and all vehicles like them, a vile obscenity and a loathsome abomination. (And if you feel the same way, you may be entertained by
this site
, which is adults-only, thank you.) (And if you
don't
feel the same way, have you seen
this
?) This thing seriously stopped me dead in my tracks and I stood there for a moment with my yawp hanging open as I tried to imagine what sort of person not only chooses to
drive
one of these gas-guzzling, road-hogging, parking-lot-colonizing, tugboat-shaped signifiers of too much money and not enough sense or taste, but then spends even
more
money to personalize it all up with a trendy paint job. And then I decided I didn't want to know. It's just indecent.
Me, I need to save my money for stuff like this
Photos: Style.com, Style Spy, carmax.com