Everyone adores a Chanel jacket. You know, the soft tweed, the boxy cut, the braid or the chains, the patch pockets. Everyone adores them, they're the index garment for so many fashionistas ("Someday I'll have a Chanel jacket,"), they've inspired countless imitations and untold envy. Except in me. I find them boxy & frumpy and for me they cannot shake the dowager-having-a-tea-party image, no matter how they are worn. I know some folks swear it's the most versatile garment ever created, blah blah justifytheexpenditureonastatussymbol fishcakes blah. Pair it with jeans to dress it down, whatever. ::yawn::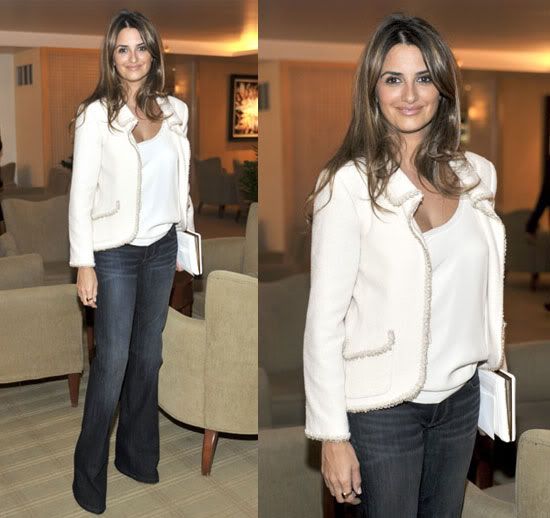 As I have pointed out before, if you can make Penelope Cruz look dumpy, you've really accomplished something. (Not something you should be proud of, but something nonetheless.)

So. While those jackets are a complete turnoff to me (and no, you're not going to convince me, so don't even bother), I do love that quintessential Chanel vibe that harks back more to the work she did in the 20's and 30's than her late-career resurgence. I love the easy, slouchy knits she pioneered, and it's hard to go wrong with her favored black & white color scheme. I just like to mess it up a little.





Here's me from this weekend doing my version of Coco. It's my black bandage skirt worn with tights and some real-thing motorcycle boots that I bought oooooooh, let's see now, I honestly cannot remember how long ago. Maybe 15 years? (Motorcycle boots are cool. They just are. They always have been, they always will be, and believe me, if I drop a bottle of wine on my foot while I'm in these things I'm not even going to feel it. They? Are sturdy.) The t-shirt, which, yes, is a bit of self-conscious irony of which I do not usually approve in clothing, but I'm being ironic about my obsession with Paris, so I'll give myself a pass. 'Cause I love Paris. What really makes this look gel for me, though, is the cardigan. It's a tipped cashmere cardigan in exactly the right shape and length. Chanel loved a cardigan and goodness knows so do I, but it's very easy to slip into mumsy with them. Keeping it long & lean prevents the mumsy.

I was so happy in my tipped cardigan that I wanted to share the love, so I hit the Series of Tubes to find you some.




Black and white! Cleverly detailed! Fabulous!

Sometimes a little color does a body good.

Kinda perfect.



MAISON MARTIN MARGIELA LONG V_NECK CARDIGAN
This is why we love Margiela (click on the text for the link). They can take the most basic of garments and make it completely desirable with the smallest twist. Yes, the hemline is asymmetrical and yes, it's meant to be. I adore this.
And here is Exactly The Thing in pink and gray, another classic color combination.

So that's my fashion "tip" (oh, I'm so sorry but you really didn't think you were going to escape it, did you?) for today. Now go forth and layer!



Photos: Style Spy, Fabsugar