Good googly-moogly.

A friend of mine sent me a link to these today:


I don't even know where to start.
Okay, let's start with this: these things cost £160, which is roughly 320 American dollars. Now, I'm sorry, but bluejeans that cost $320 are ridiculous. It's DENIM, people. The English Rose points out that I hardly ever wear jeans, so I can't understand spending that kind of money on them, but for a woman who wears her jeans for dressing up and going out, it might make more sense. I see her point, but I guess I'm old-fashioned. For me, "dressing up" categorically rules out jeans. Dressing up is
dressing up
. Jeans are
casual
. See how those things are different?
Next -- oh, lordamercy, I am so over the corset lacing thing. It's not titillating, it's not charmingly racy, it's just tacky. People put it on shoes, they put it on handbags, they put it on wedding dresses, for crying out loud!
How about this nightmare, huh? Hey, why wear a wedding gown when you can just wear
underwear
??? Because nothing says classy like marching down the aisle of your family's church looking like a Victoria's Secret model.
You know where corset lacing is good? On a corset. You know where a corset is good? UNDER your clothes. Or in your bedroom. Or if you're in Transexual Transylvania.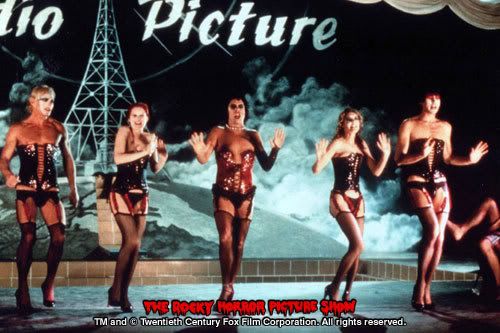 All good. But NOT in the receiving line meeting your new husband's great-uncle Morty for the first time.
But the thing that really sent me over the edge about these jeans was this little nugget of helpful advice, inserted between the color choices and the sizing:
Bodytype: Hourglass & Pear shape
Did you just blow coffee out of your nose? Because I nearly did when I read that. Who wrote this copy, Cruella DeVille? First of all, no woman who is pear-shaped needs an extra four inches of real estate on her jeans to make the biggest part of her look
even bigger
. And, just in case that extra yardage wasn't calling enough attention to the ol' badonkadonk,
there's a bow on the ass
.
Seriously, ladies, don't put a bow on your ass. Especially a lame-ass skinny floppy one that looks like you rolled some kid on a playground and stole the laces out of his Chuck Taylors so that you could cinch up your butt.
Sheesh.
Photos: Ilovejeans.com, PninaTornai.com