Lurking at the bottom of a bottle of New Year's Eve champagne? The Want Monster. (And a hangover, but let's not get into that.)





These are from Prada's latest resort collection, and I think I need them. Honestly, I think we ALL need them, because those are some bee-yoo-tee-ful shoes. The one thing that gives me pause is that they are fabric, and I tend to stay away from fabric shoes if I can, given that they're more fragile than leather shoes. However, I think I might be able to get over it. Still, I want to look around some more in case they release any in leather. I'm a little surprised that these are the only ones I've seen -- I would think these shoes are going to be hugely popular and that they'd do several variations in anticipation of selling them like crazy. The ombré patent ones like mine eventually showed up in what seemed like a squillion variations (closed toe, open toe, slingback, pump, buckles, bows, etc...), and I would think the flowers would be a much easier sell. Especially since they morphed into these for the Spring collection: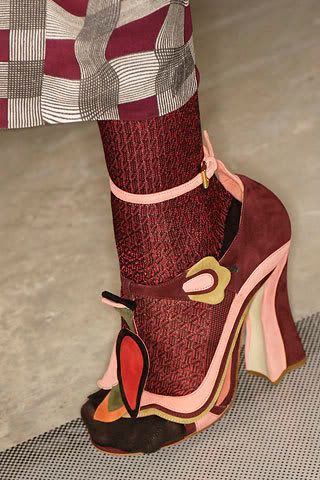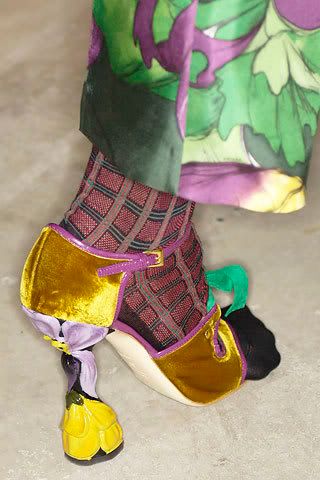 Don't get me wrong, those are some fantastico shoes, but they are certainly more extreme than the black ones and I think most women would find it difficult to imagine them serving a useful purpose in their wardrobe. I'm going to apply that last comment to the entire
Spring 2008 collection from Prada
-- it was extremely beautiful and extremely whimsical and well... a bit extreme. Some folks probably found it a little more accessible than
Fall/Winter 07
(the one with the ombré effects and faux-fur vests and puckered wool) on the surface, but I beg to differ. Tailored pieces always age better than flou-y ones, and while I adore the wonderful variety of patterns Miuccia chose for S/S 08, you have to be Advanced Fashion Qualified to work them with a sure hand. The photos above are from the runway show, and the shoes will probably be re-worked for production into something less wacky, but still... those are Statement Shoes. Not for everyone.
The resort stuff just started hitting the stores around Christmas, so it's possible that if they do well there will be further options. I'll hold out for a while to see what happens, but I think by the time spring (
actual
spring, not fashion spring) rolls around, I'll be walking on rosebuds.
Hope everyone had a wonderful New Year's celebration. I saw in 2008 wearing my longtime loves,
the Pucci boots
. They were a big hit at the party. What were you guys wearing?
Photos: NeimanMarcus.com, Style.com