This photo popped up on my radar this morning and I wanted to show it to you: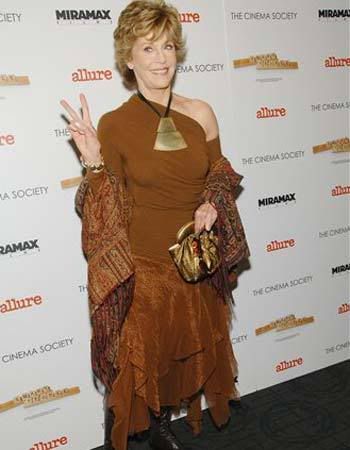 Behold Jane Fonda at the premier of the movie "Smart People." No, I don't bring this photo to you in order to illustrate what not to wear, although that Pocahontas-goes-to-aerobics-class outfit is pretty awful. (Are there buckskin leg warmers underneath that shredded saddle blanket of a skirt, Jane?)
No, I show you this to point out to you that Jane Fonda is
70 years old

.
70.


And whatever you may think about Ms. Fonda and her lifetime of various career incarnations, political causes, and marital adventures -- you have got to give it up for her being one fantastic-looking septuagenarian. Dang. Evidently, 70 is the new 40. I dunno what moisturizer she's using, but I want to get me some.
But back to the outfit... It was actually

almost

good. Love the color on her. Had the skirt been just one layer of fabric, a nice pencil or a-line, and made of something less likely to have been found covering a pillow in someone's Seigfried & Roy-themed rumpus room, I think she might have really had something there. Imagine a nice caramel-brown smooth wool tweed instead, or a beautiful smooth soft leather, without all the foofy bits. I do love that necklace -- it looks like
Robert Lee Morris
, who's one of my favorite jewelry designers. She also needs to lose the fussy little purse, it looks like something your great-grandmother kept her embroidery in. A nice sleek crocodile envelope clutch would have really worked there. Also, love her hair. That is great grown-up hair that doesn't look matronly.
But again I say --
70
. You go, Jane!
Have a great weekend, everyone!
Photo: FoxNews.com