A few months ago I saw these on the Neiman Marcus website: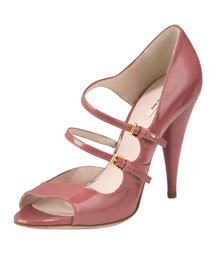 Good googly-moogly, huh? That is one amazingly beautiful shoe. That is the sort of shoe I really go for. It's sexysexysexy, and what a fabulous color. There's a lot of uses I could find for a pink patent shoe like that, and best of all, they're Miu Miu, which means they'll fit me. (I have great luck with Miu Miu and Prada shoes -- they suit my feet incredibly well.)
I hot-footed it (hah!) up to Neiman's and they didn't have them, but they
were
to be found at Saks. However:


Let this be a lesson to you about the color accuracy of the photos on etailer sites.



Um, that is
not
the color on the website. And here is where things get a little murky. These are not the exact shoes in the Neimans site. (Note how the inner side of the NM shoe is cut out, while the ones I have one are not. The color of the NM shoes is called "Antico," and described as "dusty rose." The color of the shoes I'm wearing is called "Mughetto" and I would also describe

it

as "dusty rose." Specifically, somewhere in the middle of rose, gray, and nude. I have since done some research and while I have found several variations on this shoe in both "Antico" and "Mughetto," the colors appear to be the same. It's killing me not to be able to compare them side by side, but based on a wide selection of photos up on one of the auction sites, I have to conclude that on some models they chose to call the color one thing and on others, another. No doubt there is some sort of inscrutable Italian shoe marketing logic behind this, but it eludes me.

At any rate. It's a difficult color. It seems like it would be a very good neutral, but it's not, really. Maybe on someone with a different skin tone, but on me it's most definitely a

color

, and a very odd one. But, oh, they're wonderful shoes, aren't they? Sooooooo good-looking. And they were Absolutely Perfect with this:


Woo-hoo! Adorable little rosy sequined dress. It's a perfectly simple little dress, basically just a sequined t-shirt. I've always wanted a sequined dress, and post-weight loss I found this one marked waaaaaay down and went ahead and bought it. I like it because it's a subtler color than you usually find in sequins (if I can use the words "subtle" and "sequins" in the same sentence without being laughed out of town) -- typically they're black, silver, or gold, or a very bright primary color. It's actually a color that I usually stay the hell away from, honestly, that dusty, grayed-out rose is deadly on me, but it seems to work because the shine of the sequins keeps me from looking too washed out. I will still have to wear a strong eye and a strong lip, though.
At any rate, I've had this little number for a while and wasn't quite sure what shoes to wear with it. It's too silvery for a gold shoe, but I wasn't about to buy a silver shoe because I otherwise never wear silver. It's a very sparkly dress, so I didn't want a super-flashy pair of shoes, in order to balance it. But the Miu Mius are perfect. PERFECT. As though they were custom-made for it. However, as I stood in my closet with them on my happy, happy feet, I had to admit that this was just about the
only
thing they worked with.


Even yours truly is not foolish enough to spend nearly $500 on a pair of shoes that go with exactly one thing in my closet, and that one thing an item I'm not exactly going to be wearing on a weekly basis.


So back they went.


Sad Style Spy.
Last Wednesday, which was my birthday and I thank you all once again for all your lovely birthday wishes, I just
happened
to be in the Saks neighborhood. (How on earth did
that
happen?) And they just
happened
to be at the very tail end of their summer sale. And I just
happened
to wander through the shoe department. Where those bizarre-yet-beautiful Miu Mius just
happened
to be on sale for what amounted to about 70% off. There was one pair left. And they were my size.
And so they have come back to me. A birthday gift and reward for patience and sense from the Shoeniverse. Oh, the Shoeniverse is good to me.
And I discovered that they look wonderful with aubergine.


(Why, hello there, Ms. Inverse Raccoon! Apparently, the undereye cover stuff I'm using does an even-better-than-advertised job of reflecting light. Note to self: Not good makeup for photos.)
Like this gorgeous dress that I wore when the fabulous Plumcake took me to birthday dinner at my favorite French restaurant that's not in France on Saturday night. This dress is Fendi and is one of my very favorite garments of all time. Simple, elegant, not so much as a zipper, easy to move in, gorgeousgorgeousgorgeous. And I love it with the shoes, I don't know how I missed this combination when I was in the closet with the shoes the first time. (Although you can't tell from my expression, can you? Jeez, girlfriend, lighten up!) They're also good with navy, and of course everything works with black. So I feel confident I'll get some use out of them, and I wore them Saturday night with great success -- as anticipated, they're super-comfortable on me.


So let this be a lesson to you. If you love something but you don't have anything to wear with them, set them free. If they come back to you at 70% off, buy a dingdong dress to go with them if you have to!



Photos: NeimanMarcus.com, Style Spy