All right -- well, last week's fuzzy cardigan got an overwhelming thumbs down -- 90% of voters Just Said No to fuzz. That one was made of eyelash yarn and I have to agree -- I think it's a fiber that should only be found in handmade stuffed animals for sale at holiday season fundraiser craft sales.

Or in hats that your friend Ginny knits you in order to help you channel your inner feline.


But I saw these next two when I finally got around to checking out the pre-Fall 2009 collections. They're from Donna Karan (and by the way,
this collection
is thoroughly gorgeous.) These are not eyelash yarn -- these are apparently ostrich feathers & paillettes.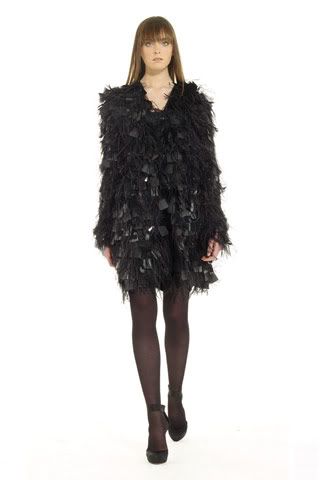 I have to say, I love 'em. They are decadent and statement-making and wild. Especially the red one (no surprise there) -- I can think of a lot of ways I'd like to wear that. I love the idea of it with my black Rochas skirt with a simple silk shell underneath it, or with skinny black cropped pants and high-heeled boots.
So what do we think? Love it or hate it? Vote in the poll top right!
Photos: style.com