I don't know anything about football. Believe me, I am perfectly okay with that. There is a tiny bit of residual knowledge left over in my brain from when I was a child and my family actually did care about football and I watched it. Oh, and in high school I was on the drill team and so was required to attend football games and at least pay enough attention to know when to cheer and when to boo (although that really only requires paying attention to other people who pay attention). However, once I went away to college the sports-knowing part of my brain began to shrivel and by the time I was in my mid-twenties it was a full-on vestigial organ. Utterly useless. But. One of the few things I remember from childhood football-watching is that Tom Landry was a sharp-dressed guy. Famous for his hats.



Tom Landry

And so, for the first and probably last time in recorded history, I now compare myself to a legendary sports figure:
me, à la Tom
I think Tom would approve, don't you?

Look at this cutie-pie little houndstooth hat I found this weekend at... wait for it... Target! YES! Target! So the thing only set me back about 13 bucks, and it's absolutely adorable. I've been looking at hats -- I ongoingly look at hats -- because I want one or two others along the lines of my black felt fedora. I like this one because it's fabric so I can wear it in the winter, but it's not a heavy felt, so it will work for spring and fall as well.
Because of the shortness of the brim, I'd call this a trilby.
So cute!!

I can't find it on the Target website, but I did find this one on a great site called
VillageHatShop.com
. (Click for links.)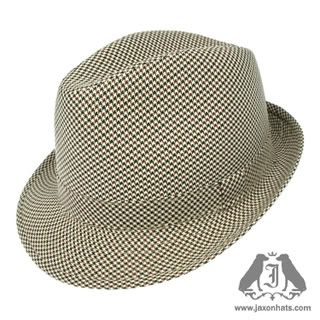 Very similar to mine -- actually probably higher quality, and under $20. Sweet.
I'm really in love with this -- it's going on The List.
Isn't that great? Here's another one made from a great fabric.
Love that.
This one I'm going to be keeping in mind for summer.
As well as this one.
Both of these are under $20, and I think that's a fantastic deal. I love hats -- they're such a great easy way to add a finishing touch to an outfit. Or solve a Bad Hair Day.
More fun:

This one's for Plumcake. It comes in several different colors, and at this price you can afford to buy 'em all! (Caftan not included.)
This site has a ton of great hats, including a lot of great women's hats -- some great cloches and berets. Check 'em out. And you, too, can look like Tom Landry!
Photos:HoustonChronicle.com, Style Spy