Last week I wrote about what has become the Fashion Disaster That Ate Paris, a.k.a. the Emanuel Ungaro Spring 2010 show. It was Lindsey Lohan's first go-round with the label as its "artistic advisor" and Estrella Archs's first outing as its designer and it has been widely and roundly panned by just about everyone on the planet who buys and wears clothes. (Everyone except Bloomingdales, remarkably, according to WWD.)

I said in my review that I'd checked out Archs's previous work on her website and found her to be promising. And it turns out that Ms. Archs presented her own namesake collection in Paris last week. When I had a look at Archs's most recent collection, some questions were answered, but a few new ones were posed.

The collection is almost entirely black and white, which I found interesting, given how much color there was in the Ungaro show and in Archs's previous collections. There are a few shots of gold and two pieces in navy, but otherwise -- completely black and white. This is interesting, and poses a chicken-or-egg kind of question. As far as I know, Archs was brought in to design Ungaro fairly late in the process (she only had about a month to pull this show together, with Lindsay's -- ahem -- "help"), and common sense tells us that her own show would probably have been well down the pipeline by that point and the color scheme would already have been decided upon. But it seems odd to me that a designer so at home with color would arbitrarily decide to eliminate all of it, and for that to coincidentally happen at the same time she suddenly became responsible for designing a house famous for its unrestrained use of color. Was Archs planning on the black & white looks for her own line from the get-go? Or did she make the decision to go all black and white as an attempt to separate her namesake line from the Ungaro one?

I found the clothes in this collection less promising than in the previous ones I'd seen. They didn't strike me as particularly thoughtful. And again this makes me ask: Was this the direction she was headed anyway, or is it the result of her split focus? We'll probably never know unless Archs herself decides to tell us and my guess is one glance down at the contract she signed with the PTB at Ungaro is going to dissuade her from that.


At least she didn't bother with the sparkly pasties.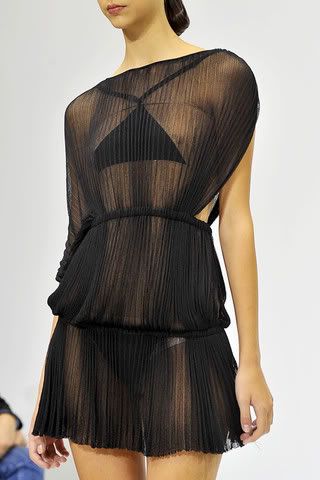 although maybe she should have.
I just don't get clothes like this -- I don't understand why you'd show them. If you're John Galliano or Jean Paul Gaultier you can get away with throwing stuff down the runway you've no intention of producing, just as a way of getting across whatever point you're trying to make that season. But if you're a relatively unknown young designer stepping into the shoes of a giant (and those shoes are accompanied by a skinny blonde Hollywood albatross around your neck, to boot), I think it behooves you to not make clothes that are so easily dismissable as gimmickry and foolishness. To be fair, I love the look of that gauzy Fortuny-pleated fabric and the
caryatid
shape of that top, but come on! What is with that funky triangle? And, hello! See-through!!
But then I saw this dress
and this... outfit
such as it is, and I thought, "Hang on, is this
swimwear
?" Is that white dress actually a swimsuit and a cover-up? And the black... number is maybe a bikini and a very glam mangotinis-by-the-pool ensemble? Maybe. But I don't know.
See, this strikes me as a serious design flaw: if I cannot tell if your clothing is for the beach or for a cocktail party, you are doing something wrong.
This drives me crazy.
The idea that you would take the time and trouble to cut and construct a dress with all those different pieces of fabric going different directions -- which is a fantastic opportunity to use your construction to create something that's going to flatter almost every shape -- the fact that you do this and it STILL makes this 102-pound model look as boxy and shapeless as a Woodstock lesbian in her firewood-chopping clothes? That's disgraceful. Most of the wannabes on Project Runway could make this out of placemats and licorice whips in 8 hours and it would look better than this.
And this?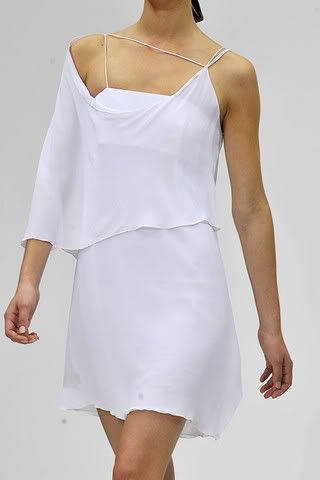 This is just sloppy and half-assed.
I like the idea of this although not the execution and AGAIN -- sloppy fit. I hate that sleeve.
This is
almost
working for me, but I'm having bit of trouble with the proportions.
I find that neckline cut in too far and too low -- it gives her linebacker shoulders and heaven help you if you have an actual bust and want to wear that.
This is
not
almost working.
That is just a mess. A big, shiny, crinkly mess. Archs needs to go back to year one of design school and re-take the class on sleeves. I have a major problem with her sleeves.
Remember the other day when I commented on the navy number from the Ungaro show and said it looked like it had been dropped in from another collection that had nothing to do with that one? I think I wasn't far from right: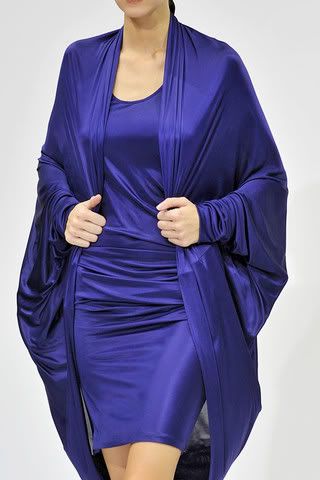 Although, to be fair, I like this. I always love when someone uses navy or another color instead of black, and I am partial to that egg-shaped, cocoon-y jacket. What it has to do with that little swimsuit/negligée/whatever it is at the top, however, is anyone's guess.
Here I am just baffled:
I can't imagine it's easy to find an armless model, but I applaud Ms. Archs on her efforts to show diversity on the runway and... I'm sorry, what's that? She HAS arms? You just can't SEE them? Seriously?
Well, that's just dumb.
Final insult to injury: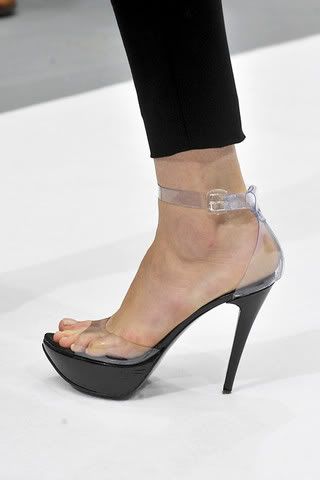 Pole dancer shoes! GAHHHHHH, what is with the pole dancer shoes these days? My theory is that a fledgling designer doesn't have the time & money to spend on creating & constructing high-design shoes, so she goes with something she thinks will be neutral and hopefully not distract from the clothing. Maybe the reasoning is that these clear vinyl shoes will sort of disappear and not compete with the clothing design. Well, I'm here to tell all of you people who might be tempted to pull this trick: they DON'T disappear, they DO distract, and what's more, they are hurting my feelings!!! Stop it!!
Sadly, I'm actually
less
hopeful for Ungaro and for Estrella Archs on her own having seen this collection. I fear she is not a strong enough designer at this point in her career to take on the challenge of re-working a very well-known label without letting it interfere with and hinder her own line. It cannot be easy to try to do both things at once -- it takes a designer with an extremely well-developed point of view or a mammoth talent, like John Galliano or Karl Lagerfeld, to pull it off successfully.
Of course, she may not have to worry about it. The people running Ungaro seem to have no trouble treating their designers like disposable utensils -- good for one fast food meal and then into the bin they go -- so Ms. Archs may soon be able to concentrate fully again. I hate to say it, but I think it would be the best thing that could happen to her.
Images: Elle.com