Hot diggity!!! Check out what's going on at the Cole Haan site!


And if that weren't enough...
Yowza! I was just saying today to the fabulous Plumcake that I needed shoes (to which she responded with a delicately raised eyebrow). But I do, actually, I need flat shoes for cold weather -- kickin' around shoes to put on with jeans or khakis that are comfy but still nice. And lo and behold! The Shoeniverse sent me a fabulous sale! (::Style Spy clasps hands together under her chin á la Cindy Lou Who::) Thank you, Shoeniverse!
I just snagged a pair of these: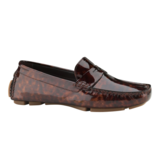 Because a driving moc is so Audrey Hepburn, isn't it? These come in dark brown or black, but I just looooove this tortoise patent, which is a little of both and will therefore go with everything. Plus? It's awfully cool. And with the extra 30% off and the free shipping, these puppies set me back less than 70 bucks. Which seems a very fair price for a shoe that I predict I will wear to ribbons. So now I just have to sit back and wait to get them, impatiently tapping my (unshod) toe as I wait for that sound I love so well -- the pitter-patter of Fed Ex guy feet on my stairs. Oh, it's better than reindeer hooves on the roof any day!
So, go!! Shop!!!
Photos: ColeHaan.com