There's a sale at Nordstrom (There's seemingly a sale EVERYWHERE right now, which I guess is the up side of a drowning economy.) and I want this: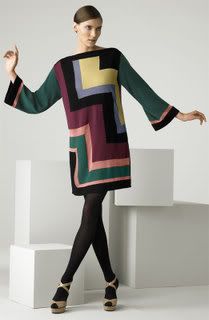 Sadly, it is not on sale

enough

, and so I can't have it, but omigoodness, do I want it. I want to wear it just like that, with colored tights and my big crazy Marni platform sandals.
(Maybe not these tights, but you get the idea.)
I also want to wear it as a tunic over cropped skinny black pants, with my purple velvet YSL pumps.
Alas and alack, no gorgeous, dreamy, perfect, cuddly-yet-chic Missoni sweater dress for me. But a gal can dream...
Photos: nordstrom.com, Style Spy