A few weeks ago I found this gorgeous item at a local antiques store.




How lovely is that? The tag said it was a "vintage lace dickey," but I'm wearing it as a vest. I have it here over a t-shirt so that you can see the detail of the lace -- which is actually how I've been wearing it.


I find that a collared shirt interferes with the collar of the vest, which has a lovely, romantic sort of droopy fold.
Here's the back.
It's made of net, and at the bottom you can see the only flaw in the thing, which is a tiny hole. The ribbony bit that holds the sides together is elastic, although it's pretty stretched out.

I also had to change out the buttons. They were very old faux pearls and the iridescent paint was peeling off them, plus there were only three of them and I wanted to be able to button it closed all the way down.
I'm pretty thrilled with this little find, especially since it only set me back 45 samoleons. Lace is a big deal this season, instigated primarily by
Miuccia Prada's brilliant Fall 2008 collection
.
about which
I raved here
and of which I am still obscenely enamored.
There was also myboyfriendAlexanderMcQueen's incredible lace blackout that same season,
which was posively mind-boggling. The
clothes from that show
are enough to re-ignite a gal's childhood longing for princess-hood, because honestly, that's the only way most of them would be appropriate -- full-on royal occasions complete with tiaras, trumpeted fanfares, and horse-drawn carriages.
So I'm a big fan of lace, I always have been, but I want good lace, not the cheapie stuff they make into sleazy lingerie or those fingerless mitts some folks wore in the 80's. The lace in my vest seems to be a machine-made Point de Venise.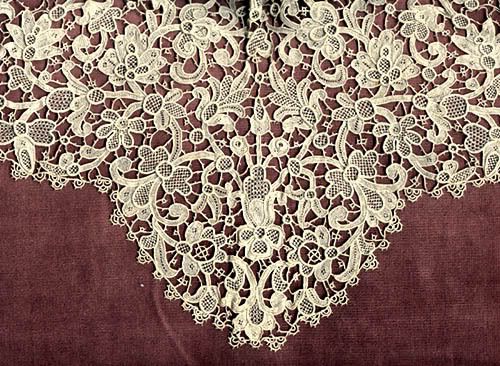 (NON-machine-made Point de Venise. My eyes hurt just thinking about the people who made this.)
I think it's a higher-quality than most machine-made lace one finds today, but that makes sense given that it's a vintage piece. It's really bothering me, though, that I don't know when this thing was made. I'm usually pretty good at figuring out what period a vintage garment comes from, but this one has thrown me a bit. I sent some photos of it to Marla Mallett (who has an amazing
website about textiles
that if you're at all a fabric ho you should check out), and she agrees it's machine-made, but isn't sure about the period, either. So if anyone has any ideas, I'd really appreciate it.
So. While I can't afford this: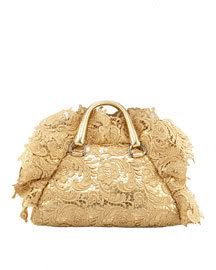 I have managed to put a

little

lacy magic into my wardrobe this season.





Photos: Style Spy, Style.com, MarlaMallet.com, Saks.com