Yippee! It's Couture Week -- Spring 09 is already upon us -- in Paris and it started off with a bang at the salons at Dior headquarters on the avenue Montaigne. Instead of the usual enormous show venue, Galliano presented his collection in a much more intimate environment.

Which was appropriate...



...given that a lot of the clothing was, well,
intimates
.
Inspired by photos of Dior and his models & seamstresses in the 1950's, the collection mingled the wild fantasia of Galliano's Dior with the images of half-dressed models preparing for presentations. Does that sound outlandish?

It was, a little.
But in the most wonderful way.
Stephen Jones did the hats, which were magnificent.
Some of the lingerie references, like the one above, were blatant, but if that was too much for you, how about this?
Just a hint of a slip in the most gorgeous, creamy silk with lace that probably cost my rent peeking out. Lovely.
I have a lot of slips, but none with this kind of quality. Suddenly I'm really feeling the lack.
Oh, that hat!!

Where on earth does a person wear such a thing?
Wherever it is, I want to be invited.


I'm not a big bustier/corset person ordinarily -- frankly, I don't have the bust to make it worthwhile. But this? Is so beautiful that this weekend is going to find me rifling through my favorite vintage stores looking for something along these lines to play with.

Look at all this beautiful hand work -- just stunning.
Not every look featured lingerie. Some of them were just plain old garden-variety heartstoppingly beautiful clothes.
There was a lot of super-saturated color, which I of course loved

along with the details you only find in couture.
Cathy Horyn talks about this dress in
her review of the collection.
This is a deceptively simple dress, but as Ms. Horyn points out, it's all about that lapel. Look at it -- how it starts off as a traditional notched lapel and then somehow melts into a cowl. That is amazing.
I sew -- I've made a few notched collars in my time -- and I can't begin to imagine how that was done. Look also at the set of that sleeve, how it elongates the line of the arm. These are the things that make the difference in clothing, and these are the things we have almost completely lost thanks to mass production. Why do designer clothes cost more? Because of this. Yes, the Dior dress you buy at Saks is still going to be factory-produced, but not at the same scale as your average department or discount store garment. And before it got to the factory, more time was spent on these sorts of details -- the placement of a seam, the set of a sleeve, the angle of a collar. Those things take time, skill, and money, and there's no getting around it.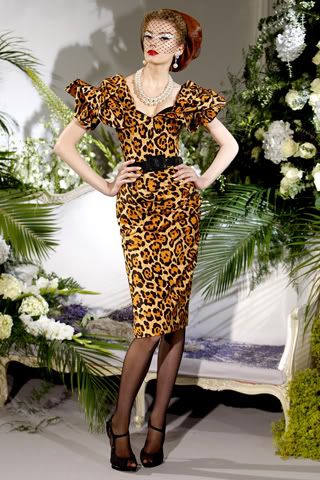 Plumcake
and I are going to get together with a bottle of wine and hold hands and look at this collection and cry, I think. I do believe she & I could get into one mighty girlfight over this here dress. (I'd put your money on me -- I'm scrappy and not above fighting dirty, especially where couture is involved.)
A lot of the looks fell somewhere in between on the lingerie scale, using sheer fabrics to reveal just a little.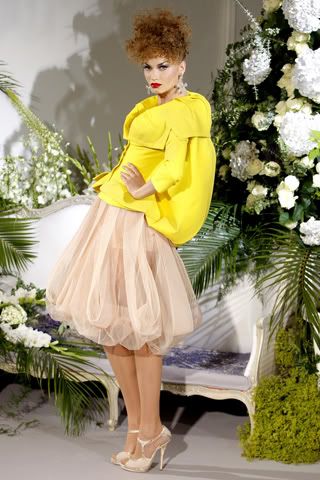 Yes, please...
This makes me want to run mad...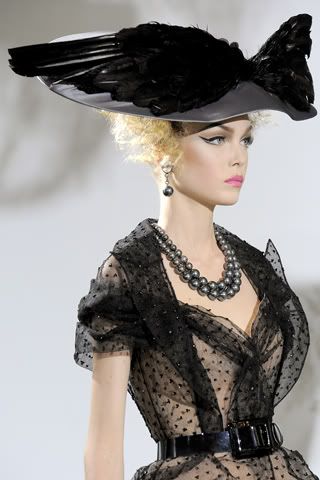 That blouse is one of the most beautiful things I've ever seen. Like I said, I'm not a big one for underwear as outerwear, it's just not usually my thing. But something about this positively intoxicates me. I love that it doesn't really shoot for "sexy" in the way we've come to think of it -- the overexposed bosom, the thigh-high slit. This is coquettish, a bit naughty,
amusante
. These clothes are a light-hearted afternoon tryst in a sun-filled
pied-a-terre
with the curtains open on French doors that overlook some grand Parisian boulevard. That kind of joyful, giddy sexy when you're laughing out loud and not in the least ashamed.
And what's

completely

insane? I'm looking at this thinking, "Hmmmmm... I have a couple of great jackets. Maybe I need to get some tap pants. I won't go the whole garter belt route, but maybe some opaque tights instead..."
But there you go. I'm seriously, insanely considering it. Like I said -- intoxicated.
But the best bit? The whipped cream on the sundae? The shoes. THE SHOES!!!!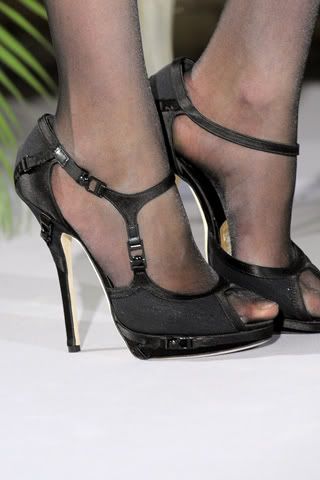 Aaaaaiiieeeeeee!!!! LOOK AT THEM!

They have those tiny little rubber snap closures like you find on old-fashioned garters & girdles!! And that pink!! That perfect nude/ballet pink!!! What is prettier or more feminine than that? Oh, I cannot express how these shoes have shredded my sensibilities -- I'm going to start saving NOW for a pair of these.
So there you have it -- more of our boy Galliano's wizardry. I've read a few reviews and comments complaining that this is nothing groundbreaking, it's too retro, that Galliano is revisiting old territory.
And no, it's not cutting-edge fashion. It's a glorious tribute to a beautiful tradition designed by a wonderful mad genius. Which is sure as hell good enough for me.
PS... (And remember how I told you Cathy Horyn's commentors could be long-winded & tedious? You must check
this
out. I mean -- what the
what???
)
Images: Style.com