As I'm sure you can understand, I was disappointed not to have been taken up on my offer to model for Christian Lacroix's Fall 2009 Haute Couture show, but I am too big a person to let that color my feelings about the show itself. Besides, I'm sure it was just an oversight -- no doubt things at the atelier were absolutely tornadic for the last month and I'm sure someone just forgot to respond to my e-mail. I'm more than willing to forgive and forget.

Surely, M. Lacroix has bigger fish to fry than one small-potatoes fashion blogger's thirst for catwalk glory. The House of Lacroix is in the French equivalent of Chapter 11 bankruptcy protection, put there while its owner, the Falic Group, sorts out what's going to happen next. Without a buyer to step in and take over, the situation is precarious. There are rumors circulating that luxury goods Godzilla (and one-time owner of the house) LVMH might step in, but so far nobody's sayin' nothin'. (There are a lot of folks in government who could learn a thing or two about zippin' the lip from fashion industry insiders -- it's like the mafia or something with those people.)

Because the finances of the business are in such dire straits, orders for the last two collections from department stores have been canceled and the clothes will not be produced, which means that Lacroix's boutiques worldwide will have to be shuttered -- they will have nothing to sell. This makes me unspeakably sad, not just because of all the craftspeople and sales staff who will lose their livelihoods, but because M. Lacroix's clothing deserves to exist. The world needs more joy, and Lacroix is a bringer of joy. His clothing is merry, exuberant, bursting with life. I don't know about you, but I could do with a little bit more of that in the world.

The Falic Group did not want Lacroix to stage a couture show this season, but Monsieur was having none of it. He was determined to create work for all of the seamstresses and craftspeople who bring to life his marvelous creations. To that end, he called together all his suppliers to ask if they could help out, and they did. Practically everything in this show was donated, from the hats (Cheri Bibi) to the shoes (Roger Vivier) to even the venue of the show itself (a suite of rooms at the Musée des Arts Decoratifs). Whatever fabrics didn't come from the Lacroix storerooms were also donated by high-end European producers. Only the models were paid -- the minimum sum allowed by French law, a paltry €50. (I think even Linda Evangelista would have gotten out of bed for M. Lacroix in these circumstances.)

I'm sentimental at heart (Stop laughing! I do SO have a heart!), and knowing about all this makes me warm & fuzzy inside. It's wonderful, of course, to hear about folks being nice to one another -- we can never get too much of that. But it also warms Style Spy's cockles to know that there are people in the world willing to make sacrifices for fashion -- for the Goddess of Haute Couture whose death is predicted again and again in an annual cycle of pessimism and surprise. I feel very strongly, for reasons I've nattered on about before so I'll spare you, that couture is important. Like any art form, we'd be less human if we lost it.

And Christian Lacroix is one of our great artists. Take a look at what he can produce even in these circumstances...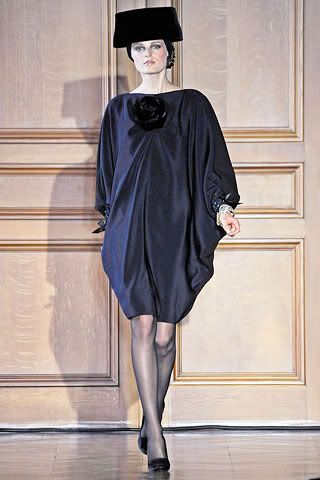 I just love this. It certainly is much simpler than what we usually expect from Lacroix -- absolutely no bells & whistles. But this is really very much my sort of thing, that trapeze shape and beautiful ink-blue silk.

And this dress -- also gorgeous. Both of the above dresses were described in reviews as having very low backs with bows tucked in strategic places. I couldn't find any detail shots anywhere online -- I don't know if it's just too soon or if the usual sources just decided not to provide them -- but I'm hoping I'll track some down soon.
The collection was described as "somber" by a lot of reviews, and it certainly did lack the usual Lacroixian riot of color, pattern, and embellishment. But even so --
this is what passes for somber at Lacroix. We should all be so somber, huh? Oh, that Yves Klein blue! It's like a living organism, it's so vibrant.
Je l'adore!
Especially interesting to me after the lingerie delirium of Dior was how much lace and sheerness was on display in this collection.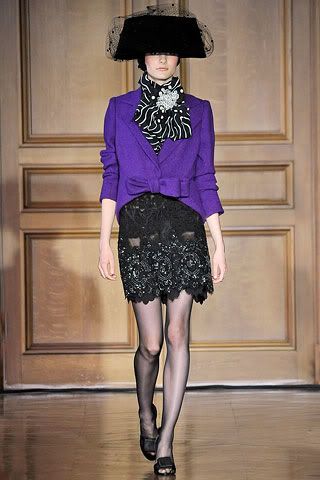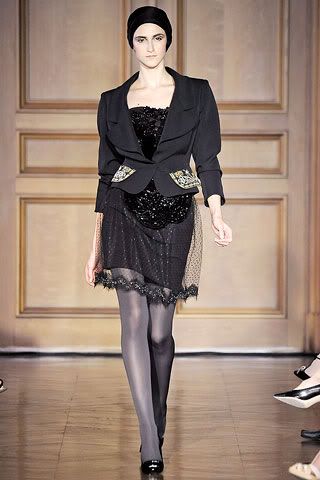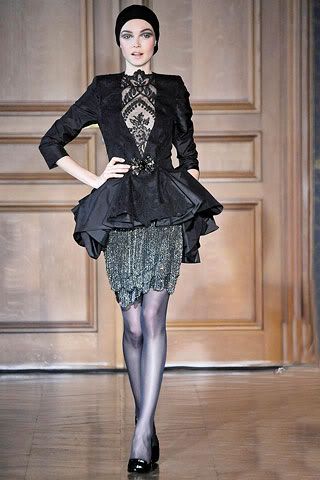 But this isn't lace in the service of irony, or surprise, or subversion. This is really just lace in the service of beauty. Good googly-moogly, that makes my heart skip a beat, it's so lovely.
Breathtaking.

We all know I'm a fool for tulle. (Apparently, I'm also a poet & don't know it!)
I think I'd like to get that printed on a t-shirt: Fool For Tulle. Actually, I think I'd just rather get this dress, which makes the point in a more interesting way.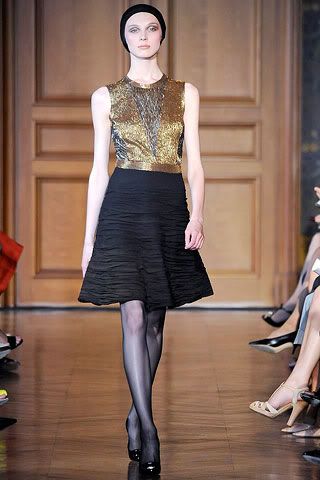 This just makes me crazy. Because it's perfect, that's why.
And this may be my favorite thing in the entire show.
It's a wearable Franz Kline painting! That is so crazy-chic I wouldn't know what to do with myself if I got to wear it. I'm pretty sure in that dress my French would improve leaps & bounds. It probably comes with a glass of Pernod and a Gauloise. I have to say, I'd probably wear it with red shoes, but that's just me. It would also be brilliant with black knee-high boots.
Lacroix, sweetie:
A recognizable silhouette, yet only done in blue, black and white. That's about 43 colors short of what you usually find in a Lacroix dress of this sort. This is certainly a reason why
Cathy Horyn
& others proclaimed this collection to be more subdued than Lacroix's usual, and they were certainly right. Even so, these are beautiful, happy clothes. (And if you don't believe me, how's about we put me in that black & white number & see how happy I get? Dude, I'll make Cuba Gooding at the Oscars look like he just buried his grandma, I'll be so happy.)
For a great wrap-up of the Lacroix situation and some thoughts from M. Lacroix himself, check out
this terrific article
by Hamish Bowles on Vogue.com.
Images: Style.com, NYTimes.com