So. after ooh-ing and ahh-ing (and quite frankly drooling all over my keyboard -- what a mess!) at the Dior Haute Couture, I decided I needed to get a little vintage lingerie into my life. There's all kinds of sheerness and lace and lingerie-inspired stuff going on in fashion right now and I wanted to get in on it.

I decided not to take this route: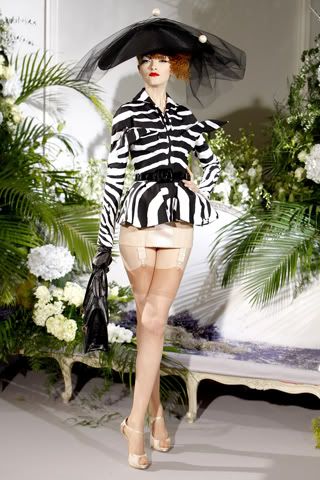 Because, while it certainly is wonderful, I don't think even I want
that
much attention. Also -- sitting down. Yikes.


What I did come across was this:


Once again, Connie Day, at the Antique Mall here in Austin, comes through for me. Gorgeous, gorgeous thing.


Let me just explain that the DIY part of this endeavor was
not
limited to browsing around in the air-conditioned comfort of the Antique Mall looking at beautiful things. This vintage long-line bra is in amazing condition. Except. The foam rubber padding that lined the cups had hardened and then disintegrated. It was like two bags of coal dust, or crumbled charcoal. An hellacious mess, is what it was, that left me gritty all over my hands and black under my fingernails and around my cuticles whenever I handled the thing. I had to split open the seams on the back side of the cups and scoop all that stuff out with a stiff brush and my increasingly-filthy fingers. It took forever, and it was a gigantic pain in the ass, frankly, not to mention a hideous mess. And
then
the alterations had to begin. Because this little item is a 36
C
, the cups were way too big for me, even over clothing. (Because it is a
vintage
36C, the bodice, on the other hand, fits me like a glove. Numbers, apparently, were smaller in the 50's. Mysterious.) I had to basically remove the top half of the cups, take in a couple of darts along the sides next to the underwire, and then re-apply the trim that I removed from the original edge. That was much less a pain in the ass, but it took a while. Worth it, however, because it's just fantastic-looking.


First, inspired by this,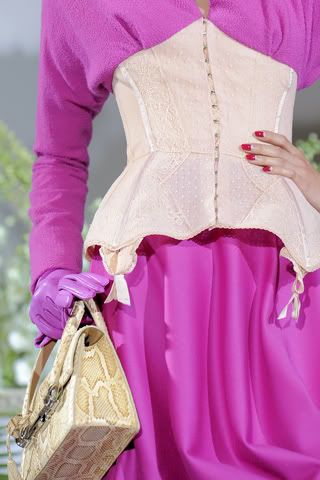 I went for a day look.
Well, maybe not a day look, per se. Can it really be called "daywear" if there's a visible lingerie component? Probably not. At any rate, I came up with this:


(Happier than I look, I promise.)
This is all stuff that was already in my closet -- Theory blouse, super-basic high-waisted Kay Unger pencil skirt, Cole Haan calf-hair pumps.


But what I was really hankering for, of course, was something like this: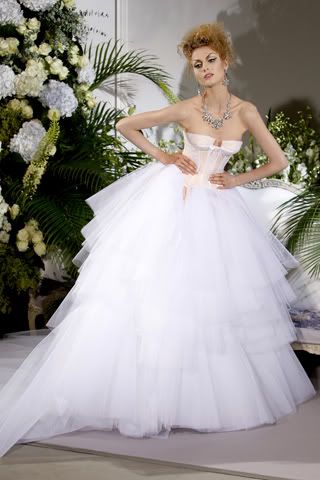 Because if you're gonna go Dior-inspired, my friends, go big or go home, right?
First I tried a full-on Dior homage:


The shoes are my Michael Kors Bad Girl shoes, the blouse is random but great white cotton number, and the skirt & hat are both vintage. We all know I'm a freak for tulle, and when I saw this skirt in a vintage store several years ago, well, I like to lost my mind, as we say around here. Because not only does it look wonderful, but you can do this:



After establishing that I like the bustier over a blouse I wanted to play with the transparency idea a little more, so I tried this:


This is the DIY project I posted about not long ago -- the lace top whose sleeves I cut off. I like this a lot, too, I like the play of the two different kinds of lace together.
Being the kind of person I am, I happen to have more than one tulle skirt in my closet. (Yeah, I know, I'm a freak.)



(This called for different shoes, of course. Pinkish-gold glitter Pedro Garcia pumps. Love these shoes.)


So I gave it a whirl. I'm less crazy about this for some reason, but I wanted to shoot for some of the transparency in the skirt, like in this look



So I put a black half-slip under the skirt:



This is a little less successful, I think. The dark slip read better in the mirror than it does in the photos, but it still looks more like a mistake than a choice, I think.


There was one more thing I wanted to try:


This is a vintage crinoline that I've had for quite a while. I don't have a black garter belt, and the shorter layer underneath is a shortened slip, not tap pants, but I think this is pretty close. Honestly, I really love this. I was

this close

to wearing it to the Austin Fashion Week Awards Sunday night (about which more later, but here's my capsule review: "Oh, dear.") but it was, as it has been for seemingly years this summer, incredibly hot and I really didn't want to deal with that bustier in 105º heat.


So there you have it. What do you think? Any looks that particularly speak to you?




Images: Style Spy, Style.com