You know the leopard print thing I've been having? This might be enough to cure me: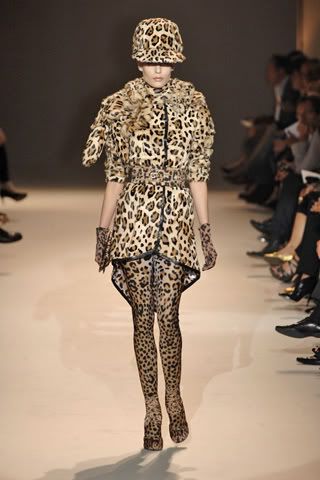 Ricardo Tisci for Givenchy Couture


Wow. That's... a lot of kitty cat. Way more kitty cat than most anyone needs, if you ask me. You wear that outfit & someone's liable to give you your own litter box. Me-ow. (Of course,
this is from the runway of a couture show, so it's all about over-the-top and not necessarily how you would wear things in real life.)
This jacket, though, is pretty fantastico:
I've always somewhat irrationally loved ombré effects, and that's a pretty damn cool one. I'd prefer to see it worn with something a little simpler (I'm of the philosophy that one animal-print item per outfit is probably plenty), but imagine that jacket with a good pair of black slacks (and without the riding hat) and a black cashmere turtleneck. Pretty fabulous.
Okay, so maybe I'm not cured after all. Purrrrrrrrr...
More about the couture collections (which are happening as we speak in Paris and ONCE AGAIN I am not there, much to my chagrin) soon. Get ready -- there's some intense fabulosity going on in Paris right now.
Photos: Style.com