Continuing on with my avaricious coverage of the Fall 2007 Couture Collections, I bring you a few more things I may or may not (probably not) be able to live without:


#1: A patent leather beret.


(Also, Helena Christenson's cheekbones & cleavage wouldn't hurt)
This is from Dior. I do like hats, I wear them, although they do regrettable things to my curlycurly hair. (If you're me and you put on a hat, you're committed to the hat for the duration. Because when I take
off
the hat, my hair behaves as though it's still
wearing
the hat. Someone with
stick-straight
hair was complaining to me the other day about how she can't wear hats because her hat head is so terrible and I looked at her like she had three... well, heads. Was she kidding me?? How could it make any difference? Me, on the other hand -- I look like some weird topiary shrub after I've worn a hat for a while. But I digress...) I'm very taken with this hat, I think it's adorable. I also love pretty much all things patent leather, although I predict this little chapeau may mark the apex of the patent leather trend -- there's pretty much nothing left to make out of it, so I think the pendulum will swing back in the other direction. This means snap up all the patent you can find while it's out there, because it won't be around forever.
#2: This dress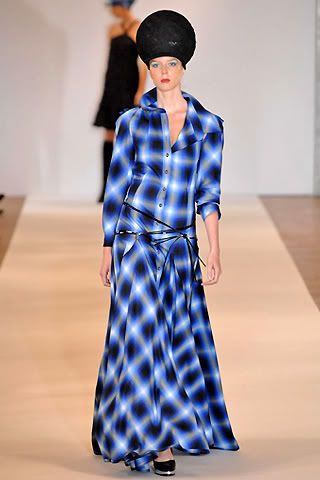 I just love this. (But not the puffball headgear.) I love the idea of a long, easy shirtdress, that skirt whipping around your feet as you waltz around your fabulous penthouse apartment making sure all your friends' wine glasses are full. So elegant, so cozy.


#3: Long leather gloves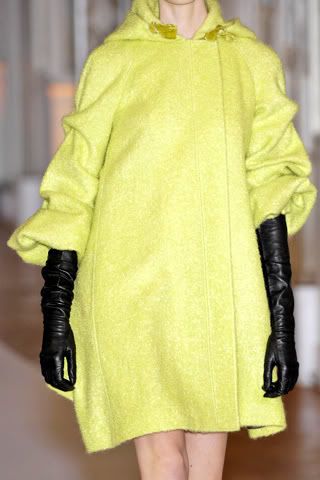 Because they're just cool. Admit it, there's something very sexy about an elbow-length glove, especially a leather one. Also, since I think the bracelet-sleeve coat is still going to be around this winter, they're practical. I picked up a black pair last year and I really love them, but this year I think I need them in colors:
(Valentino -- gloves AND feathers! Heaven!)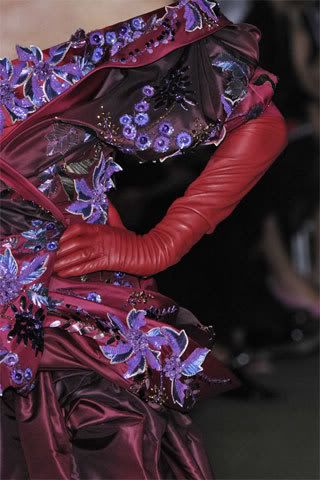 (Dior)


I'm still eating my heart out about the gray patent leather ones I saw on sale at Saks last winter and didn't buy.
Look at these with all the fabulous buttons: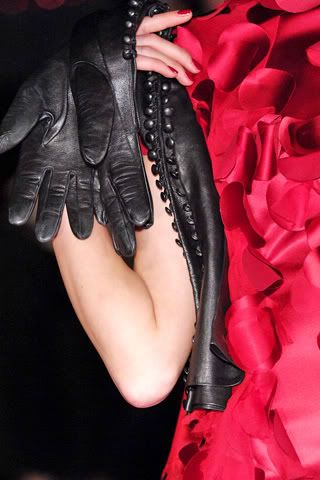 #4: A gorgeous little jeweled evening minaudiere. I just can't think of anything more glamorous. (These are all from Valentino. Mr. Valentino is responsible for quite a lot of acquisitive impulses on my part this season, and I suspect I won't be alone in that.)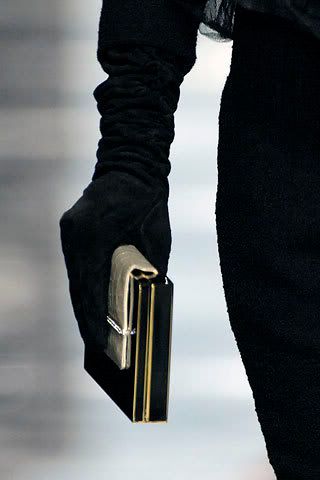 #5: I'm really not at all sure what's going on with these but I love them anyway
Wow.
And finally, since I'm asking for stuff, how about this guy:
He closed the show at Dior. I feel he would be a lovely addition to my wardrobe, don't you?
Photos: Elle.com, Style.com