The shoes below are all from the Fall 2007 Valentino Haute Couture show. (This show, by the way, was absolutely stunning. It's a celebration of Valentino's 45 years of designing, and the entire thing was beyond beautiful. Be sure to check it out.)

These are the sorts of shoes that should come with warning labels and lists of potential side effects.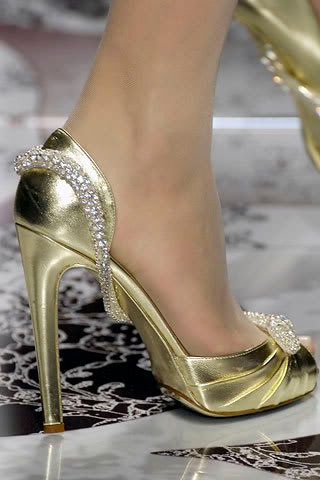 Warning: may cause sashaying, seductiveness, rampant flirtation, and uncontrollable giggling.





Exposure to shoes may bring on sudden, intense fits of envy which may be followed by delusional conspiracies to commit crimes against person wearing shoes, or absentmindedness characterized by persistent daydreaming about a relationship with shoes.




Do not attempt to operate heavy machinery, light machinery or even open the door to a four-star restaurant while wearing shoes.



Exposure may cause lightheadedness leading to intoxication and euphoria.



Best administered with champagne. Valet parking required.


I'm pretty sure that when my podiatrist told me to wears heels as much as possible he was talking about these, and yet they do not appear to be on my insurance company's list of approved drugs. I'm going to need to speak with someone about that, stat.

Photos: Style.com