Well, I felt pretty bad about being such a wet blanket about those Louboutin boots my friend Elke fell in love with, and so I went trawling around on the interwebs to find some alternative boots. I was looking for good, basic, high-heeled black boots that you could wear for some time without them going out of style.

There are some expensive boots here, and there are some boots that are great deals, but what you're not going to see are cheap boots. Because good boots are wardrobe staples and the sorts of things you shouldn't be afraid to spend as much as you can afford on. Chosen well, they'll get you through several years in style.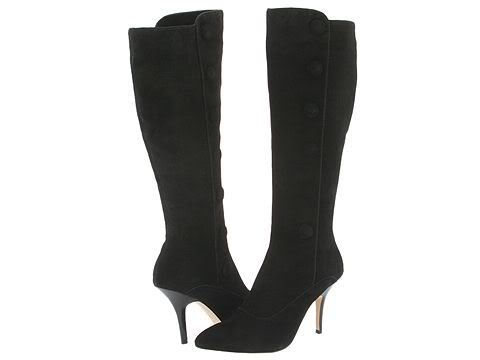 Love the subtle piping and the black buttons -- like spats.
Gorgeous. Not cheap, but definitely not disposable.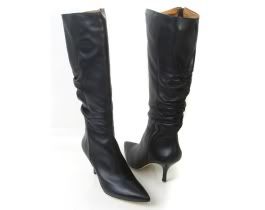 The back ruching gives these a slouchy feel.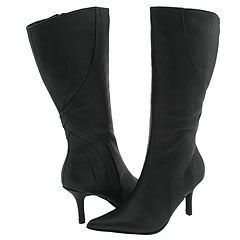 Thee are gorgeous -- so simple & elegant.
Yeah, buddy, now we're talkin'. Not so basic, certainly but who can resist that patent and those fantastic heels?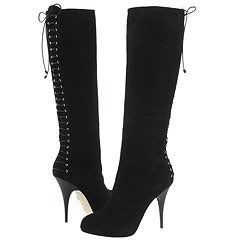 Mmrroooowrrrr. How about that back lacing? Sex-ay.
Okay, I'm pretty embarrassed by these next ones...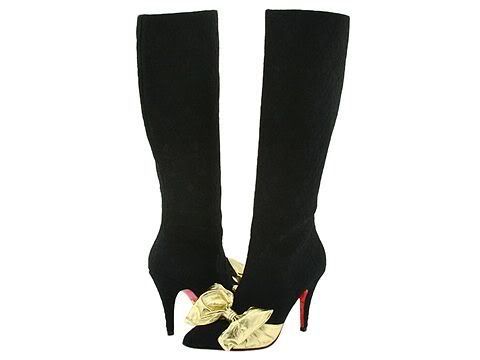 But I can't help it -- I love them! Oh, god, I'm so ashamed!! (::Style Spy bursts into mortified tears::)
Here I stand, a so-called fashion professional, actually advocating for a pair of black lace (lace!) stiletto-heeled boots with big gold bows (bows!) on the toes, but I don't care!! I LOVE them!! Oh, lord, you've lost all respect for me now, haven't you? But this is me, warts & all, and my warts? Lurve those boots.
Great shape on these, but that is a really tall shaft. Probably not good for the petite. I think these must be intended as a slouch or over-the-knee boot, but the picture doesn't convey that.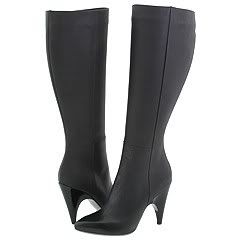 The curves on these are so sexy -- the ankles, the heels. Yum.
Lovelovelove the snakeskin detailing on these -- really gorgeous and special.
There are a lot of good boots out there and since spring is just around the corner, there are a lot of good boots on sale. So click any of the e-tailer links on the right side of the blog (including my newest affiliate,
Jildor Shoes
) and start shopping!