Exciting. MyboyfriendAlexanderMcQueen is coming to Target. Many a fashionista like me, while perusing the racks of Target's Go International Collections, has probably muttered under her breath, "Yeah, well, I'll really be excited when Alexander McQueen gets here." I never thought I'd see the day, but lo and behold! Here he comes!

McQueen is working for Target under the rubric of their Designer Collaborations programs, which is not to be confused with Go International. The GI line is made up of partnerships with up-and-coming designers who aren't necessarily well-known in the mainstream, whereas the DC effort is going to feature "well-established designers who draw inspiration from a collaborative partner, muse or creative element," according to the Target press release. Bear in mind that the official (and burdensome) name of this first collaboration is "McQ Alexander McQueen for Target." This means that the starting point for these designs is not McQueen's namesake line, but his diffusion line, McQ, which focuses on a younger, hipper customer buying clothes at a lower price point. The clothes are often still wonderful, but they have a distinctly younger, street-ier point of view. Target informs us that the line is "inspired by youth subcultures, music, rebellion and style revolution. These qualities are epitomized by Liela Moss, lead singer of The Duke Spirit. Moss serves as McQ's muse for a collection that exudes a rock 'n' roll-punk vibe and hip-brit accents."

Hmmm. Suddenly I'm less excited.

I don't know anything about this band, so I hit YouTube and checked them out. Here's a video.




Well, she's definitely a Cool Girl. McQueen likes Cool Girls -- he's BFFs with several happening young things on the London scene, and the McQ line certainly caters to them. I like the song and I like her vibe, I'll check out some more of their music, but I'm unlikely to be emulating Ms. Moss, fashion-wise. (Or anything-wise, honestly. I've no reason to think she's not a perfectly nice person, but Ubercool Twenty-Something Rock Chick is just not my thang.)

So what do the clothes look like? Well, like they were inspired by an Ubercool Twenty-Something Rock Chick:

The leather vest in this look is the most expensive piece in the collection by far, at about $140. Most everything else seems to fall between $30 - $70.



This piece is so "inspired" by Liela Moss that it has her photo on it. Not only is her picture on the stuff, but Target will be selling a special edition recording by her band, The Duke Spirit in conjunction with the clothes. Miss Moss seems to be hands-down the big winner in this whole scenario -- all she had to do was show up & look good at some photo shoots and she's got herself lordonlyknows how many millions of dollars worth of publicity. Nice work if you can get it. I'm going to call up Miuccia Prada & see if she needs any inspiration. I'm pretty open the next couple of months.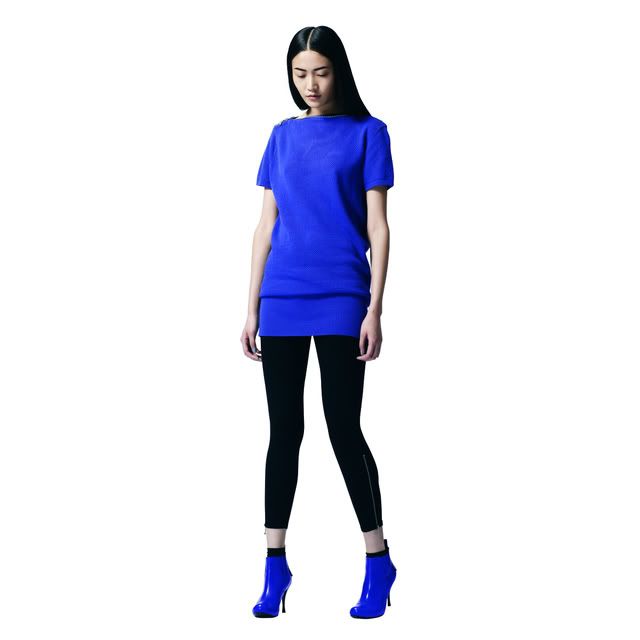 I love electric blue and I think this sweater could be a useful item in a person's wardrobe, but I have no idea what it's made of, so I'm postponing judgment. As a matter of fact, there wasn't a lot fiber information about any of the pieces available yet, except for the leather jacket and one dress I'll show you below. Also, no word on if the shoes are available. I do like the electric blue ankle booties, although quality is a huge question given Target's price points. You can make a decent t-shirt or great tights (I'm actually completely mad for Target's Merona brand opaque tights -- they're fantastic) for low cost, but I don't believe the same thing about shoes. And, as I and many others have noted before -- cheap shoes are a false economy.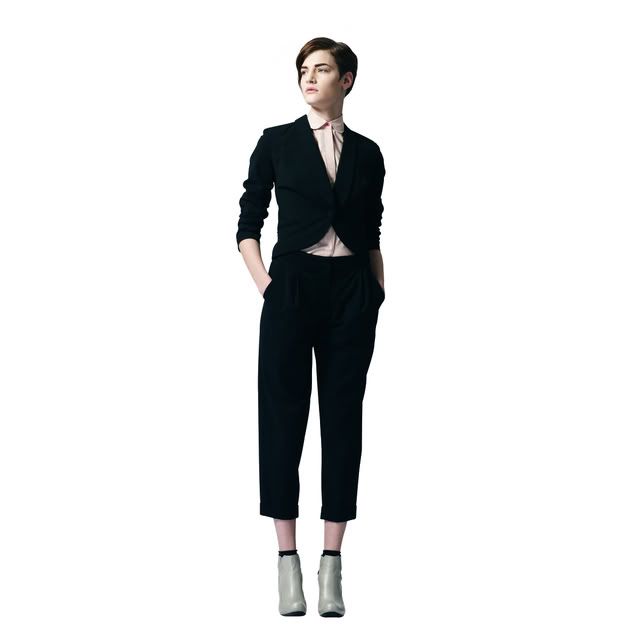 I like this. This is the silhouette I've been favoring a while -- a cropped pant and a major shoe. I like the proportion of the shrunken jacket with it.



This is the silk dress and I might actually be interested in it, depending on the quality and the color. I am a fan of hot pink, but it's a tricky color. It has to be just right or it veers into Land of Tacky. Good, rich hot pink that isn't made hot by use of flourescent-ish pigments and cheap dyes is glamorous and exciting. Bad hot pink looks like you went to the mall where all of the 14-year olds hang out and paid $12.99 for it at Forever 21. Good hot pink, a good deep fuchsia, is India & Schiaparelli & exotic tropical flowers. Bad hot pink is Barbie & drugstore Halloween costumes & those glow-in-the-dark plastic thingies you wrap around your wrists right before you drop some X at a rave.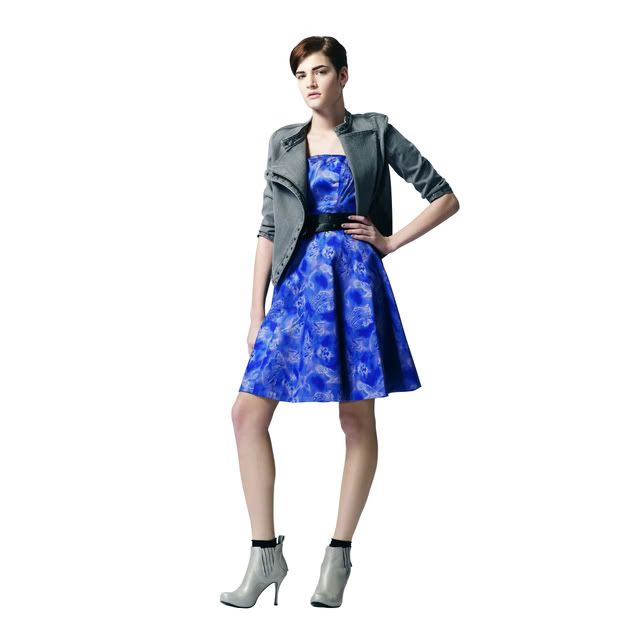 Very intrigued by this. Really like the looks of the jacket, which is denim, and the dress has definite possibilities even for a grown-up although it's strapless and so not workable for yours truly. (The truly tiny-busted like myself should never wear a straight-across flat fitted strapless bodice like that -- you'll just look like a boy in drag, unless you have a massively substantial padded bra on, in which case you're now stuck in the lingerie equivalent of an iron maiden. Strapless is possible, but only with some gathers or ruching or other clever tailoring trickery to give you a little help.)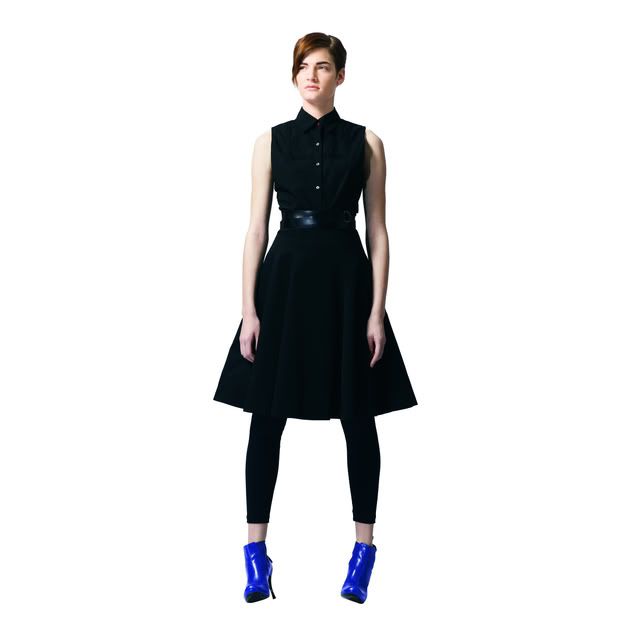 This seems to me the most workable look of all of them -- it's a high-waisted gored skirt and a sleeveless blouse. Good basics, both of them, and if Target can find a way to infuse this line with some of McQueen's brilliant tailoring skills they'll definitely be pieces you'll look great in and get a lot of use of. But McQueen's kind of fit is tricky at this price point. One of the reasons that spendier clothes usually fit better is that they have more pieces to their patterns, or more involved seaming, or fabric with a nicer hand that hangs better. Cheap clothes are cheap because they are quick & easy to mass produce, and that is the enemy of the sorts of details that make expensive clothes look expensive.

I'll be hoofing it to Target (or Targets -- there are two of them within a few miles of my home, and I've found that each of them often has wildly different stock at any given time, which can be both interesting and incredibly frustrating) to check out these clothes as soon as I can. The collection drops nationwide March 4 and will be available through April 14, says the release. I really have no idea how well these will do in a place like Austin. My guess is that the store in Flatbush in Brooklyn might do a brisk business selling things to hipster waitresses who hang out in Williamsburg, but I don't know that McQueen is that well-known a name out here in the hinterlands (despite my doing everything in my power to advertise the Wonder of Lee), so I think sales will depend more on how much people actually like the clothes than on name recognition. (Here in Austin the Identigirls that UT churns out like a factory still think that Juicy is the height of hip and Tory Burch the pinnacle of sophistication. It's not exactly Milan, is Austin.)

Do I see myself buying any of this stuff? Probably not. This is not so much a judgment on the clothes as my dislike of buying anything this distinctive & recognizable that has been produced on such a large scale. I'm certainly not above buying stuff at Target (Did I mention those tights? Seriously, they're fantastic -- I got a pair of purple ones this fall that I want to marry.), but I mostly stick to basics from chain stores. I want people to recognize me, not my clothes. Although I am going to give that gray denim jacket a good looking-over...

I'll report back as soon as I've seen the stuff up close. If anyone else gets to it before me, let me know -- I want to hear what you think!




Photos: Target