The same night the Oscars happened a couple of weeks ago, President and Mrs. Obama hosted their first black-tie event in the White House. First off -- these are my kinds of folks -- no shilly-shallying around, let's get right to the dress-up parties!! (The previous administration was disappointing to me for a myriad of reason, not least of which was their steadfast refusal to provide us with ANY good ol' homegrown American glamor in one of our most beautiful settings, the White House.)

Secondly -- would you just LOOK at these two?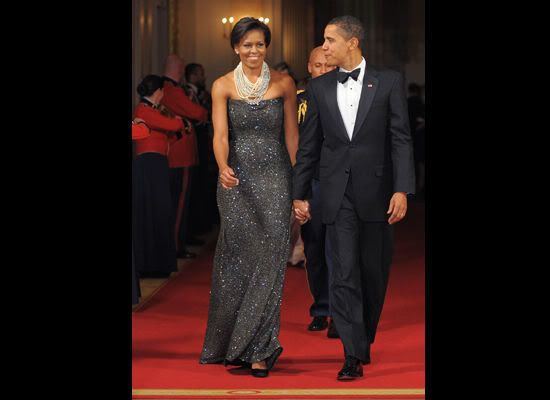 Dayum, they are handsome people. I just get the giggles looking at them. Brangelina who? Aren't you glad you went ahead & got that new tux for the Inauguration, President Obama? Your wife told you it would come in handy, and she was right. (And much cheaper in the long run than sending someone out to Mr. Tux every time there's a state occasion.)

Thirdly -- Michelle Obama, I heart you beyond belief. She's the First Lady of the United States and she's stepping out in head-to-toe form-fitting sequins. And it's strapless! Atta girl!! You show 'em how it's done! The dress is by Chicago-based designer Peter Soronen and the necklace,




which gives me palpitations, is Tom Binns. Girlfriend likes her bling and I say bring it on. But I also like that this was really the only piece of jewelry she wore -- the earrings are just studs and don't distract. I love this necklace with this dress. It is, as we say, a lot of look. But Michelle Obama herself is a lot of look. She's nearly six feet tall and she's beautiful and confident and imposing (in a good way) and she can pull it off. A woman who's 5'2" could still wear this dress, but I think the necklace in that case would be overwhelming. It's all about proportion.

Contrary to Washington DC's reputation for being a fashion wasteland, there were actually some good-looking people at this event.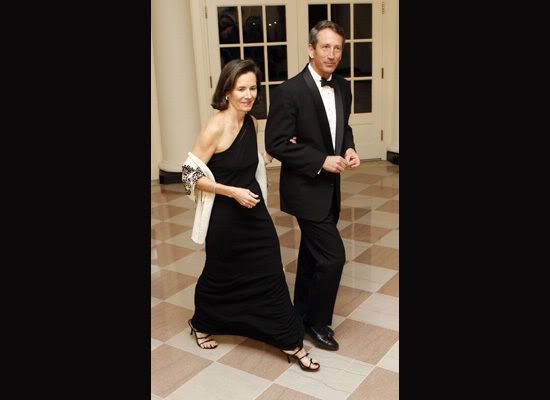 South Carolina Governor Mark Sanford and his wife Jenny

We saw a lot of one-shoulder on the Oscars red carpet, and here was yet more of it. This is lovely -- it's basic but it's good. I do not, however, like the shawl. Honestly, I don't like those sorts of shawls in general. I mean, I do like a good, great big wrap, but only when it's functional. This sort of drippy, droopy elbow swag thing -- I really hate it. Seriously, it's not really going to keep you warm, it's never going to stay in place, it looks matronly no matter your actual age and it just winds up detracting from the look of your dress. A lot of women resort to them in order to "camouflage" arms they're less than thrilled with, but let's be honest with ourselves here, ladies -- it never works. You know what camouflages arms?
Sleeves.
I know it's not always easy to find a formal dress with sleeves, which is why it's important that you have a good evening jacket or two that you can put on
over
the dress.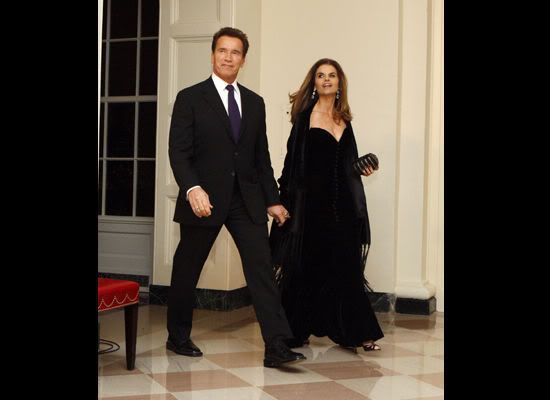 California Governor Arnold Schwarzenegger and wife Maria Shriver


They're so Hollywood-y -- it's too easy for them, it's almost cheating, they don't really count, but they look great. Probably the one of the only woman attending this event who wasn't all a-flutter about what she was going to wear. Love Ah-nuld's purple tie. It certainly stands out, doesn't it? Yours truly believes he's making a statement. (Red + blue = purple.) I do think, though, that it's time for Maria to cut that hair.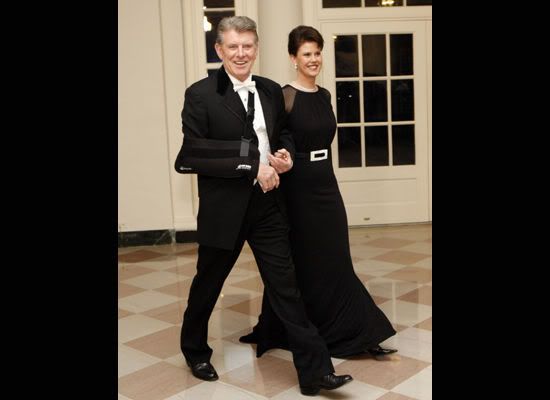 Idaho Governor C.L. 'Butch' Otter with his wife Lori Otter


This is lovely, and a great solution to the formal sleeve issue. Like that she went with a big earring and resisted the urge toward a necklace, which would have argued with that fab diamante buckle. I don't know what she looks like in real life, but her body looks slammin' in this dress, and that? Is a dress worth having.



Utah Governor Jon Huntsman & wife Mary Kaye


Like the short dress, but WTH is going on around her shoulders? Is it a jacket? Shoulder bows? And I have to say -- if you're going to go with the Bows That Ate Provo on your shoulders, resist the urge to go all matchy-matchy & have 'em on your shoes, as well. I think there should perhaps be a two-bow limit on any given outfit. But well, you know Utah. They like multiples there. (Yes, that's a bad polygamy joke. So sue me.)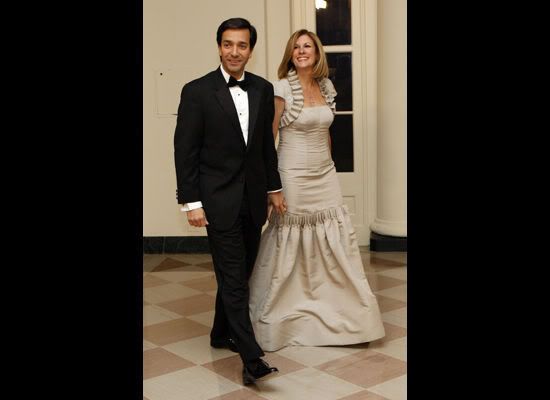 Puerto Rico Governor Luis Fortuno his wife Luce Vela Fortuno


Number one, of course Puerto Rico has a governor and I am embarrassed that I was surprised by that. Number two, I like the ruffles, I can't help myself. They're very strict, disciplined ruffles --ruffles that have gone through boot camp. Cool & geometric rather than foofy.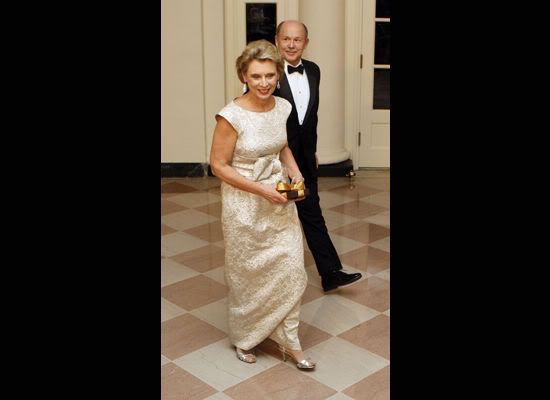 Washington Governor Chris Gregoire and her husband Mike Gregoire


This is marvelous. It looks so classic -- like vintage Geoffrey Beene. That's a 20-year dress right there.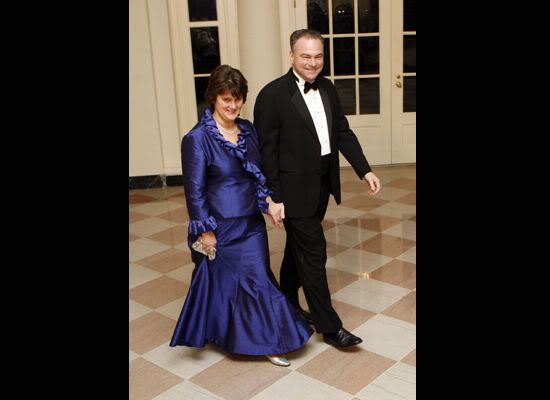 Virginia Governor Tim Kaine and his wife Anne Holton


This is
not
what I meant when I talked about the evening jacket. This is tragifyingly MOB. The definition of "frump." From this dress I can tell the sort of clothes that she usually wears and I fear there is an unhealthy amount of embellished sweaters in her wardrobe. This outfit right here is a perfect illustration of how less can equal more.
Let's make some imaginary changes.
I'll give her the color, because I do like that she's not hiding behind black. But let's have the fabric be something matte instead of that bridesmaid taffeta, which just looks cheap. Make the skirt a narrow a-line instead of a trumpet -- she's way too short for that silhouette. And dear god, lose the ruffles!! I'll go with the cross-closure jacket, but imagine it

sans

frippery, collarless, with elbow-length sleeves (Seriously, how is she going to eat without those ruffles dragging through everything? THINK, people!!) Now let's push her hair back behind her ears and give her some major earrings that are button rather than chandelier. (Because she is petite I don't want anything breaking the line of the open neckline.) There. Isn't that better? (Trust me, it is.)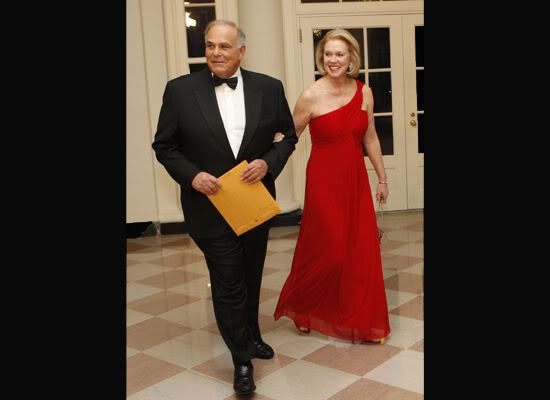 Pennsylvania Governor Ed Rendell & his wife Marjorie


Yummy red dress. But --

quelle scandale!

Mrs. Rendell was apparently wearing the same dress as the Louisiana Governor's wife!! Did the spirit of bi-partisanship prevail, or did these two dames take it outside to the Rose Garden?? (See? This is what happens when you don't have a stylist.)
Colorado Governor Bill Ritter and his wife Jeannie Ritter


Okay, just love this. Love it!! Although she should have hemmed it higher.



Treasury Secretary Timothy Geithner


I love the tuxedos on display here -- our public servants generally don't seem afflicted with the sort of egomania that demands they get "creative" with their eveningwear. These guys are busy

running things

, they don't have time for mucking about with velvet jackets and whatnot. And do note, gentlemen, that despite a wide range of physiques on display, every man jack of them looks trim and elegant wearing a well-fitted tux. Secretary Geithner here is quite the maverick with his silver tie. But I'm not going to give him a hard time about it, considering how hard he had to beg his parents to get permission to stay out so late. (Seriously -- is Doogie Howser running the Department of the Treasury?)




My girl Social Secretary Desirée Rogers, rocking the sheer & sexy black. I love her, and I hate that I don't know whose dress this is. My instinct says Dior, but I'm probably wrong. She gives me hair envy, which is not an emotion I have a lot of experience with, frankly.


Lately, there's been a lot of obsessing over the wardrobe of our new First Lady, and I don't just mean us, I mean the entire dingdong world: the blogosphere, fashiony and otherwise, the network news, magazines, newspapers... everyone but everyone is talking about what Michelle Obama is wearing.
There is a school of thought that calls this superficial. That says we ought not to pay attention to things like that, but to only judge people according to their talents and accomplishments. That paying too much attention to outward appearance causes us to make judgments about people that may not have anything to do with their actual selves.


There is some truth to this, of course. We all know you can't judge a book by its cover.
And yet, we do.
Like it or not, we are a visual species who makes decisions about our fellow members based on their appearances. This is hard-wired into our brains, it's how we work. Hopefully, we've evolved enough that these aren't the
only
criteria we use, but they are a big part of it and it's disingenuous to pretend otherwise.


I'm sure there are people who think the fact that I write about fashion is frivolous and foolish. But I love fashion. I love the aesthetic aspect, the historical aspect, and the semiotics of it. It's the way my mind works, and it brings me untold pleasure. At the same time, I acknowledge that our obsession with appearance has for a while now been teetering on the brink of seriously dysfunctional, and perhaps I'm only making things worse by nattering on about our First Lady's Fashion Sense. (And heaven knows that while I almost never get tired of the fashion talk, I really, truly do not want to hear another sentence about her tendency to sleevelessness. It's her shoulders, people, not her bellybutton or her thong. For crying out loud, does it really merit this much time on national news channels?)


But given the beauty "role models" we've been shown over the last several years (Kate Moss, anyone? The animatronic Nicole Kidman? The vacuum-packed Ms. Knowles? Jessica Who-On-Earth-IS-She Biel?), tracking what Michelle Obama wears seems positively healthy by comparison. I'd much rather we pay attention to such an accomplished and substantial woman than to some drug-addicted model or teenaged Hollywood princess. There is a lot more to Michelle Obama than what hangs in her closet, and hopefully our ooh-ing and ahh-ing over her toned biceps and color sense won't drown out the important things she has to say about the causes she chooses to champion.
Photos: Huffington Post