Jil Sander was a minimalist before minimalism was cool. The German designer's first collections showed in the mid-1970s -- you remember the 70s, right? (If you don't actually remember them yourself, count your blessings.) Disco. Floral-print Qiana shirts. Pooka beads. Leading into the Age of Dynasty -- divided into the Giant Taffeta Bubble Skirt and Enormous Puff Shoulder Epochs. Minimalism in those days got you... well, the minimum. Just enough fans to keep the label alive for a couple of decades until the 90s happened and everyone woke up and said "Hey! Less is more!"

Sander was beloved for stuff like this:



Per. Fect. Immaculate, impeccable and impossibly perfect.
Sander's company was bought by the Prada Group in 1999 and it wasn't a successful marriage. They broke up & got back together a couple of times, but Sander stopped designing under her own name in 2004. Since then, Belgian designer Raf Simons has been designing the line.
Brilliantly
designing. You can probably count on one hand the designers who have been as successful as Simons in taking an established house forward from the DNA laid down by its namesake without turning it into a wax museum of the founder's greatest hits (
Are you listening,
Maria Grazia Chiuri and Pier Paolo Piccioli
???
).
I've mentioned Simons here before, usually with a froth of saliva on my chin. I never got around to talking about his last collection (
Spring 2009
), but it was magnificent and I adored it. Simons did a riff on the idea of the 1920's flapper that tuned into a sculptural, modernist examination of fringe and carwash hems that was like nothing I've ever seen.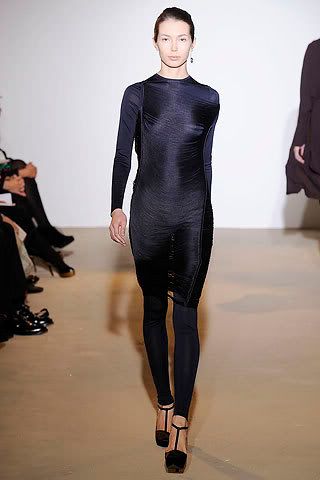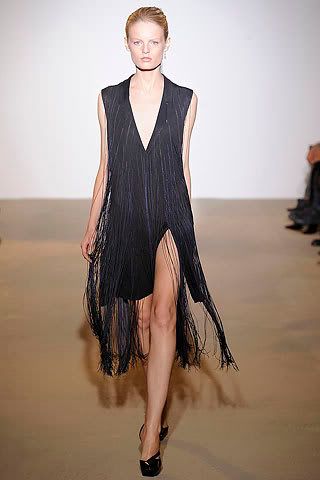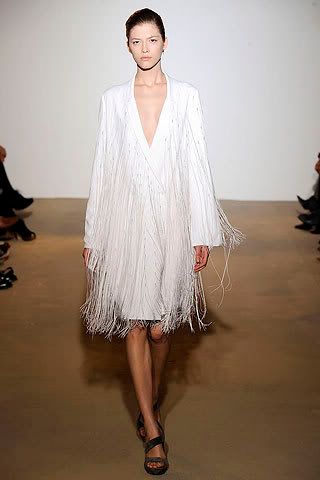 I associate fringe with Woodstock, or cowboys, or go-go girls dancing in cages, but not with minimalism. And that is the genius of Raf Simons -- staying in the present and asking what minimalism is
now
. Because even cutting-edge modernism has to move forward. And so, Simons can show things like this
and this
which are absolutely classical Sanders, the sort of thing the line has been adored for since its inception -- perfect tailoring, separates you can wear for a lifetime, luxe but not ostentatious fabrics. Those previous two looks (and the one at the very top) were from the first half of the Fall 2009 show. And then things got a little more interesting.


Look at this perfect white shift.

Look again.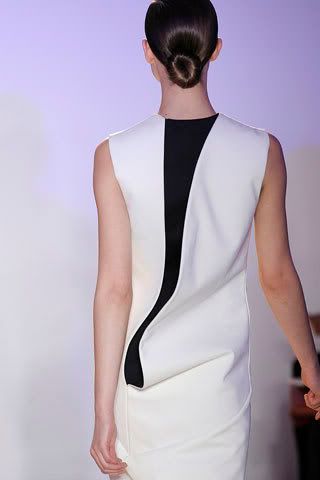 Suddenly, the classic shapes were throwing me a curve -- literally.
The curved slash of the opening of that coat is not merely the fabric falling away over the model's hip -- it's deliberately cut with that wave.
There's something so... organic about that to me. Organic in the sense of imperfect, found in nature, naturally occurring. Like a fiddlehead fern, or a blood vessel.
And still the flawless, neat tailoring
with the little grace notes -- like the color difference on the two sides of a flower's petal. Also, I'm so drawn to that marigold yellow -- I have a feeling some of that is going to find its way into my wardrobe this spring.
There was some fantastic knitwear, as well.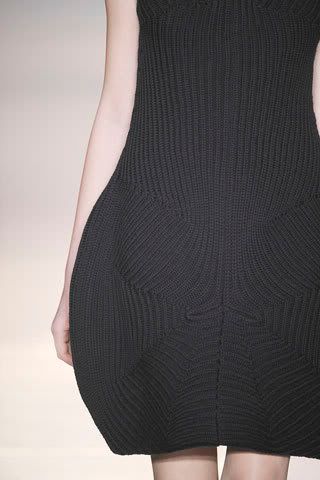 I love the play of the stitching there -- like a spiderweb or a skeleton.
Everyone loves calla lilies...
And the accessories were also to die for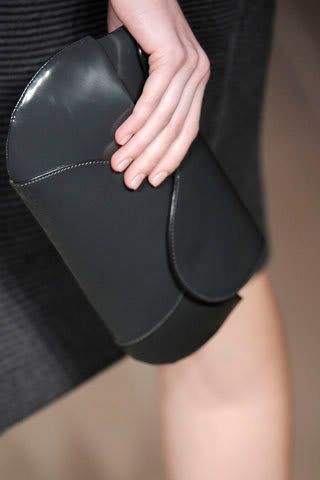 There were some great little pointed-toe skimmer flats in assorted colors, and this shoe, also in several shades, including, as you see above, that marigold yellow.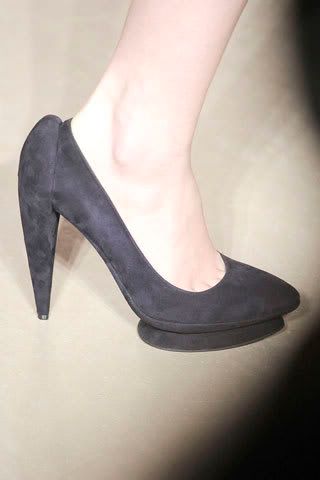 But it was the curves and folds that really did me in.
As though the fabric were sentient and had its own aesthetic sense and knew just how to fall and drape to be its most beautiful.
Look! Purple!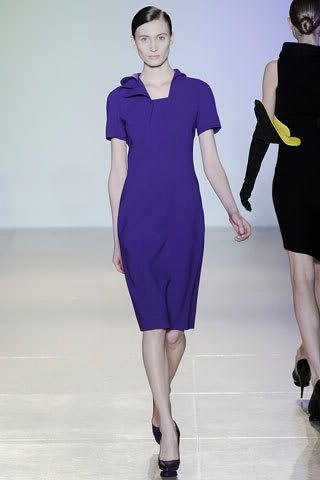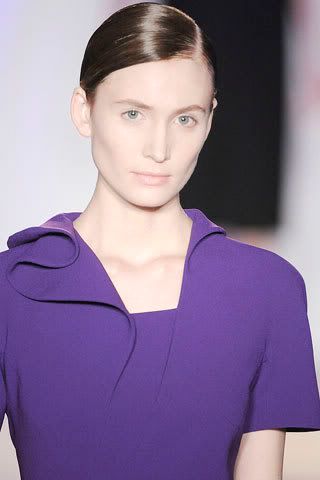 And so gorgeous. Simons, as you can see, doesn't do a lot of color. The combination of this shade and the curves of the neck make me think of irises.
And more marigold...
Honestly, this dress positively clutches at my heart. I feel like I knew this dress in another life. This dress is my soulmate.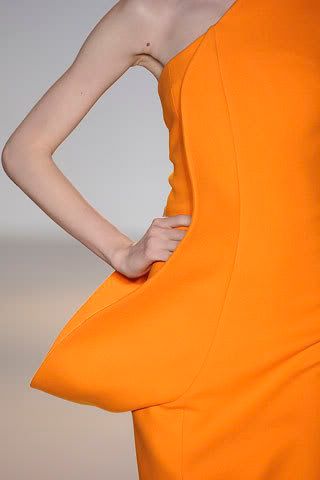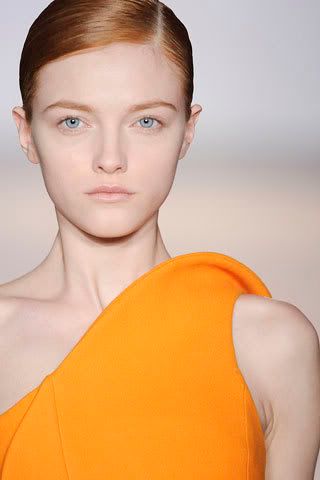 Good googly-moogly, I would look great in that dress. If only I didn't have to pay rent. And utility bills. And the grocery store...
Go check out
the whole collection
, you'll swoon over & over.
Photos: style.com