I love -- no, adore -- Miuccia Prada as a designer. She's consistently in my Ideal Wardrobe Top Five. But I have to tell you, I'm not sure I ever want to have dinner with her. Not because I don't think she's a nice person, I have no reason to believe she's not; but because I'm pretty sure she's really much, much smarter than me. Too much smarter than me. I'm afraid our conversation would consist of her expounding on politics, economics, and art (the woman has a PhD in political science, for god's sake, and she and her husband are going to be opening a museum in Milan solely for the purpose of displaying their contemporary art collection) while I gazed at her like a lovesick teenager and occasionally piped up with inanities like, "Oh, Ms. Prada. I love your clothes so much!"

I do love her clothes so much, although sometimes, I'll admit, they're challenging. That's why I like 'em. This collection, as far as I could tell, might have been titled "Fall '09: Mad Max Visits the English Countryside by Way of the Coliseum."

Yeah. I know.



So, this was not my favorite look of the collection. I really don't think there's going to be much of a market for the upscale Italian leather fishing wader. (Although stranger things have happened.) There seems to be something being said here about returning to basics, and classic pieces of clothing, and the natural world... but I'm not sure what.


The collections started with a series of slightly oversized basics in a very heavy, stiff-looking blanket wool.


I liked these a lot; they were just a little twisted with some interesting seaming
and that cool overlapping side seam
This silhouette, with a sort of thirties draped bodice of velvet that I really liked, made an appearance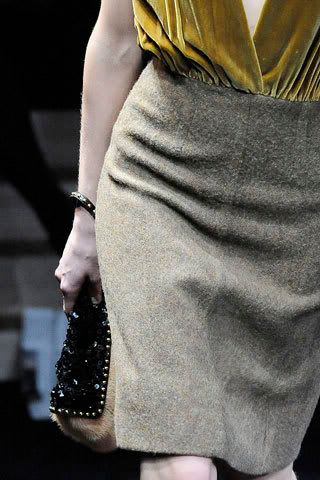 and then the velvet morphed into some devoré pieces that are just stunning



She played with that dress shape in several different ways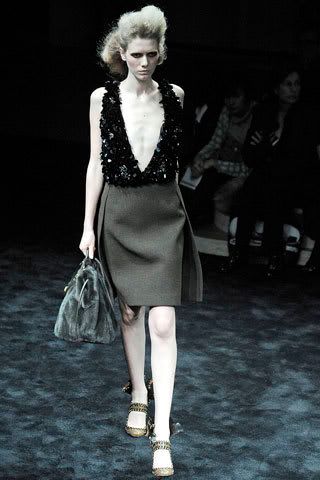 I'm afraid I'm not down with the fur dress. Besides being impractical (seriously, if it's cold enough for a fur dress, girlfriend is going to need a much higher decolletage), it's just not... attractive.



This neckline is one of the few times we small-busted gals have it over on the curvy ones. You can't have much of a chest and wear a dress cut like that without looking extremely tarty. Sometimes it's good to be a member of the IBTC. (I wonder if the vee will come higher once they go into production, or if they'll leave it like that. Sadly, I predict a lot of women who shouldn't wear it would anyway, so who knows. It might actually be a selling point for some ladies who have added to their natural blessings by visiting the plastic surgeon's office -- a great way to show off your investment.)



The sequins & appliqués are stunning, and I was simultaneously confused and fascinated by the leather-strip skirts.



There's something very Roman Centurian about those dresses that turns me off, but the detail and workmanship


are dazzling. And there is something about the prim toughness of them I find very alluring. I think "prim toughness" is a good desription of this collection -- a weird sort of tea party barbarity. Is this what Miuccia is trying to tell us: "Be nice, but be ready to throw down"? According to Style.com, Prada wanted the collection to be about the outdoors, but also wanted to do a lot of suits and coats. And, as Miuccia herself has pointed out many times in her career, sometimes it's best not to think about it too much. Sometimes she just has an idea and runs with it -- playing with shapes & volumes & fabrics.


The leathers were gorgeous


and the fabrics were really wonderful



And how about this lovely thing


which I'm completely in love with.


Besides the wacky waders


there were some other interesting shoes



and also some
really
interesting shoes



I am tired of this conceit of the lug-soled dress shoe. I've never liked it -- I find it as forced as the high-heeled sneaker, and almost as ugly. As for the mohawk shoe, well... it's certainly editorial. You're going to see them in a lot of magazines, but I'm afraid I don't think they're going to fly off the shelves. They're going to cost a mint and they are not the sort of all-purpose shoe that's going to last for years that most women want to spend a mint on right now. Glorious, yes. Practical? Not so much. And I sure hope that leather is very, very soft and those studs are very very smooth because if you're anything like ankle-kicking me you'd cut your legs to ribbons with them otherwise.


Bags are always the steam behind the engine at Prada, and there were some very good ones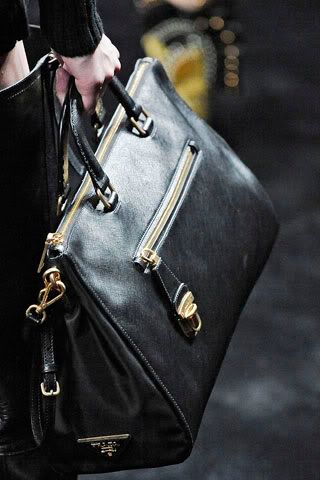 Those leather totes won't just be good for a few more seasons -- they're the kind of bags you can carry for the rest of your life. And while I find the little fur clutches kind of adorable,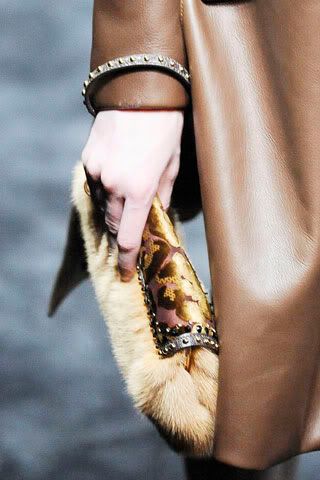 I could do without the giant fur bag. I dunno. It's just a big hunk of... fur. Meh.


On the whole I think it's
a great collection
. It's a wee bit indigestible in places, but it certainly tickles my gray matter, and there's actually quite a bit in it I found very wearable. I don't think it's going to sell as well as some of Prada's previous work, or as some other designers this season. These clothes are not as obvious a response to the economic climate we're suffering through as
Marc Jacobs' exuberant time traveling escape
back to the nightclubs of 1980's New York, or the several-season bang-for-your-buck
sleek basics of Michael Kors
. Miuccia Prada, I suspect, is not that linear a thinker, and is a much more subtle designer. But I really liked these clothes, even the ones I didn't like, for simultaneously evoking the discomfort most of us are feeling these days
and
suggesting a balm for it.




Photos: Style.com