Speaking of YSL...

I love these shoes.

They're from the Spring 2009 collection and they are starting to pop up in stores now. There are a few different variations available, but these are the most complete iteration of the look, which I find fascinating and super-cool. I like these because you could wear them in the cool weather with a tight, and you could also wear them in warm weather to give the proportion/look of a boot without dying from the heat (a major consideration here where I live). Oh, forget the justifications -- I just like 'em, okay? I think they're FANTASTIC.
I have the same feeling about those shoes that I had about these:
when I first saw them, on the Prada Fall 07 runway and these
when I met them in the shoe department of Neiman Marcus a few years ago. I fell instantly in love with both of these shoes, and eventually brought them home to live with me and have no regrets about either pair. They were expensive, yes, but I still wear them and I will continue to wear them for a long time, I'm sure.
However...
I'm less sanguine about that in this case. I'm worried that the cage booties are a little too... extreme to be a multi-year shoe. And those babies are expensive --

seriously

expensive, they make the Manolos look like a bargain -- so they need to give me several years of wear to justify them. While the Pradas are instantly recognizable from their season (that's another shoe that was everywhere, editorially speaking), they are still, at heart, a pretty neutral, wearable sandal. The booties? I dunno. The ankle or mid-calf boot is a silhouette that comes & goes, it's never (so far) been one that stuck around indefinitely like the tall boot or the sandal. And while I always advocate wearing what you love regardless of whether it's "in style," there does come a point with some items where they are so hopelessly dated that I can't bring myself to wear them.
But, oh. They're so fabulous. And truly an archive piece. And I do love me some YSL. I harbor a secret and as-yet-unfulfilled ambition to collect at least one YSL piece from every season. I figure if I do that, by the time I'm 70 I'll be able to wear nothing but Yves Saint Laurent. Heh.
There are a couple of other versions available.
Probably the sandals would be the most wearable and longest-lived version. But. Honestly, they just don't speak to me in the same way. The thing I like about the boots is the extremity of them, the over-the-top-itude. The sandals are cool, but not really as statement-y as the boots.
There are also these, which are gorgeous: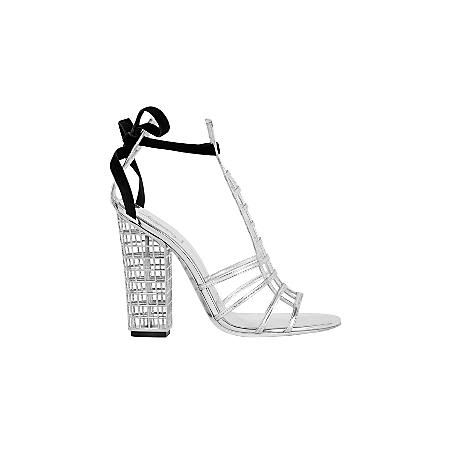 These are on the actual YSL website, I haven't seen them on any other e-tailer. These scratch the itch better because they have that fantastic heel -- actually, I can see that I'd wear these a lot. They're pretty stunning, aren't they? But unless they came in black, I'd never wear them, because I just don't wear silver.
But lookit what else I found:
This is may be the best option of all. I'm pretty sure I would wear that for a hundred years. I do like a big bold piece of jewelry, and that certainly is one.
All of this is academic, of course. It's not like a have a pile of extra money sitting around panting to be spent on goods from Yves Saint Laurent. (Actually,
all
my money is panting to be spent on YSL, but things like rent & groceries take priority, dagnabbit.) Even the Luxury Tithe is spoken for at present -- it has become the Travel Tithe, in anticipation of a much-needed (much,
much
,
MUCH
-needed) vacation in New York this spring. But I do like to have a back-up spending plan, just in case a long-lost relative bequeathes me a princely sum in the next few months.
One more quick thing -- I have a new affiliate:
This is more news for readers in the UK, because it seems that they are not shipping to the US yet. This is a shame, because they have some sweet, sweet stuff on this site. If you are lucky enough to have friends in the UK who could receive delivery and then forwar dthem on to you, you'd be golden; however, their returns policy is only 14 days, and it's unlikely that you could get them here & back in time in case they didn't fit. So mostly, for my non-UK readers, this will just function as Shoe Porn; but it's pretty good Shoe Porn, so it's not the worst use of a few minutes of your time I can think of. I am particularly enamored of these:

Okay, everyone, have a good weekend! Today is the first day of spring - perhaps you should celebrate with a little retailing?