Somebody help me out here.

I do not understand this ad:



Um, what????

That ad does not make me want to wear Diesel clothing. All it does is make me nervous about going over to that guy's house. "Gee, thanks, Sebastian, I appreciate the invite, but Saturday is the day I... uh... push back my cuticles."

I thought perhaps I just didn't have the context, and so I took a look at the Fall 09 Diesel Black Gold runway show.



Nope. Not helping.

.
Still not helping.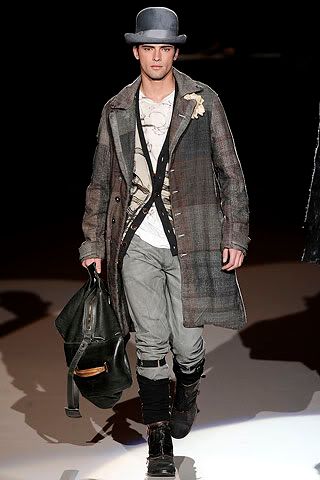 Droogs gooly down the runway in Diesel platties!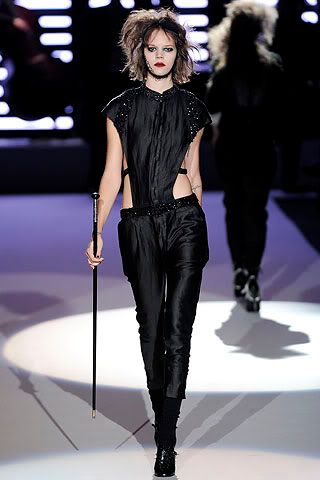 Right, then. Well, still confused about the advertising (but completely clear on how much I don't want to wear the clothes).
I will entertain any & all theories or clues the rest of you might be able to provide.
You know what makes sense to me? This:

This gorgeous navy silk kimono jacket from YSL, which is part of
an exclusive collection of YSL offered currently by Net-A-Porter
. It's a kimono jacket. With a drawstring waist. And a notched collar. It shouldn't be right, but it
is
! It's so, SO right!!! (::insert whimpering noises here::)
Also chock-full of sense, a thing of Aristotelean beauty, nay -- perfection?
From the same collection. The day that came to live in my closet might be the day I stopped shopping. Seriously, what else would I need?
Okay. My world makes sense again. Have a great weekend, everyone!
Photos: Diesel, Style.com, Net-A-Porter.com