Quoth myboyfriendStefanoPilati, according to Style.com, "I have to reflect the times, and this really is my mood." It appears to be a sober mood, but certainly not one of despair, despite the nearly uniform black and charcoal gray color scheme.

He started with leathers.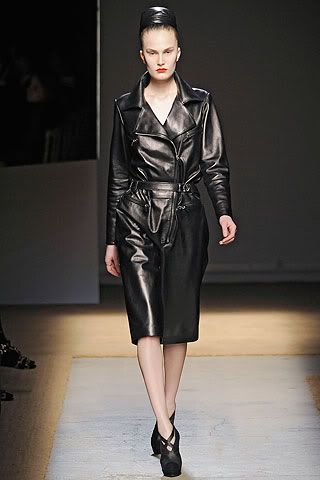 Very, very beautiful leathers. This is a combination of a
Perfecto jacket
and a trench coat, and it's stunning. I would wear this to my grave.


There were some interesting treatments to a few of the leather pieces, like this one


Love that quilted effect.


I will admit, some of the leather may have been a bit far-fetched...


For the

extremely

well-dressed sanitation worker.



And this, I guess, for the Playboy Bunny who has everything? Really not sure what to do with this, but I will say it's an impressive fit for a leather garment.


But I can forgive him for those little wacky missteps because then he brought on the tailoring!!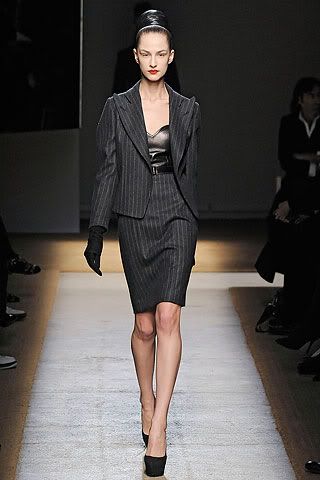 And what tailoring it is -- that suit will be good for the next 50 years, with the chalk stripe and the peaked (very peaked) lapels. Even better, he combined it with some leather:



Not merely "sexy." Devastating.


More timeless tailoring: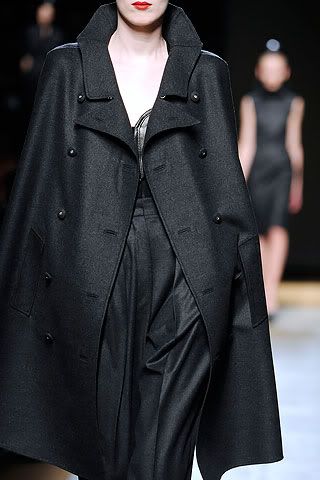 What's more romantic and dashing than a good, military-style cape?
Oh, this dress... So elegant, so versatile. Put it over a turtleneck or a blouse and boots for work, remove the top and slip into some killer sandals for cocktails later.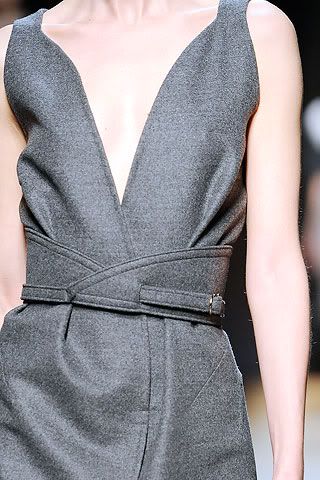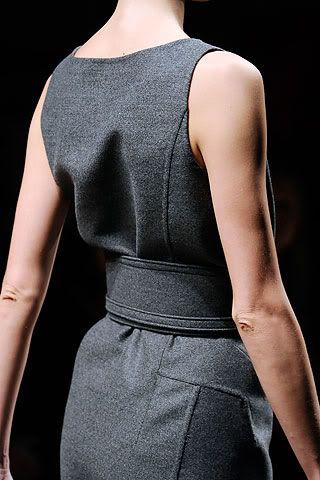 Maybe not these sandals, though...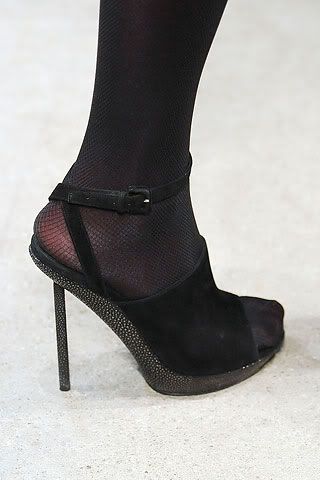 I was pretty underwhelmed by the shoes in this show.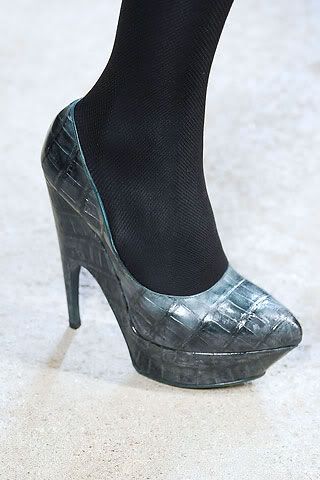 The pumps were a little better, and I do love that scooped-out heel, but none of these shoes made me think I
had
to have them.

But that's okay, because he made up for it with a raft of white blouses that nearly made me cry.


Style Spy loves her a good white blouse, and good googly-moogly, these are some.



Fall 09 is all about the shoulders. Peaked, pagoda'd, puffed -- designers really paid attention to the shoulder this season.



Oh, I am dying.



DYING
, I tell you.
I generally steer away from the ubiquitous LBD because they're, well,

ubiquitous

.



But this one would be very hard to resist, with its delicious little flip at the bottom of the skirt and all the wonderful detailing and seaming.



As would this one


Because it's soft and feminine and easy and best of all...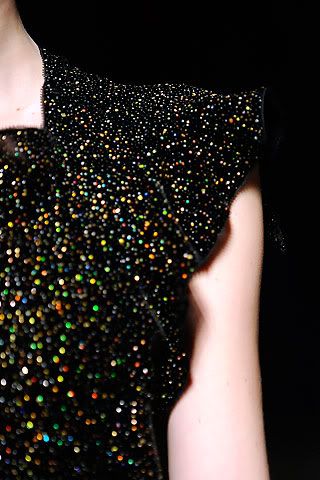 This dress would determine your hairstyle for the day


Because anything that hid that collar would be a crime.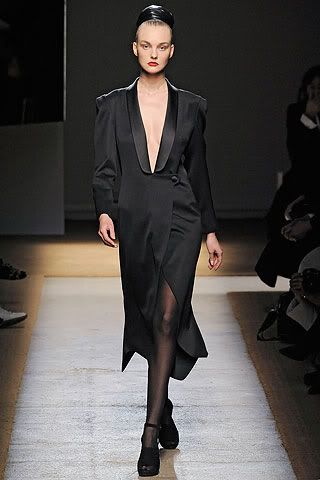 Le Smoking becomes a dress. Again, so simple, so chic, so uncommonly sexy.



There were a number of things in this collection that caused me to make whimpering noises.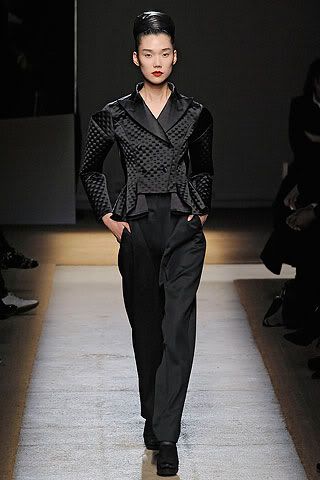 This was one of them. Again, it's a timeless piece. There's nothing about this jacket that screams "2009," and yet it manages to be entirely fresh. And Pilati appears to have back-burnered that dropped-crotch pant he's been playing with the last few seasons. I don't know if he's just done everything he wanted to with it, or if he retired it for the moment to give us something a little more long-term and less trendy.



There isn't a lot of intellectualization necessary about this show. It is, very simply, a gorgeous collection of elegant, timeless, beautifully-designed and -made clothes that any woman would be lucky to have in her closet. Perhaps my favorite thing about these clothes is that they show Stefano Pilati is
respectful
of the women he dresses. He is not imposing a vision on them right now, not at a time when many people don't have as much money to spend as they did a year ago, and when even the ones who do may not want to advertise that. This is not the time, he rightly gathers, for flights of fancy that will advance his own fashion agenda. He's going to make us well-dressed and elegant in the extreme, and that is enough.


The other thing these clothes tell you about Pilati is that, in his head, the woman who wears YSL is an
adult
. She is clear-headed and strong, and doesn't need the refuge of a fantasy world or a time machine to make her feel better -- her inner resources and a really good jacket will get her through. That's the thing about these clothes that most makes me want to wear them -- the confidence they exude.


For my money, no one working today has a better grasp on the fine line separating "fashion" and "reality" than Stefano Pilati. A woman does not get lost in his clothes, she is amplified by them. They are simultaneously impeccable and sexy in that way that most of us instinctively perceive as "Parisian." Yves Saint Laurent, a man who adored the women he dressed, must look down from Fashion Heaven and be very pleased indeed.
Photos: style.com