Jean Paul Gaultier seems like a happy guy. Whenever I see photos of him, he's smiling, and in interviews he seems about as far from the stereotypical moody, Sartrean Frenchman as you can get. My theory is that he's really enjoying his life, and why wouldn't he? He has his namesake label, where he's allowed to pursue his wildest fantasies as a fashion designer, pulling in influences from around the world and staging runway shows that can look like the world's friendliest and best-designed acid trip. And he also gets to design Hermès. Designing Hermès means access to some of the most luxurious materials and exquisite craftsmanship in the world. It also means you're responsible for the look of one of the oldest and most storied fashion houses in history, a beloved institution in France; and that, frankly, you don't have to worry all that much about how much your stuff costs.


See? Happy.

I'd be happy, too, if I were responsible for this
Hermès is famous, of course, for its leathers. The company began in the early 19th century as a maker of harnesses and saddles, and is still best-known for its leather goods (like the mythic Kelly & Birkin bags). (They also do
a nice little sideline in silk scarves
.) Gaultier has been designing the clothes since 2003 and it's been a successful collaboration. The clothes are always good, French to the eyeteeth, sexier than their classic lines give them a right to be, and ageless without being stodgy. JPG has got it down cold with this line. Wearing Hermès, people might not
know
that you were wearing Hermès, but they
would
know you looked gorgeous.
This season, JPG was inspired by Amelia Earhart and other aviatrixes. Do I know why? I do not. There seemed to be a goodly dose of 1940's-inflected fashion on the runways this season, and my feeling is that this reflects a sort of life-in-wartime mindset that we're having due to our economic troubles. Rationing, make-do-and-mend, toughing it out, making sacrifices -- all those stiff-upper-lip qualities we look back and admire in our wartime forebears.
Not that an alligator bomber jacket with a mink collar is exactly scrimping by. I do not recall hearing about rationing coupons for alligator...
The aviator influences were mostly found in the styling for the show (no one at Hermès expects you to wear one of those hats this winter, I promise) and the classic military cuts of the jackets
and so this collection is actually extremely wearable. Yet another example of a designer giving big bang for the (big) buck this season -- there's really nothing that went down this runway that's not going to be wearable for years to come.
Like this. There's not a one of us who wouldn't be better off having this in our closets.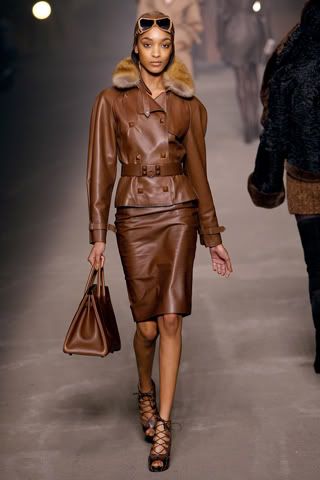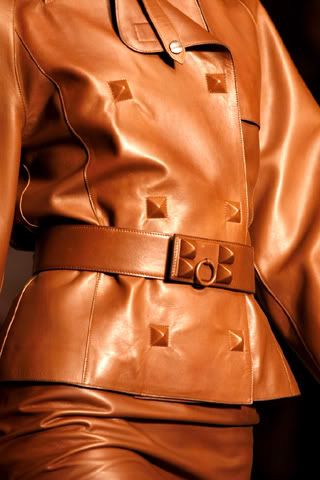 Those pyramid-shaped studs are an Hermès signature. The sort of subtle detail on an all-leather skirt suit that
whispers
, "Why yes, I
did
pay $30,000 for my outfit," but doesn't
scream
it.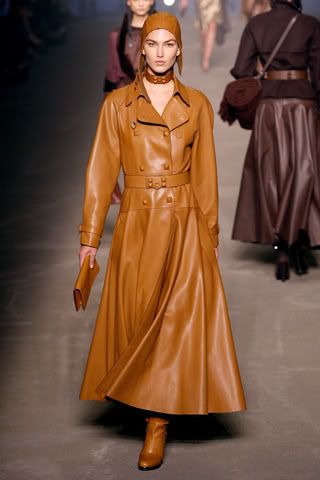 Speaking of good leather, get a load of these shoes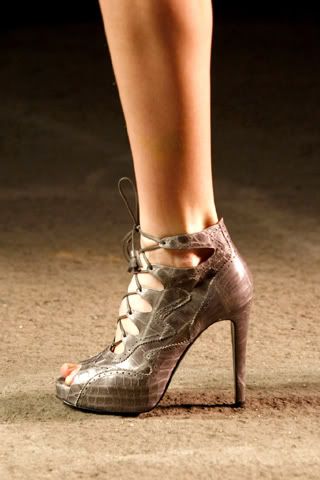 Holy cow. Come to mama.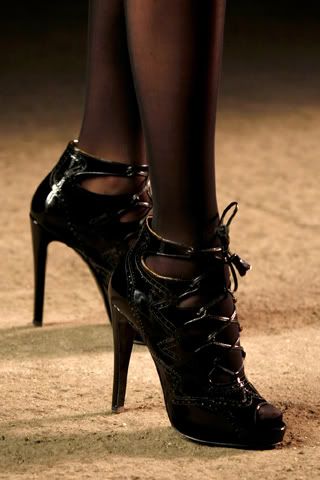 I can't quite tell if this is a removable gaiter-thingie and the boot underneath is just this
in a knee-high version. Doesn't really matter, though. I just love the way it looks.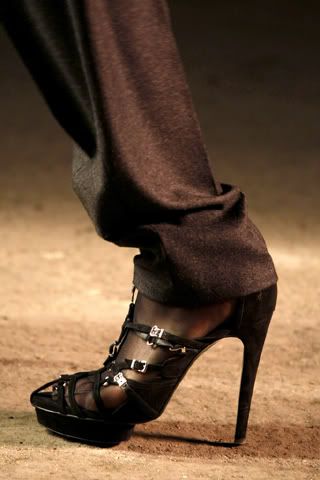 It wasn't all leather -- there was also, as one would expect, some truly gorgeous silk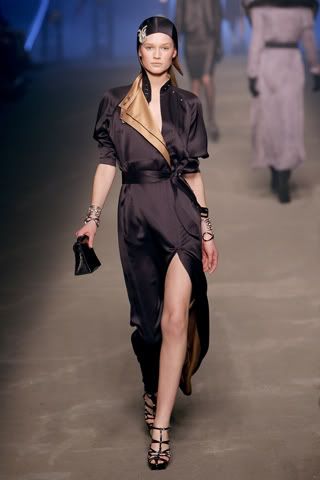 Amelia Earhart wears a cheongsam. And looks killer in it.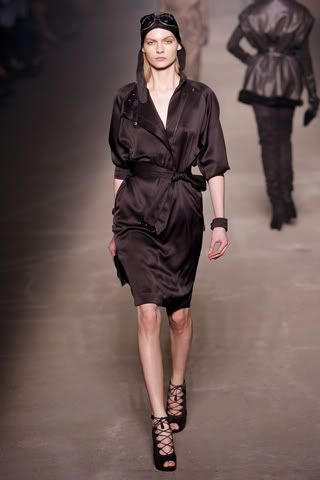 See? That's just ridiculously good. Classic, easy, beautiful...
But back to the leather, she said, wiping a tiny drop of drool from her chin.
I don't currently have any leather pants, but I need some. I'll take these.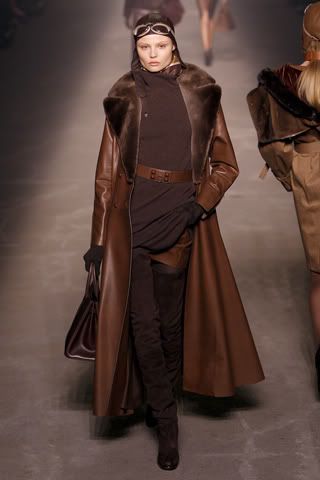 ::thud::

Here's a dress I'd feel good about wearing.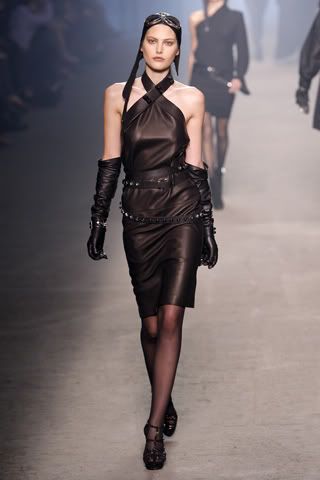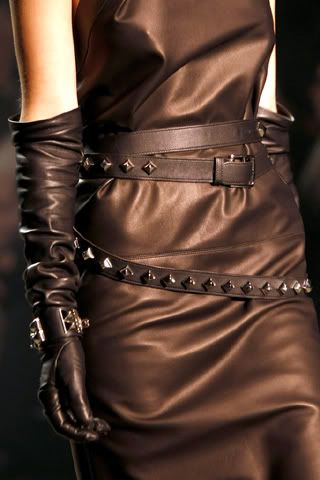 Ooooooh, mygoodness. You thought it was silk, didn't you, until you saw the close-up. There was a silk version or two of it in the show, but the leather? Much more interesting. My god, that's fantastic. Not for nothin', but I would totally rock that dress.
Not that I'm going to. Sad truth is, these clothes are entirely out of my reach. Usually when I look at Prada, or McQueen, or any of the other designers I love, one part of my brain is stashing away ideas because some of it will appear in Neiman Marcus, go on sale, eventually filter down to the outlet stores, and just generally be attainable to me if I save my pennies and am judicious. Not so much with the Hermès. First off, it's next to impossible to find the stuff -- the only place you're going to see Hermès clothes is an Hermès boutique, which are not exactly thick on the ground. I've been in the Dallas boutique -- they have a few garments, but not all that much. It's mostly bags, scarves, and other smaller items -- they must save the fashion for the really big stores in New York & Paris (and godhelpus Las Vegas). Although even in the flagship store on the rue du Faubourg Saint Honoré, I don't recall seeing any clothes. Where are they keeping this stuff, anyway??? Doesn't matter. Even if I could find it, I couldn't afford it. The prices are astronomical, and they do not go on sale. Remember, this is a company with years-long waiting lists for handbags that cost $7000. I don't even want to
know
what that full-skirted leather trench would set you back. (Makes those $350 silk scarves seem like a stone-cold bargain, huh?)
So Hermès is for dreaming. Head in the clouds. Flights of fancy. Vrrrrrroooooom...
Photos: Style.com