Sweet Polka Dot got me thinking about white dresses with a question on her blog. I love white dresses. There's nothing like a good white dress to help a girl struggle through an unbearably hot summer. (Yesterday was set a record in Austin -- the 67th day of triple-digit temperatures this year. I'm tellin' ya, it has been a rough summer here. We finally -- FINALLY -- got some rain last night and it's a bit cooler this morning. Forecasts are calling for temps in the high 90's over the weekend and everyone is all excited -- "Oh, my gosh! It's only going to be 98! Yippee!!" How sad is that? My friend Eric calls it "Weather Stockholm Syndrome." We're so brainwashed by the heat we're grateful for any tiny little break we get.)

At any rate... (Sorry, but even more than usual the weather is the big topic around here.) Labor Day is around the corner and theoretically we'll all have to stop wearing our white dresses. Of course, folks here don't hew as closely to that rule as they do in some parts of the world -- it's easy to justify fudging when it's in the 90's, as it usually is around here well into September.

So here's a few nice white dresses. (Click photos for links.)


Oh, this is lovely.


I love embroidery, and this is really pretty. It looks like a vintage tea towel or pillow slip.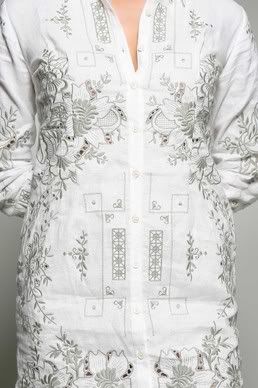 Isn't that lovely? And one of the best things about buying a white dress in late August is that they're often crazy on sale. This one sure is.
Unfortunately, this one is not
Which is a danged shame, because it's fantastic. Ann Demeulemeester jersey deliciousness. I love Ann D for the way she can create clothes that look like she just wound a piece of fabric around a manequin and poof! Magic happens and suddenly it's the coolest garment ever.
From myboyfriendAlexanderMcQueen:
Dreamy pintucked shirtdress that I'm completely besotted with. This is on sale, too, and it's a good thing I didn't see it when it was full price, because I still would have been tempted. The detailing and tailoring on this makes me really excited, click on the photo to explore it further.
Finally -- full-on, ingenue-in-a-movie-musical, skip-through-a-flowery-meadow, summer sundress guaranteed to make you at least ten degrees cooler:
Perfect. Just perfect.
So I'll pick up where Polka Dot left off -- are you gearing up your fall wardrobes for Labor Day? How big a change will it be -- full-on closet swap or gradual replacement of spaghetti straps for cardigans? Also, how strictly do you adhere to the No White After Labor Day rule?
Have a great weekend, everyone!