So I stopped by Sister Wolf's hilarious blog Thursday morning and saw her post about how this dress


is sold out on Net-A-Porter. Her point was that, good googly-moogly (although she uses less curlicue'd language), the stupid thing cost about five large and it sold out in about 90 seconds.

What the hell is up with THAT?

is the gist of
her much-funnier and better-written observations
.
Yeah, amen to that, but here's the part that really kicked
my
seatback into an upright position: that dress? Is Pucci.
Um,
WHAT????
Yeah, really. It's Pucci.
I knew that Matthew Williamson had left as head of design at Pucci and that Peter Dundas had taken over. Dundas has done design duty in assorted capacities at places as varied as Cavalli, Lacroix, and Ungaro -- he's been around a long time and has an impressive CV, but

I

certainly couldn't give you any sort of brief on his vision or style -- he's more a journeyman designer than a household name, and there's no shame in that. Currently, he's creative director for the French fur company Revillon, and is remaining with them for at least the next two years to serve out his contract. (Which will 'splain a few things to come.) Anyhoo, I realized that even though I am an enormous fan of Pucci, or at least I definitely have been while Williamson was heading it up (Really, was there ever a more perfect combination of designer & existing house? I can't think of one.) I didn't ever check out the collections that Dundas has shown so far. (Because there is SO DAMN MUCH FASHION stomping down the aisles these days that a serious person cannot possibly hope to pay attention to all of it, which is just frustrating.) So I did.
Hmmm...
Fur & leather are not what I think of when I think of Pucci, but I'll try to stay open. I just wish those pants fit better.
It's a yeti! A super-expensive, exceptionally well-groomed, Evian-sipping, cigarette-inhaling Fashion Yeti!!! Honey, get the camera!!! (To be fair, I do not know for sure that Lily Donaldson smokes. But since all

I've

ever seen models raise to their lips in photos & videos are cigarettes & those little individual bottles of champagne with straws in them, it's a fair bet.)
Helloooooooo? Is there a Pucci in there? Also, that dress doesn't appear to fit very well, either.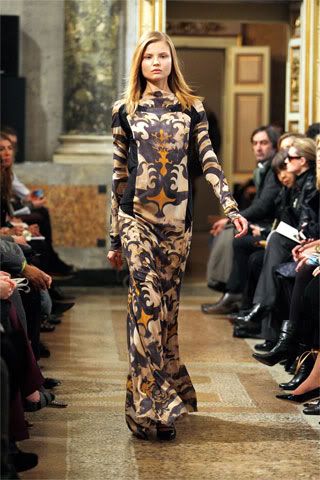 Oh, hooray! A print! In possibly the most depressing color combination I've ever seen on a Pucci runway. I wilt.
Now I yawn. Did Elie Saab stop by?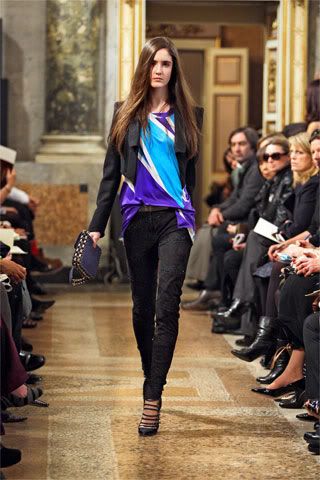 Now we're talking -- color and print! It's color and print in service of the
ubiquitous
and tired super-glam rock chick thing that only works if you're under 30 and built like a ski pole, but hey! I'll take it!
Now we're talkin'.
And then... they harsh my buzz with those muddy colors again.
I really wasn't getting the eagle and wolf motifs at first, but all the notes about this show say that Dundas was influenced by
the Palio of Siena,
which is a centuries-old horse race in which the wards of the city of Siena are each represented by a horse & rider. Each of the wards is named for an animal (some real, some mythical) and Aquila ("eagle") and Lupa ("wolf") are two of them, and their colors and symbols make up a big part of the pageantry of this famous event & festival.
Too bad Dundas couldn't see his way clear to make it as colorful as the original.
How fantastic is that? I want to go there!
So the Palio thing explains some of the other motifs, too.
Which is good, because at first I thought, Oh, great, yet another designer-embellished t-shirt. (This item seems to be
de rigeur
these days -- little cutesy t-shirts from expensive designer labels. I guess they serve the function of being "accessible" items for the various lines, price-point-wise. So sure, they're usually cheaper than say, a dress from any given designer, but in my opinion it takes some damned nerve to charge 500+ bucks for some damned silkscreened & be-dazzled t-shirt, no matter how many famous fashion designers rubbed their little paws all over it. Harumph.)
The collection was not entirely devoid of color
Speaking of over-the-knee boots
-- yowza. Even a skeptic has to admit those are pretty yummy.
But don't get too excited. And the best prints?
Black & white. Lower-case woo, lower-case hoo. Although I really, really do dig that dress -- I love the simple shape and the great pattern, and the
placement
of the pattern is fantastic -- see how it creates such a great body shape?
But this was a Fall/Winter collection, after all. Maybe, I thought, Dundas got a little more exuberant for Resort, typically a good season for color & sartorial whoop-de-doo.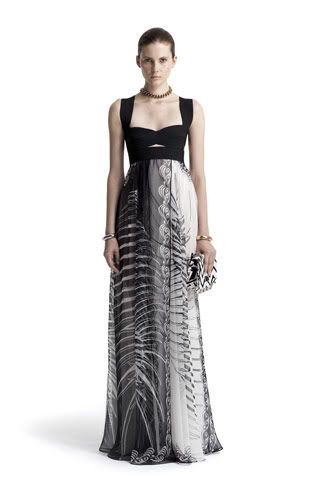 This is another really amazing pattern. Nicole Phelps on Style.com's review of the collection said what I thought when I saw it -- in those tones on that fabric, it looks a bit
H.R. Giger
-esque (he's the guy who designed the alien for the "Alien" movies). It's beautiful slightly weird & hypnotic and a little unnerving, but good googly-moogly, do I

hate

that bandage bodice with the keyhole. It robs the garment of all its potential elegance.
Again I shake my fist at the sky and curse
Christophe Decarnin
.
This is a nice enough dress. Actually, no, this dress is lovely. I think this dress, given correct sizing, would be extremely wearable and flattering on many different sorts of women -- thumbs up for this one. And I do love a good white dress.
Oh, goodie! Here comes some print!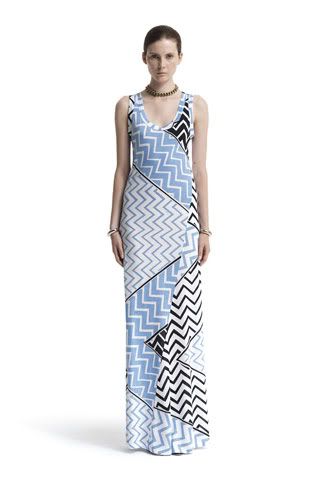 Oooh, and some more!
I really love this dress -- this is a classic item that you could wear for yeeeeears. (And you'd
better
-- Pucci is dayum'd expensive.)
Now we're right in my sweet spot -- it's jersey, it's print, it's fantastic. Only two colors, but that's okay. I love it.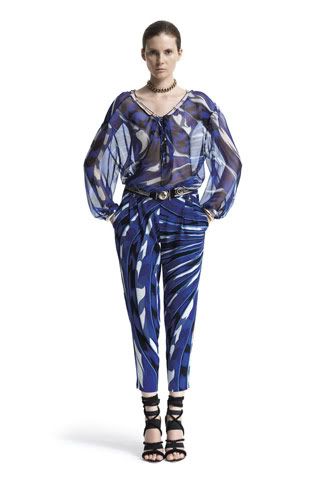 Oh, dear. Oh, we should have quit while we were ahead. Oh. Dear.
I'm still reserving judgment. I think you have to give any designer a pass on his first collection when he steps into another house,
especially
one that's been so successfully headed by someone else as Pucci has been by Williamson. And I'm encouraged by the direction that the resort show took. And I'm trying not to be an old fuddy-duddy about one of my favorite labels, but I do SO love Pucci and all its bright, brash, printed exuberance. I fully understand that it's important for a house with a history to keep moving forward, but I'm getting plenty cheesed about the formula some of the mega luxury corporations seem to be using to make it happen. Take a label with decades of fashion history behind it, pop in some happening new designer, and use the name as a veneer to cover designs and products aimed primarily at hip young models, model-types, model-wannabes, model-worshippers, and other people whose names & faces are found inside fashion magazines and whose apparent profession is "go to gallery openings and smoke." The prototype for this is Nicholas Ghesquiere at Balenciaga, and Christophe Decarnin at Balmain and Tisci at Givenchy followed with equal success. I'm not saying none of these designers is talented (okay, I
have
said that about Tisci & Decarnin), but Balenciaga is not about Balenciaga anymore, it's about Ghesquiere. (And as for Givenchy? Well, may I remind you that he was one of
Audrey Hepburn's
favorite designers. 'Nuff said.) That's fine, I guess, but then why are we calling it Balenciaga? Or Givenchy? Why not just give them their own labels & be done with it? Why call it what it's not?
And then, like a dog chasing its own tail, I wonder, does it really even matter? If I'm so gosh-darned fashion-forward, why does it even bother me? Shouldn't I just get over myself and judge the stuff for what it is, not compare it to what it was or what I think it might have been? After all, I can't seem to be made happy ever -- not too long ago
I was complaining bitterly
about a house that was SO determined not to move forward that their runway looked like a morgue.
So I'll wait and see what they do to Pucci. It seems like a house with so strong a signature and look would be hard to screw up, but it may be that the PTBs behind it want to create yet another go-to label for the hippest of the hip, who wear their jeans low & skinny, their eyeliner thick & black, and their expressions blank and blasé.
Oh, the idea depresses me. I'm going to go put on some shoes to cheer myself up. I've got just the thing.
There. That's better.
images: Style.com, wikimedia.org, about.com, Style Spy