Here's my latest fashionista film discovery:



Yves Saint Laurent - His Life and Times/5 Avenue Marceau 75116 Paris


This DVD contains two documentaries by the same director. The first is a fairly traditional sit-down-with-a-camera-and-interview-the-subject-and-those-close-to-him sort of summation of, well, his life & times. There are interviews with Saint Laurent himself, his business & personal partner of many, many years, Pierre Bergé, muses like Betty Catroux & Loulou de la Falaise, and other people who worked with Saint Laurent during his 50 years in fashion. The interviews are intercut with wonderful footage from past fashion shows, odd old black & white television advertisements, clips from interviews with Saint Laurent when he was a young, young man, and other fun historical nuggets. Saint Laurent talks -- quelle surprise! -- about his mother and in this film we actually get to meet Maman. (And she is lovely.)

It's a short film (the two together run less than 90 minutes) and far from a comprehensive study of Saint Laurent's influence and influences, but it's well worth watching. It's a little stunning to realize just how incredibly young he was when he took over Dior (barely 22).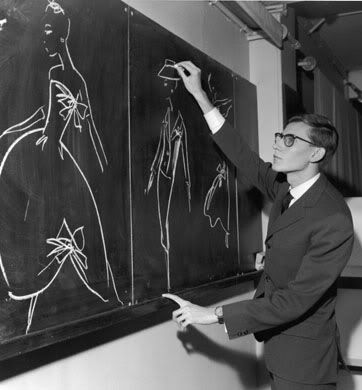 It's also fairly apparent that M. Saint Laurent suffered from a mood disorder, undergoing bouts of depression that his friends speak of in guarded and elliptical terms. His struggles with substance abuse in the 70's and 80's have been well-documented, and he was hospitalized for "stress" and "exhaustion" and the like repeatedly over the course of his life. By the time this film was made (in 2001) he is obviously ill and at times seems terribly frail. There are many poignant moments in the film when he talks about his (happy) childhood and both the joy and sadness that his life in fashion have brought him. Saint Laurent seems all-too-terribly human in this film -- not
a fortress of ego like Karl Lagerfeld
or
a marketing machine like Marc Jacobs
, but an artist at times bewildered by his own talent and often hostage to his own demons and black dogs.
The second part of this DVD is the fashion documentary I've been searching for. Ten minutes in, I hit the pause button on my remote, marched over to my computer, and ordered the DVD from Amazon. I needed to own it. If you are a fiend for the actual design and construction of clothing, this is your movie. The process being observed is the run-up to one of Saint Laurent's final Haute Couture shows (one of the reasons YSL is so important to fashion history is that he is usually credited with being the first haute couture designer who opened a full-fledged ready-to-wear business, but he continued to design haute couture until 2002) and if you're a construction ho like me, it is absolutely enthralling. I watched this film like a 13-year old boy watches his first dirty movie -- on the edge of my seat, mouth agape, wineglass forgotten on the coffee table in front of me. This is hard-core fashion porn. Designs are followed from sketch to toile to final fabric choices, with models parading before Saint Laurent and Loulou de la Falaise (who wears a seemingly endless series of perfectly-fitting trousers and blouses with big statement-y pieces of jewelry tossed on in just the perfect way --
oh
, I want to be her when I grow up!) and Anne-Marie Munoz, who worked with Saint Laurent from his early days at Dior. Bless director David Teboul's heart, he just plunks the camera down on a tripod and lets it roll, showing us long, uninterrupted, unedited takes of staring, judging, tweaking, and discussing the designs. You get a real feel for how painstaking and stop-and-go the process is as Saint Laurent and his sidekicks chat about the placement of a pleat or the shape of a collar. But it's not just talk. Teboul also goes into the workrooms and films the garments actually being made. We get to see the hands and hear the voices of the tailors and seamstresses who construct these beautiful garments. Saint Laurent , at least in this film, is a kind and respectful boss who beams at the employees who bring his designs to life and thanks them profusely. The appreciation seems reciprocated -- there is no disguising the pride of one of the head seamstresses as the gorgeous dress she has nursed into creation swings and sways and swoops across the salon in front of Saint Laurent, followed by a murmured string of his favorite compliments:
"Ravissant! Ravissant! C'est un rêve!
" It's by far the best representation I've seen yet of what goes on deep inside an atelier and made me want nothing more than to go and sit quietly on stool in the corner in that studio and just watch & learn. These men and women have already forgotten more about design, construction, ornament, fabric -- all the building blocks of fashion -- than I will ever learn in my lifetime. It's awe-inspiring, at least to me. Click
here
for a sample of what I'm talking about.
These films are definitely worth your time, especially if you're as big a fan of Yves Saint Laurent as I am, or if you appreciate the skill and time that goes into creating a truly artful piece of clothing. This DVD, especially the "Avenue Marceau" segment, is going to be one of my rainy-day movies -- you know, the ones you pop into the player when it's gray & rainy & you've got nothing to do but stay home and snuggle into the couch and entertain yourself with your favorite dish of cinematic comfort food. Highly, highly recommended.
Images: Guardian.co.uk, elle.com