Like the poet said, Beauty is truth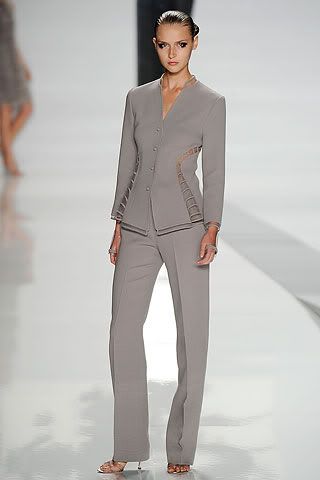 And truth, beauty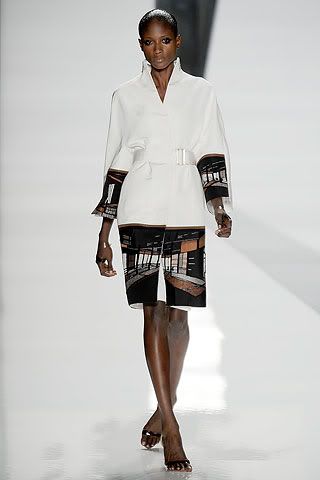 That is all ye know on earth,
and all ye need to know.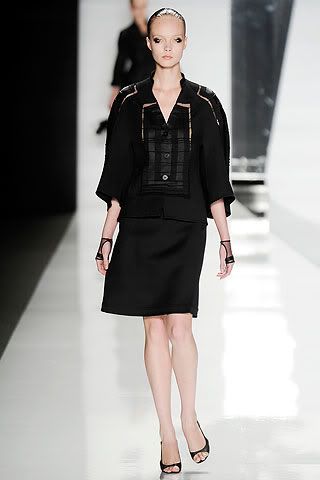 Ralph Rucci, as I have stated here many times before, is one of my very favorite designers. His line is called Chado, which is the name for the formal Japanese tea ceremony. It's an apt name -- Rucci's
clothes have a quiet grace that echoes the stately beauty of classical Japanese art.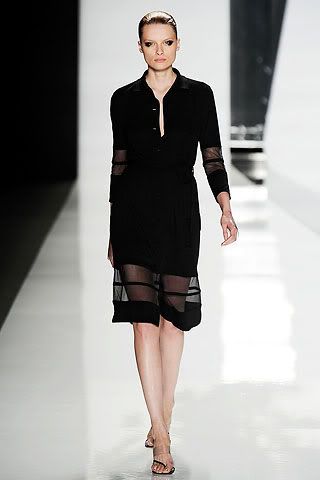 Unlike a lot of my favorite designers (Miuccia Prada springs to mind as an example), Rucci doesn't drop a lot of design bombs -- his collections are remarkably consistent from season to season, and always recognizable. The silhouette is nearly always quite simple, almost severe, with very subtle embellishments.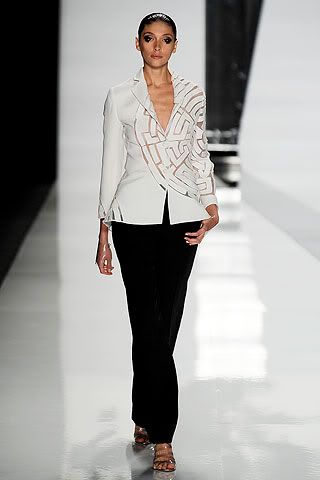 One of his favorite motifs is this sort of sheer insert. Other hallmarks include unusual, complicated, detailed seaming and extremely rich fabrics (lots of double-faced cashmere and gorgeous silks).
This makes his clothes both unbelievably beautiful and ungodly expensive.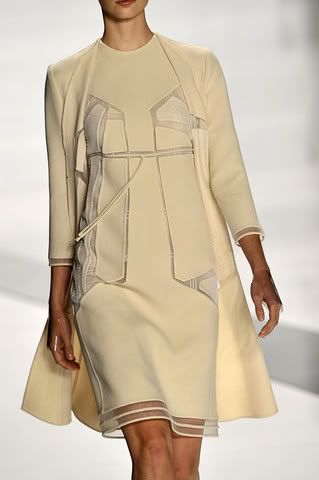 These are investment pieces (again, are you listening, Alexander Wang?) of the highest order, which is what you would (and should) expect when you're shelling out four figures for a jacket. Rucci's color palette is primarily neutrals and consistent from season to season. If you have the means to procure them, these are the sorts of clothes that form the spine of a lifetime wardrobe -- the perfect pair of pants, the jacket that finishes every outfit to perfection, the cocktail dress that can be worn for twenty years. You don't see Rucci on trendistas, because he doesn't follow trends. Rucci has his own inner design compass that he follows with remarkable consistency and purity. He's not as well-known as many designers, doesn't get that red carpet press, doesn't show up on the cover of Vogue. He just quietly, beautifully works away making stunning, perfect clothing season after season.
The Spring 2010 collection featured several pieces with all these wonderful feathery bits, which you can imagine pleased Style Spy no end.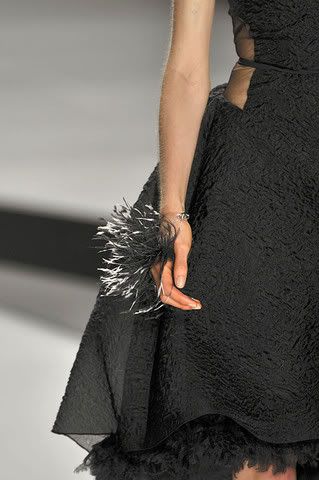 Just love all that peeping out from underneath the hem, and love the swing-y bell of that skirt. Note also that sheer inset at the waist -- I couldn't find a picture of the back of this dress, but I'll bet the whole thing is sheer. Lovely.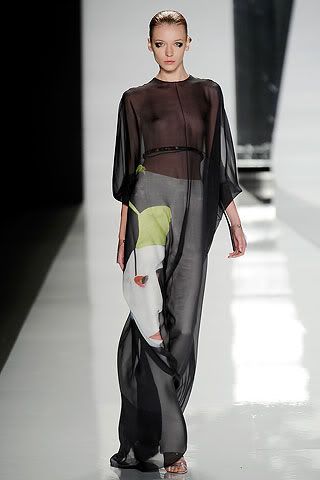 Rucci often features several pieces in printed fabrics in every collection. According to Nicole Phelps's review on Style.com, the Spring 2010 collection was inspired by Pina Bausch, the choreographer/dancer who passed away this year and I believe that is her actual photograph printed on the dress above.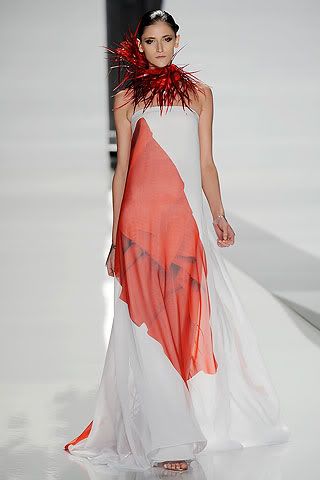 I'll spare you my usual nattering on -- these clothes don't really need a lot of commentary. There aren't any drastic design shifts or statements to comment on, just really, really beautiful, finely-crafted clothes.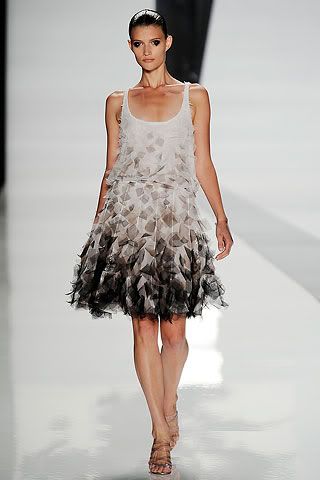 Rucci's clothes are my aspirational garments. Bargainista shopper that I am, I don't run into his stuff all that often, and even discounted it tends to be out of my range.
Oh, that makes me dizzy, it's so beautiful. I understand why starlets don't wear his clothes -- they aren't flashy enough for the red carpet, they don't obviously compete with the skin-tight spangles favored by most folks at awards ceremonies. But imagine being the woman in a room filled with Elie Saab excess and Badgely Mischka foofaraws, wearing the black dress above. Serene, I think, would be a good adjective to describe you. The photographers might not be climbing over themselves to take a photo of you. But I do not think you would care.
And my favorite, saved for last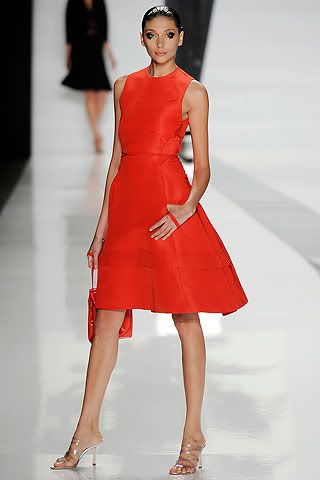 Perfect. Truth, beauty, and pockets. What more do you need?
Images: Style.com, Elle.com