It's uncanny sometimes, it really is. I swear, the Shoeniverse eavesdrops on my every conversation.

Just yesterday morning I had an e-mail exchange with the English Rose about ballet flats. Hers, she fears, do not have much life left in them. As a Londoner, the Rose is a commuter, and she is a stylish commuter, so her ballet flats are extremely important to her. She wears them to work and then changes into her high heels when she arrives. This practice, as many of you probably know, saves wear & tear on the ol' hooves, not to mention ol' hoof covers. (There was a Miu Miu mary jane/subway escalator tragedy a few years ago that cemented this practice for the Rose.) Her significant other has suggested that she wear her running shoes from home to the office. He is a nice man, but he is a man and therefore, this idea makes perfect sense to him. Well, I've known the Rose longer than he has, and I'm here to tell you -- not gonna happen. As she said yesterday, Melanie Griffith in "Working Girl" has never been her fashion role model.

But the guy, misguided as his fashion instincts might be, has a point. I've done the Rose's commute with her (last time I was in London) and there is an awful lot of cobblestone and pavement and steps involved. Heels are certainly not the right choice, but I don't think my feet would be happy in mere leather-soled ballet flats, either. I like a little more cushioning between myself and the pavement when I'm doing a hard slog on city streets.

So it's a dilemma, as many of you know. Shoes that look stylish enough that you don't want to wear a bag over your head and yet won't lead to a much better acquaintance with your podiatrist than you'd really like.

And not two hours after the conclusion of this exchange between myself, an ad for this popped up in my Inbox.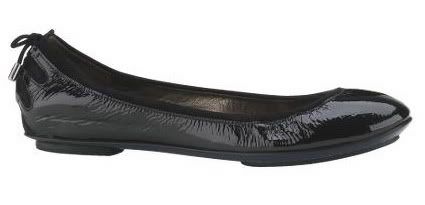 This is the Cole Haan Air Bacara, from the Maria Sharapova Collection. A lovely, versatile shoe with the added benefit of "Nike Air Technology." The idea of "technology" in my shoe does make me snigger a bit, but I'm going to have to trust Cole Haan on this one, because I always find their shoes wondrously comfortable. I might go so far as to say that Nike's acquisition of Cole Haan a few years ago is one of the better things to happen to fashionable feet in quite a long time. (Ironically, however, I never wear Nike athletic shoes -- they don't suit my feet and I always find them quite uncomfortable. For running shoes, I am a Saucony gal through and through.)

I think it's more than likely a pair of these are going to find their way into my shoe closet within the next month or so. They're absolutely adorable (note the little lacing detail at the heel -- so cute!) and they're the sort of shoe everyone needs -- they'll be cute with jeans and skirts and will wear into the winter with tights. The problem is going to be deciding what color to choose -- as well as the black patent above, they come in gold, a really nice dark blue, and a beautiful orchid-y purple color called, poetically, "Plumeria." You can get them at the Cole Haan website by clicking on the photo, but if you're in a hurry and/or want to save a few bucks on shipping, you can also find them at

and
. Piperlime has free shipping and free returns on their orders, and Endless is running a special with free overnight shipping , in case you need these for the Labor Day weekend.

Speaking of which -- here it comes!! Labor Day!! Style Spy has no real plans for the holiday, except maybe a prowl through a few of her favorite stores in search of can't-live-without bargains. How about you guys? Any fun, fashiony plans for your holiday?