It's Fashion Week! Let's not waste time with clever introductory copy, shall we? Let's get right to it!

Oh, everyone loves Alexander Wang. And by everyone I mean all the so-called "It Girls" whose professional lives seems to consist of posing, smoking, and drinking. And Anna Wintour -- she loves Alexander Wang, too. Me? Not so much. I suppose if I were 5'10" and weighed 117 pounds and didn't mind spending $245 on a t-shirt (I'm not, I don't, and I do) I would be more his target audience. Mostly I just find his clothes a mish-mash of droopy draping and minminminiskirts, with the odd 80's reference thrown in, because that's what you do these days when you are a hip 20-something. I theorize that a large part of his popularity is down to the fact that much of his style is very easy for teenaged fashion bloggers to emulate by purchasing great big t-shirts and sweaters at thrift stores and then strategically slashing and belting them á la Wang. Sloppy, apparently, is the new black. I suppose it's possible this hipster wunderkind will evolve into an interesting designer, but I'm not seeing it so far. In his most recent collection he bangs on about how "his girls" want "investment pieces" that are "timeless and classic." Dude. If you can effectively copy a design with an old sweatshirt and a pair of scissors, it's not an investment piece. This is what you will learn, I hope, when you grow up.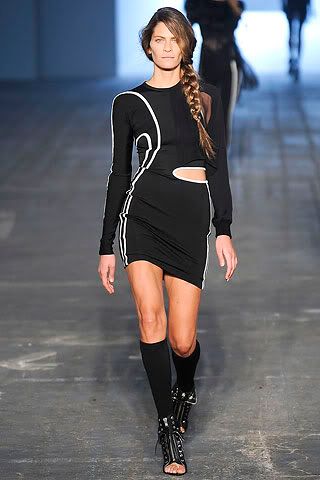 These are the things his clients love -- super-short, skin-tight, and not particularly interesting except for the variety of ways they give the wearer to expose skin. Expect to see this dress many times over in gossip columns and out-&-about-with-the-In-Crowd reportage. There's already one standing in line at the Beatrice Inn.
This collection found Wang to be very inspired by, of all things, football, which is just weird. (It's not nostalgia on his part -- trust me,
young mister did

not

play football
.) Is this what he means by classic?
It wasn't all this literal, but it
was
all this dumb.
Moving on...
DVF is still working the boho/hippie chic thing that her last show did.
Oh. My. God. If I see one more droopy maxi dress I am going to run mad, I swear. I was really, really hoping this was a trend that would have run its course by the fall and crawled back to the rusty late 60's VW bus where it's been living. The flower-child head blossoms are not helping.
Good heavens! Too much stuff!! TOO MUCH STUFF!!!!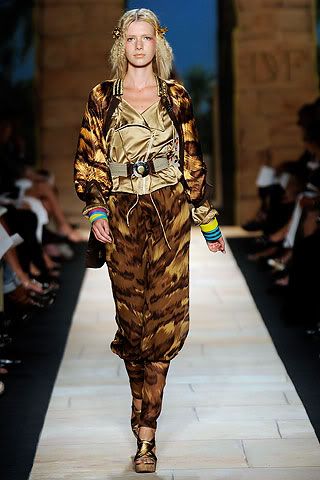 Gracious. That's... a lot of tiger.
I've been a bit disappointed with DVF the last few seasons because I feel like she's somewhat betrayed her customer base, which is folks like me. The original ethos behind DVF's work was to create chic, affordable clothes for grown-up women who needed workwear and daywear. But since the It Crowd (I'm really having a problem with the It Crowd today, aren't I? I sound like a 7th-grade girl whining about how she's not popular.) re-discovered her wrap dress a few years ago and business started booming again, she skews younger and younger all the time. And I've complained here before about how small she cuts -- you typically have to go up 2 or 3 sizes in DVF. I talk a good game about size just being a number printed on a tag, but still... Her size chart is disheartening.
It's almost not worth reviewing a DVF runway show, because for as many looks as she shows (43 exits for this one alone), there will be several times more than that making it to the retail floor. The woman must have an ARMY of design assistants working for her, and I do believe they continue releasing a full raft of stuff ongoingly every couple of months. So if you don't like these things, wait fifteen minutes -- there'll be more.

I do not want to like Victoria Beckham's clothes, I truly do not.

But it would be simple churlishness not to point out that this dress is really lovely.
This collection, which is Beckham's third, is small, and tightly edited. So far she's only doing dresses and they are predominantly evening wear. I have skewered, castigated and mocked Victoria Beckham many a time in this blog, but I have to admit -- girlfriend looooooves her some fashion and for that I give her credit. This collection showed a couple of silhouettes that varied from her usual skin-tight column thing and honestly? I really, really liked 'em.
Come on. That's just
fun
. And pretty -- really, really pretty.
I don't believe I've ever seen Beckham herself in anything this unstructured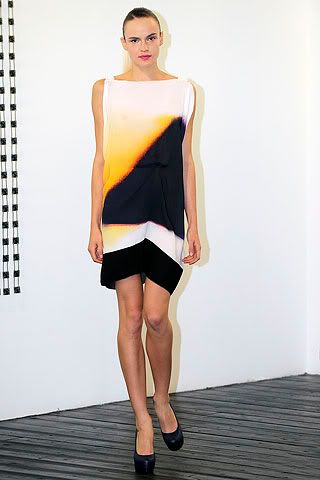 but I'd wear that in a heartbeat. I LOVE that.
There has been a lot of noise and speculation about whether or not Roland Mouret is ghost-designing Beckham's clothes. Mouret himself denies it assiduously, although the two of them are friends and he cops to having introduced her to a lot of behind-the-scenes folks like pattern-makers to help her get her business off the ground. I don't know why they'd deny it if it weren't true, but there are
a lot of things in this ol' world that escape my comprehension
. Victoria Beckham, silly as she may have been at times, does not actually seem so ego-driven that she wouldn't have seen the benefits from having a designer as hot as Mouret attached to her namesake line as it was starting out and trying to gain some traction. I dunno. I don't care, really. I'd hate to see a designer not get credit where it's due, but if he's okay with it, who am I to quibble? All I know is, a good dress is a good dress, and this?
Is a good dress. That's a freaking GREAT dress, is what that is, and if fitted properly could be worn by lots of women whose bodies were
not
taut and shiny enough to do Armani underwear ads
.
I love this one, as well. 'Cause it's red! And also because it's simple and elegant and classic (are you listening, Alexander Wang?) and beautiful and stylish without being gimmicky. There were a couple of missteps in this show and certainly more than one piece with Beckham's usual figure-hugging lines, but on the whole I really liked this, and I liked that she seems to be taking small steps forward.
There's more to come on Fashion Week, so stay tuned!