Last month, in a post about fun, fabulous necklaces, I showed you this:



Which I really, really, reeeeeeeally loved, but which was selling for a cool 600 samoleons. That? Is excessive. It's on sale now, for 30% off and ya know what? Still excessive.
That is just too damn much money for some fringe.

I'm having a fringe moment. I've
been
having a fringe moment since I saw Raf Simon's Fall 09 show for Jil Sander last spring, which featured, among many,
many
breathtaking garments, items like this: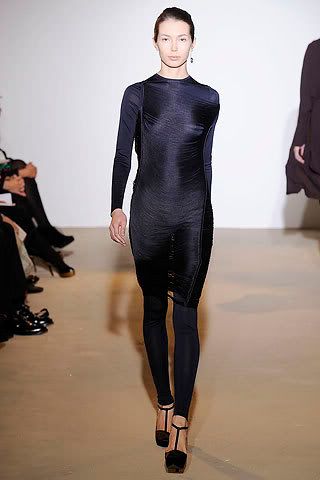 and this: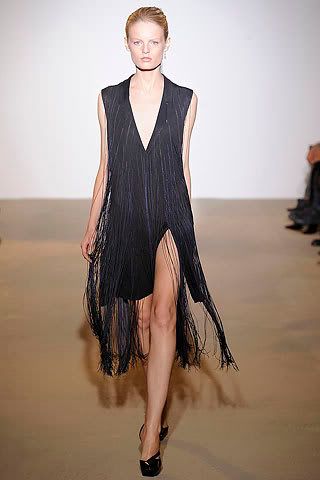 I'm not alone here -- there's a LOT of fringe happening in accessories and clothing this fall, and I predict we're going to be seeing it for a while to come.
I love fringe like this because I love movement. I'm not talking short, stubby little fringes like at the bottom of some little girl's tap dance recital outfit. But these long, silky, shiny fringes? Make me nuts. I've always loved,
as I've mentioned here before
, a good shimmy dress. So, that necklace was really speaking to me. Crying out to me, even. Although, honestly, the $600 cry of the Fringe Siren was not all that hard to resist. Even
I
can't justify that kind of madness.


So? I made it myself.


And I am pretty darned pleased with the results. This is one layer of fringe, attached to a neckband that I tied in the back. It is so much fun, I can hardly stand it. (Although be careful eating soup!) And even more versatile than I thought it was going to be. I wore it out Saturday night and the lovely Miss A pointed out that I cold do other things with it -- like knot it into a giant tassel:

(Tassels are also going to be big this fall, I think.)
And that got me to thinking -- I could play around with some jewelry, too! Here it is with a rhinestone hair clip:


and a sweet little vintage rhinestone pin in the shape of a bow.

Black is handy, but Style Spy likes her some color. And since I am still having my purple moment...

Voila! This one is two layers of fringe, with the top layer trimmed to be a little shorter. It's a denser look

but in some ways maybe not so versatile, because I won't be able to tie it and fix jewelry to it as easily without the shorter layer working loose.
If you'll notice, the Kiki deMontparnasse necklace at the top of the page has a silver choker that the fringe is attached to. I thought about trying to come up with something like this, but for the prototype I just decided to attach it to grosgrain ribbon. And boy am I glad that I did, because a glass of wine or so later I came up with this idea:

Woo-hoo! I tied it around the waist of my bandage skirt to create an instant, removable fringe overlay. (Well,
part
of an overlay -- it doesn't go all the way around, of course.) The black on black is hard to see (you can enlarge the photos by clicking on them), so here it is with the purple:

Here I channel my Inner
Joan Holloway
and do the twist.
I'm really kind of excited about this. I think I might make one to go all the way around my waist, creating an instant convertible shimmy skirt to put over any number of things. But I also like the black one only on one side -- it's funky in that way I like.
Like I said, I'm extremely pleased with this one all around. I wore the black one out for drinks this Saturday, here's how it looked:

Teamed with black capris, Marni sandals, a vintage Lanvin bangle (insanely lucky vintage store find) and, approriately, a Jil Sander top. Which is ever so marvelous.

Simons works mostly in neutrals, but he usually throws in a few good pops of color for every collection. This top is from Spring 08, which had a little more color than usual and showed a lot of this delicious sherbet orange and hot pink. See the little hot pink bit on the back? The front of the sweater is orange, the back is pink, and the capelet is attached at the sides & neck so that the pink flashes when you move. It's pretty fabulous. It's finally cooling off a bit and so I can wear this -- it's silk & cashmere and was not appropriate for 103º, even though sleeveless.

How come when the other fashion bloggers do cool model-y poses they look great, but when

I

do it I just look silly? So unfair. Also, again with the haircut-needing. I look like a poodle the AKC refuses to register...

I'm going to make some more of these fringe-y items, and I might even open myself a little Etsy store. If you think you'd like some fringe of your own, send me an e-mail and we'll talk turkey. (Note: I'm not going to charge you $600. I'm probably going to charge you about $25. So you could buy several colors and still come out ahead.)


Now if you'll excuse me, I've got some shimmyin' to do...
Images: Style Spy